Day 87:
19,850 miles and counting
This morning I left cabin 9 at Table Rock State Park after an amazing couple of days. I've been on the road for over 80 days, living alone,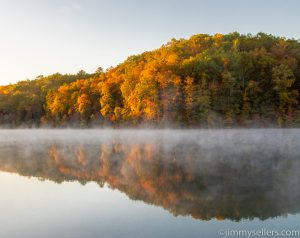 eating alone, and mostly being alone, doing everything alone. It's been the most amazing adventure of my life and I couldn't be more grateful for it. The last two days have been spent with some of my closest friends at a celebration of a wedding for two beautiful people. I could not be happier for them. I also could not be more thrilled to have been included in their beautiful day. They brought me somewhere I may have never come on my own,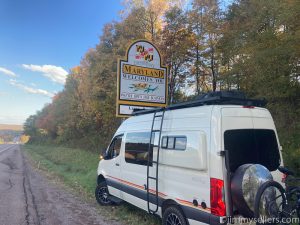 Table Rock State Park and the Pretty Place. I got on the road just before sunrise, and I believe I'm just heading to Western Maryland for the day. I should be able to get there before sunset and find somewhere to take some pictures and camp out for the night. But the day is early and my plans typically change 100 times before I get where I'm going.
I turned over the 20,000th mile of this road trip just after crossing into Virginia on I-81, heading towards home over the next couple days.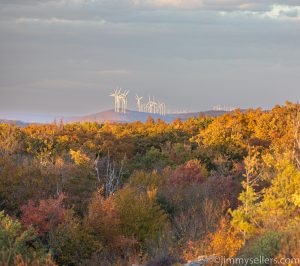 I spent most of the day speeding north, back to my home turf of Maryland. In a surprising plot twist, my wife asked me not to get home until Sunday, a full 48 hours from now. Either there's a live-in boyfriend situation that needs to be cleaned out before I get home, or she has something to surprise me with when I get home, and wants to be there because it's my birthday as well. Truth be told, I want her to be there when I get home too. The best way to ensure that is schedule my arrival around her busy life. I did not stop forward momentum today too much. Mainly for feeding Pervvie her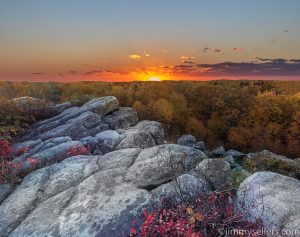 delicious liquids, and a few pictures and tinkle stops. I made it to the firetower trailhead in western Maryland that leads to High Rocks. I was a bit later than anticipated, and I had to jog most of the way up. I made it in plenty of time to see an amazing sunset, get some great pics, and find the really old geocache from 2001. This trailhead is the perfect spot to call home for the night. After a headlamp hike back down the mountain in the pitch black, I made some dinner and settled in for the night with some music and junk food. Tomorrow I will kill a
day hiking around western Maryland, and then hopefully head toward Arlington for 1 piece of unfinished business. After that, I will have successfully completed the most unrealistic, impossible, satisfying checklist of my life.
When I take these type of pictures of myself, I have always been able to say I was completely safe. I always use a shutter release. I forgot my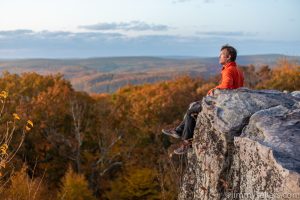 remote in the van. The van was a mile away, straight downhill. For these pics I used the built in, 10-second camera timer. I had to sprint into this position. I almost tumbled to my death each and every time. I said each and every time was the last time, but then the light kept getting better. Thankfully I did not die this time, but I will have to die sometime soon. Hopefully while failing
at doing something awesome like this.