Day 80:
18,740 miles and counting.
Today I met Razzle Dazzle, hands-down the coolest dog of my trip.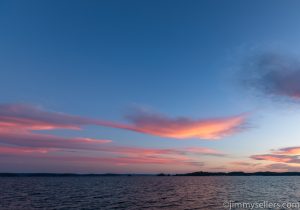 I woke up at the Modoc South Carolina 2000 geocache trail head. I slept fantastically and slept in so late. That was great, I did not sleep well the night before. I left South Carolina and went straight back to Georgia. I think it's Jefferson County area, kind of near Athens. There was some big Geocaching event nearby recently.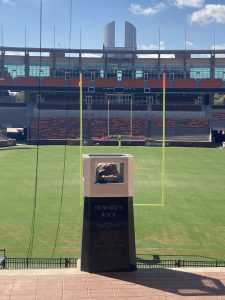 And this area is very well-known for having a lot of fun gadget geocaches, or so I just found out from my friend Drew the other day. So, I started off with a small circle of challenges up north and then worked my way south. I did a walking loop around a giant outlet complex. There was a whole series of challenge geocaches that hopefully I qualify for. It was also a nice way to start the morning, the weather was perfect, and I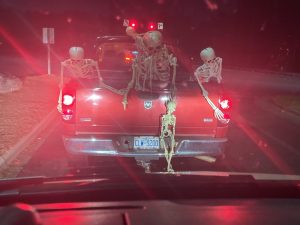 could get some steps in. I found them all but 1. I started and finished in the same spot and didn't find it twice. Then I zigged zagged all over town. I followed a trail of highly favorited geocaches. These were some real doozies. I come from the land of a guy named West Virginia Tim. I am lucky, I understand. These were another level in some ways. I had to walk away from quite a few. I could not figure it out, I didn't know what I was looking for, or I didn't know what to do. I still nailed quite a few of them. I had a fantastic time, felt like a kid in a carnival all day. After that I did a bunch of the cow whereigo's last night. I knew I was not doing them all, I can't possibly do that. Sounds like a nightmare, like mailman purgatory. BUT, I wanted to get some to finally qualify for a challenge. These were super easy, and as well done as I have seen any series. So, a few random of those will help me get closer to a stupid checklist goal that nobody but me knows about. My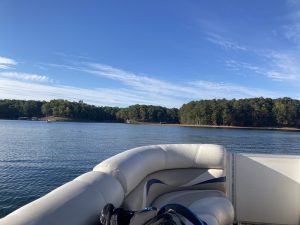 last stop of the day is lake Lanier. I took the longest possible way to get here. I am getting on a boat at 8:30 Saturday morning for the old geocache out on a lake island. I wanted to see where that was, and it looks like that will be my home for the evening, awaiting vessel boarding time. Before stopping completely for the night, I went around the corner for the other old geocache. That was a very quick jog out and back. I then met a young man named Jeremy. He worked at a boat store. He looked friendly. He was outside washing things with a garden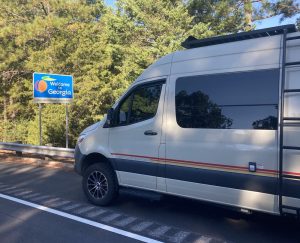 hose. I struck up a conversation, and then hit him with the big ask. Can I please fill my freshwater tank from your hose? He was so happy to let me. I offered him a little Debbie oatmeal pie, he declined. I invited him in and gave him the 13 second tour. That means he saw everything twice. I think we will be best pals for life. Finally, it was back to the boat launch parking. There is good telephone service, so I will catch up on some work. I had a very tasty beef stroganoff for dinner, watched the sunset and the moonrise over the lake, and smashed this drivel into a keyboard.
Day 81:
18930 miles and counting.
Today I met Jamie a Bernese Mountain Dog, hands-down the coolest dog of my trip.
When I left home, I watched the interstate numbers count down from 95 all the way to 5. Then I watched the horizontal interstate drop from 90 all the way down to 10. As I head home, I see those numbers gradually climbing higher. I'm already back at 75 and 85. Booooo. I will be at 95 before I know it.
I woke up this morning to a perfect sunrise over Lake Lanier. There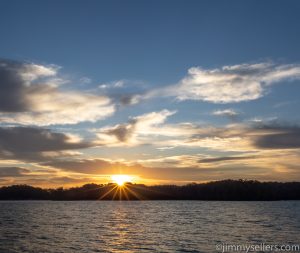 was nothing good to see until about 7:20am, that is so late. I love this season, but hate the brevity. I took a bunch of sunrise pictures, and had a great conversation with a local. He comes there every morning to watch the sunrise. I think he and I will be pals forever. That was the first time I took out my cameras in at least 4 or 5 days. I came to accept that the photography portion of my trip has come to a drip, from the geyser it has been for the past few months. I had an 8:30 launch time with Captain John. I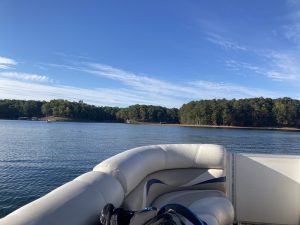 showed up and there were 2 other cachers coming on the boat. We all got along just fine, the captain was a delight, and we were back at the dock in about an hour. I thought it was more adventurous, but apparently not. My favorite part was all the info Captain John had about this area being the filming location for Ozarks. Once back at the dock, I got in my van, took a shower, got cleaned up and left the boat launch area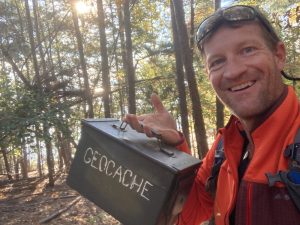 about 10:30 AM to head towards Charlotte. Lake Lanier was a wonderful place I could see myself coming back here. Ultimately, I was going to end up near Charlotte. I'm gonna look for that old geocache nearby there, and then I think tomorrow I'm going to go to a Renaissance Festival. I've never been to one of those and I would imagine it's a thing I would enjoy very much. I made my way slowly east, stopping a lot. Some of the tourist attractions, a couple places for pictures, and a geocache here and there of course. One of the funnest parts of my day was an accidental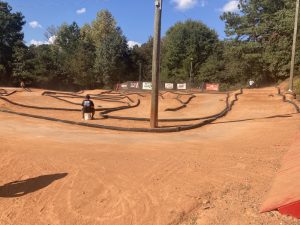 discovery. I was cruising along the main road into Greenville and I looked over and saw what looked like a bunch of people racing toy cars. I know what that scene looks like as it was a big part of my past. I verified that's what it was as I drove by, then made a U-turn. I went back and watched a bunch of grown man race toy cars for a while. The sounds and the sights and the smell in the air brought back a lot of fun memories. Also, a lot of bad memories, but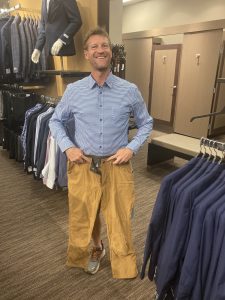 isn't that how nostalgia works? You have to take the good with the bad.
Mostly I stopped for a bunch of old virtuals. Then I ended up in Charlotte, at the trail for the old puzzle here. I did not realize that was going to be a 'get my tootsies wet' type of party.
After all that was done, I found myself in central suburbia. I needed a shirt for a wedding on Thursday. Men's Warehouse was happy to accommodate. Then it was pick up a pizza, and get parked for the evening.