That I have found, anyway.
Day 78:
18,300 miles and counting.
Today I met HansDown, hands-down the coolest dog of my trip.
Last night I got Publix chicken for dinner and went back to the nearby truckstop open area for the night. I am right by I-59. Tomorrow I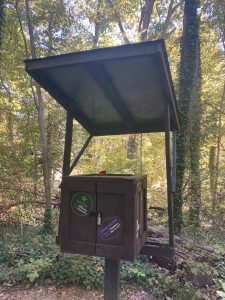 should be able to checklist a few high favorited geocaches and a few old ones. I believe just shortly after I start driving, I am going to cross into Georgia, and lose my last hour. My first destination is a very highly favorited gadget cache……This is now my all time, overall favorite geocache, Kwango Kate Gadget Cache, https://coord.info/GC8DQ55 if you are a geocacher. I just realized this code has DQ in it. Anyone that knows me knows that my favorite thing ever invented is Dairy Queen ice cream cake. Coincidence? I think not. It feels like an actual escape room. I can't gush about it enough. I spent 3 minutes short of 3 hours there. That's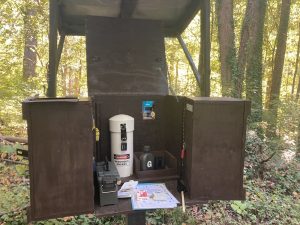 right, 2 hours and 52 minutes. A very fun 3 hours. I did spend some time on a personal phone call. But my brain was working the entire time, and not paying attention to whatever the nerd on the other end of the phoneline was talking about…something about a tweezer reprise. The setup was amazing, and the fact that it has been visited so many times and is still in perfect condition is a real credit to the owner and the community. After that unexpected 3 hours, I wandered around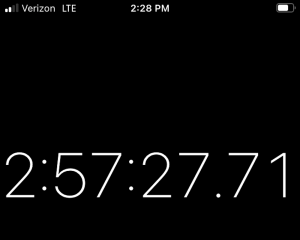 Rome for a little while. There are a lot of fun things to do in Rome. Wish I had planned better with my time. I have to be nowhere at no particular time, I got that going for me. After a Rome roam, I continued north to seek out 2 old hides from 2000. First was rocktown. What a cool place. It is a cross between 2 very popular places back home. One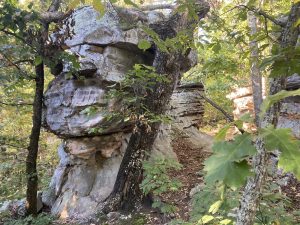 is bouldering the other is a rock maze. I am glad I know this is here. I jogged all the way out and back. I jumped up, on, over, and around a lot of rocks that I did not need to. There was definitely an easier, softer way to get where I was going. But no others allowed me to feel like a spiderman. After that, on to the iron horse. I had no idea what I was in store for here. Not a long trek at all, but then suddenly, boom! A scary tunnel. It felt very surreal, like I stepped into a spooky movie. I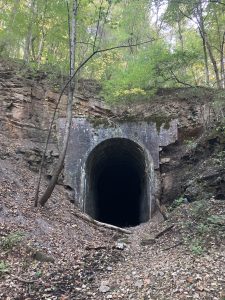 loved it. I turned around and tried to make it happen again, no luck. From there it was time to get back to civilization. I found a truck wash that was open 24 hours about an hour toward Atlanta. I made that my destination, and then also my sleeping arrangements for the night.
Still constantly updating the album of my roadtrip HERE.