I find a lot of geocaches. Some really stand out. Most do not. This is one that has stood out from the almost 10k others.
I don't usually like to talk or post about finding geocaches, because it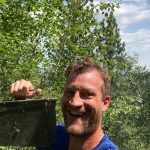 happens all the tine, but I couldn't help myself with this one. This was just too great of a life experience to not digitally document, forever.
I spent the entire day and found the two oldest geocaches in South Dakota. I knew I was going to look for one, but didn't realize the other one until I was nearby. Talk about an adventure that almost didn't happen. Holy cow. I think this has spring boarded forward to the greatest Geocaching adventure I have ever had, on all accounts.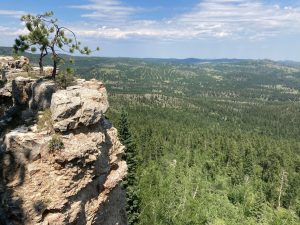 Thanks to my unofficial, uninformed, unaware sponsors, Saliwa for the shoes, Storyteller for the Pervvie van, and Miracle Whip for fueling me.
I finally got to do some of the offroading I've been wanting to do. Forest roads of South Dakota are treacherous, terrifying and unbelievably fun. After about a two-hour delay by going the wrong way and really only traversing about 10 total miles, I finally ended up at the proper location to look for this geocache.
At first, I followed the GPS to a Boy Scout camp that was kind of close, but not as close as I could get in Perrvie. So, thanks to the brand new off-road GPS app, I was able to figure it out and route myself, rather than trusting the Apple Overlords.
Rewind, and erase the last hour of driving to get back to where I started, and go the other way. Then I drive about 3 miles in 40 minutes and arrive at "parking". Thankfully "parking" is within about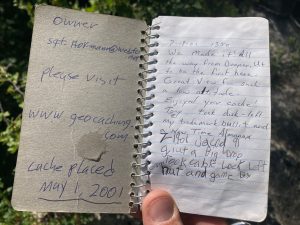 300 feet. The last 100 feet is a doozy and straight down through rock crevices. I made my way down no problem I spent about 15 to 20 minutes searching and finally found the ammunition can in question! I sign in, take the obligatory pictures, and realize I have to get myself out of here. That was no small feat, but a week's worth of rock climbing for babies training, these amazing shoes, and I was up and out of there lickety-split.
I can't believe how lucky I am to have had that adventure, it is one I will never forget.