In the winter of 2012, I participated in the Winter Carnival 2012. I dropped everything, worked from the road, and followed the snow finding powder to snowboard in for 4 months. 10 years later I appear to be off on another unrealistic journey across the country.
I don't know how or why, but I am lucky enough to be able to travel cross country, again. This will be the 4th time in a few years. This is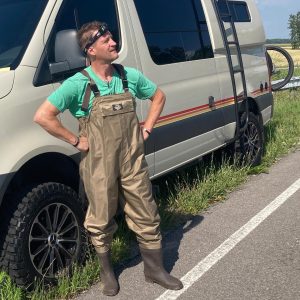 another make-a-wish, dream come true situation. If you told 19 year old me I would be traveling freely cross country, in the most unrealistic adventure van imaginable, I would have said…..Yeah, makes sense.
On paper, this is set to be the greatest adventure yet. 2 weeks with Wifey, traveling, Cheyenne Rodeo, Colorado top to bottom to top, 3 via Ferratas, 1 rafting, and some stuff I am forgetting in a pear tree. After that, I am destination unknown with a loose itinerary and agenda. Very reminiscent of my Winter Carnival 2012. So lucky, so grateful.
This trip will not be about snowboarding. It is about seeing things I have not seen before, taking pictures, and doing to funnest things that Geocaching has to offer.
Here is how I describe it from the start:
I am currently on an undetermined length cross country road trip. My wife and I left Maryland in our Campervan, heading to Cheyenne Wyoming for the rodeo. From there we are heading into Colorado for a while to do some climbing, rafting, relaxing, and take photos. Once she heads home on an airplane from Denver, I will be wandering the country aimlessly, living in my camPERVan. My goals will be to finish the continental portions of the Cache Across America series. I have 5 of those left. I will be following a trail of really old and really fun geocaches. I will also be looking for dark skies to take pictures of the Milky Way, and stopping for everything that interests me. Through the planning process this appears to take me to some of the most amazing places our country has to offer.
Here is a recap of the first days on the road.
Day 1
Left home at 5am. Drove until 9pm, including a time zone change. Very productive day. I found a few highly favorite geocaches along the route. Not too many, I didn't want to make Wifey too upset with me. We really only stopped to tinkle and eat. We made it past Chicago for the night, with hopes of getting to our short destination in Iowa early in the morning. We slept somewhere on I-80.
Day 2
Started with a stretch, tooth brushing, and a coffee. Then we hit the road from wherever we slept for a whirlwind tour of Iowa. After almost 800 miles on day 1, we won't get nearly that far on day 2, thus leaving us a bit behind schedule getting to Cheyenne. We visited some high favorited caches in Iowa. We met the owner of a few of these hides, Randy, at his service station. Unrelated to this story, we filled Pervvie (newly named) the Campervan at Randy's establishment, next to the GTA geocache. I can honestly say that Randy's ultra low sulfur diesel, 40ppm, is the finest tasting diesel that Pervvie has yet to taste. I can say for sure that his Iron Box has leap frogged to the near top of my all-time favorite geocaches.
From that town we made our way to the Field of Dreams. I don't think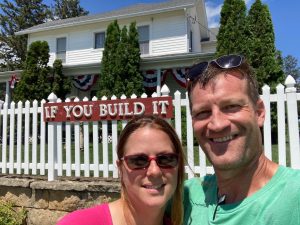 I have ever seen the movie. I don't like baseball at all. I can't believe what a joy it was being there! So glad we went a bit out of the way for this memory. After the famous baseball place, it was time to go look for Iowa's oldest geocache. It is in Backbone Park, an aptly named park, and VERY unlike everything we drove through getting here. It is like an oasis in the desert. That task took about 20 minutes. Unfortunately, this time of year there is no other way to get there besides putting one foot in front of the other, and biting my lip. I signed in on the oldest in Iowa, and it was time to make some headway westbound. Jason Aldean isn't going to play for himself tomorrow night.
I-80 westbound for hours, with a couple of quick stops for food and fuel, and probably another geocache. On through Nebraska tomorrow, with very similar plans as today.
Day 3
We slept in a small park just off I-80. I got us behind yesterday, so had to make up some time. I started driving around 4am. I had a checklist of things to accomplish around Lincoln. I found some high favorited and Nebraska's oldest, all by about first light. My wife slept through all of this. Her loss. Then it was time to high tail straight to Cheyenne. We got checked in to our hotel, found the geocache in the parking lot, and learned how to use Uber to get a ride to the Cheyenne Frontier Nights.
Jason Aldean concert was the first evening we arrived in Cheyenne.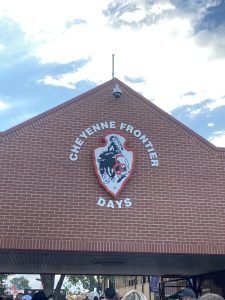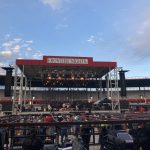 Wifey does not like live music, that has been proven several times. But she had a blast at this concert! Not exactly my cup of music, but I had a great time as well. I have always said that I can enjoy almost any live music, and that still proves true. The Rodeo starts tomorrow. This is really shaping up to be the greatest adventure to date.
Day 4
We slept in after a late night at the show last night in Cheyenne. I got up early enough to get ready to head to the Frontier Days parade. It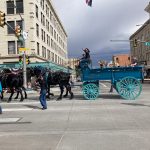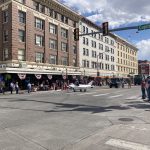 was only about a mile walk from where we are staying. I made a stroll in the morning sunlight to a great corner to watch and photograph the parade. Along the way I did an adventure lab, found at least 1 geocache, hopefully the great earthcache at the sandstone building, and generally loved being me as I wandered sometimes aimlessly. I was able to get some great shots of the parade. I like parades? 67 years young and I just found out I like parades. Shame on me. This afternoon is the first day of the Cheyenne Rodeo, an event not to be missed.
The weather was perfect for a rodeo, and it was a ton of fun.
Day 5
I got up early this morning, before the rest of the town, and my wife. I rode my bike around downtown Cheyenne for several hours, I had the entire place to myself and got in over 17 miles. I found a bunch of geocaches along the way. I did an adventure lab, and I attempted a whereigo. I am terrible at those things. I did a few stages by bike, then the next thing I know, 10 miles? Oh well. Flash forward to the evening. My wife goes to bed and I head north on the interstate to finish this whereigo. Another stage, further north. OK, why not. That has to be it, right? Nope. I go one more, still not the end, I have to head back. I wish there were half points for whereigoesis. Back to Cheyenne.. I meandered through and around the fairgrounds, I did wheelies, and I jumped into puddles. My favorite part is the stopped train along my path. I waited for about a minute. When I determined it was not moving, I crawled under the train, dragging my bike behind me. The people in the cars, stopped at the intersection enjoyed the free show. Then back to my hotel before lunch, and over to day 2 of the rodeo. So much fun, I can't believe this lucky life I get to live.
So much more has happened. Hope I find time to write about it. No real time to process and post pictures yet. My instantgram is about all there is right now.
Thanks for reading!