What was supposed to be a quiet weekend at home with nothing much to do, turned out to be packed with activities. I was so excited all week long for this weekend to get here. I knew this would be the weekend that Christmas Jimmy got to go to the Christmas Tree Farm and purchase (not pick out) our 2012 Christmas Tree. Thank you to the Underwood Family for growing Christmas trees around the corner. That was supposed to be the centerpiece of our weekend. Christmas tree chopping and shopping was only a quick flicker of the fun-filled weekend.
Can you picture that physical comedy gag that you always see on the television when someone opens a champagne bottle or a bottle of wine? The releasing of contents under pressure causes the cap or cork to go flying across the room and always hits someone in a comical way. Right in the forehead, or the nuts, something pretty hysterical. That happened to me this Friday night. I was minding my own business having a fajita, and someone across the room was celebrating something. I am not sure what was being celebrated, probably an occasion of excellent companionship. A wine cork smashed me square in the mouth. I made it through OK, minimal scarring, no need for stitches, just a bruised sense of value and worth. Luckily I was done my dinner but this incident did unfortunately result in a cancelation of desert.
I awoke Saturday morning still reeling from the night before and learning to live with the fact that my existence had been boiled down to a scene from The Three Stooges. It was the first of the month so I had to dash over to work and get the first of the month work done. No big deal. The positive about work on a Saturday was that it brought me to Newark on a gorgeous weather day. I brought my (Wifey's) bike with me with intentions to head to White Clay. I got to White Clay and the place was deserted. I brought along all my Under Armour base layer gear, but did not need that stuff. The weather was amazing. I rode the trails of White Clay, enjoying the weather, the outdoors, nature, peacefulness, and finding geocaches all afternoon. I would have stayed until I ran out of sunlight, but I had MUCH more important matters to attend.
Thanxgiving is over, Wifey is done her volunteer missionary work in Puerto Rico, and it is officially December. All these facts add up to only one thing, it's Christmas tree time! I had to rush home from White Clay and pick up Wifey to head around the corner to the Christmas Tree farm before sundown. She picked out a perfect blue spruce. We had the tree back to the house, set up, and decorated before the sun extinguished and the Asians borrowed it for the next 12 hours. It looks and smells fantastic. One of the handsome boys that lives in our home can't decide if he should pee on it, or guard it with every fiber of his being.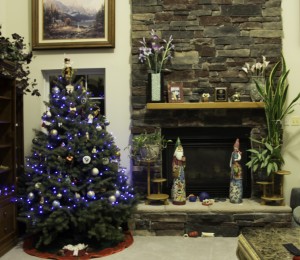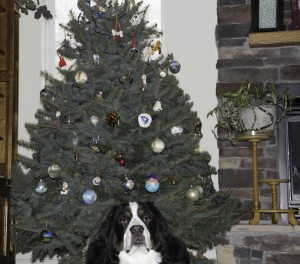 Sunday was the day that Team Sellers dipped our toes back into the world of culture and refinement. We had tickets to see Warhorse the play in Philadelphia with Taper Matt and his diverse family. We made a pact to not walk out half way through the show. We were able to stick to our pact this time. We wanted to see the show because of Matt's recommendation, so when the show came to Philadelphia it seem fitting to see it with him. Plus, Sunday was his birfday, so it was fun spending a matinee and dinner with him to celebrate. He was very lucky to have Team Sellers to himself for an entire day. We typically charge by the hour. The show was fantastic. A well above average story, the acting was good, and the theatrics were exceptional. The way the story of a war was told on stage through the use of theatrics, imagination, presentation, and innuendo was much better than simply having gun battles, bright lights, and explosion sounds. It was a bit of a "heavy" story as Wifey pointed out, but an enjoyable two and a half hours. The show was followed by Thai dinner in Wilmington, the opening of gifts, and the awkwardness of other people's families. I enjoyed every second of Taper Matt's 55th(?) birfday.