Day 36:
9600 miles and counting.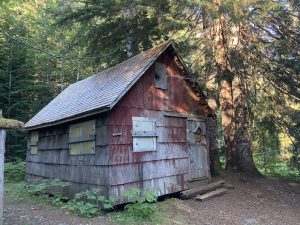 Today I met Zap, hands-down the coolest dog of my trip. Today was also THE day I was looking forward to when I left home for this roadtrip. This hike to Monte Cristo in Washington PNW. It is about 8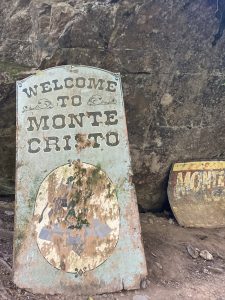 miles out to an abandoned gold mining ghost town. I KNOW! That is so many amazing adjectives! This was before I had any idea of the insane and amazing things I would accidentally get myself into.
This morning I woke up at Monte Cristo trailhead. I got started just before sunrise with my headlamp. I wanted to be on the trail and see the light as it rose, and hope for that Pacific Northwest beauty and glory.
I can always tell when I'm the first person through a trail each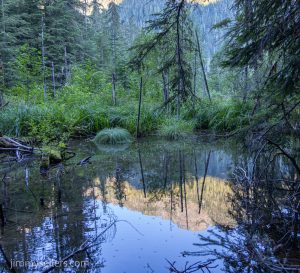 morning. I'm the one that gets the pleasure of eating all the fresh cobwebs. I walked and looked for all the geocaches on the way out. A few had to wait for the return trip, I knew the sun would be up by the time I walked back. The walk was great. It was an old railroad, lots of it along a river. All of it through the giant trees and forest.
I made it out to Monte Cristo, put my name on the geocaching log, and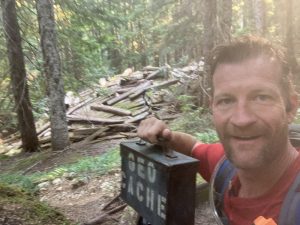 was on my way back to the van just before 9 AM. The sun was finally coming up over the trees, it was exactly what I wanted.
The Monte Cristo hike in Washington state is the thing I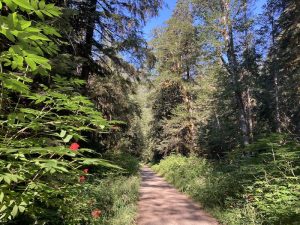 looked forward to most when I left home over a month ago. Of course, I did not realize I would be on a JetSki in slot canyons.
I got back to my van, made breakfast and then head back down the mountain a bit to visit the ice caves. I had no idea this existed until late last night, when local Mr. Ford, told me about this trail. I am glad I went. That was an amazing experience! I went uncomfortably deep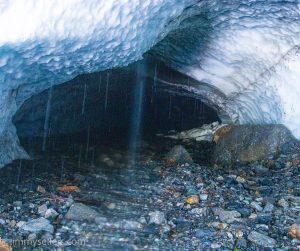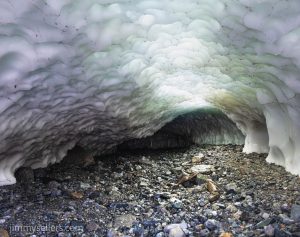 into an ice cave, even for MY idiotic standards.
I met a family today who did the ice cave hike for their sons sixth birthday. I'm pretty sure for my six birthday I got a beating.
Try as hard as I might I was unable to find a way to penetrate, and get to the traditional geocache up here at the ice caves. I'll have to settle for the two earth caches, but nothing feels like accomplishment the same way as writing my fake name on litter in the forest.
After I left the ice caves and the picnic area, I started to head back towards civilization but before I did, I found a beautiful spot along the river. I slung up my hammock, put on some mellow tunes, and took a few hour nap in the shade, along the river. That is not like me. It took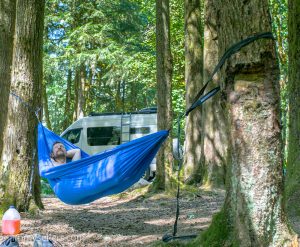 me quite a while to wind down and allow my brain to except the fact that for the next couple of hours, I was not going to accomplish anything. Very tough for me.
After a nice nap, pack up minicamp, and head into Bellingham for at least 1 night.
Day 37:
I woke up in a hotel in Bellingham. The repair I had scheduled on my van window is not going to happen. So, I have hung around north eastern Washington for an extra week, with no payoff. Well, I did have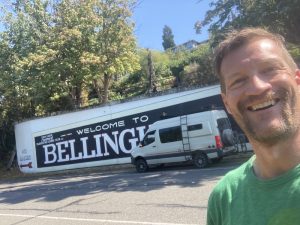 the payoff of an amazing week outside and having fun! I saw a rain forest, I slept on the beach, I hiked to Monte Cristo, and on and on and on.
But today will be a dead day. I will spend the day catching up on real life stuff, while I have a hotel room and internet access. Hopefully catch up on my photo processing, and diary entries.
About mid day I finally went out to tour Bellingham, and complete my geocaching duties. I stopped by the webcam, a few virtuals, and a couple of whereigos and letterboxes. It was just a quick trip around town for a couple hours. After that, back to the hotel to keep working. Tomorrow I am back on the open roads, I think my destination will be Astoria. I am feeling a little Goonie, so it seems appropriate.
I did start an album of this trip that I am updating as I process. HERE.