Day 38:
Today I met Reggie, hands-down the coolest dog of my trip.
miles and counting.
I woke up in a hotel in Bellingham, and soon departed for Astoria.
After getting very little accomplished in the last two days, and being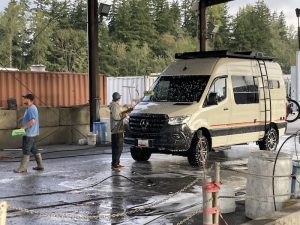 grounded at a hotel in Bellingham, I am back on the open roads. I got a start early in the morning. Before I left town, I filled Pervvie up with her favorite liquid diesel, topped off her freshwater tank, and found a truck wash where a couple of enthusiastic young men really gave her a great bath. They did not forget her undercarriage. They really gave her undercarriage the business. I haven't been in a clean rig in weeks now. So refreshing.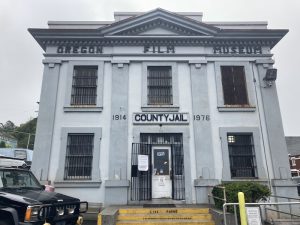 Time to start heading south with today's destination to be Astoria.
I traveled south on the interstate 5 corridor, only stopping for tinkle breaks and a few of the highly favorited geocaches.
Thanks to that I got to see some really fun and funny things. I spent about 45 minutes hanging out inside of a bathroom. While that's not unusual for me, as my friends and lovers will testify, it's rarely that I have to figure out how to escape one.
I got myself to Astoria safely, and did all the things that a little Goonie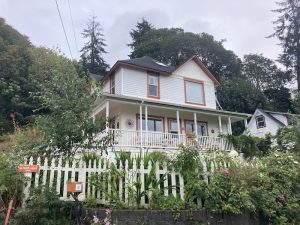 baby should.
I wandered around Astoria for a few hours. I had a burger, fries and a malt at the Custard King, because it's 1968. After that it was time to get out to the coastline and start heading south. A couple of stops I wanted to make were also stops for the Goonies Adventure Lab. How convenient. That AL ended up being my all-time favorite adventure lab yet. Unfortunately, the weather was not cooperating. It was misting and very foggy. You
couldn't barely see 100 yards ahead. There's still some kind of beauty to that ugliness.
I made my way through Seaside and kept going south. I finished at Canon Beach. This is where I will spend the night. Before turning in, I wandered around town, in the dark, by use of headlamp. I took some amazing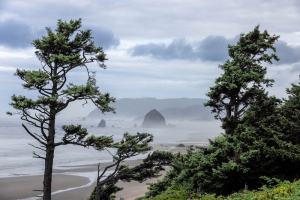 pictures of the beach and Haystack Rock, lit up by the natural moonlight. The legend is that giant rock helps lead to the Rich Stuff.
Unfortunately I can't stay in Cannon Beach. But the officer was kind enough to tell me exactly where to go, a few minutes down the road. Wonderful place. Wonderful police officers.
Day 39:
9950 miles and counting. Today I turned over the 10,000 mile of this road trip!
Last night I got rousted out of town by the police where I tried to sleep 🙂
I misread the sign and thought I could stay overnight. The officer informed me otherwise. We had a wonderful conversation and a few laughs, and I moved on down the road a few miles. I woke up near Cannon Beach Oregon. I stayed up late last night photographing Haystack rock and the waves lit up by the natural moonlight. It was a ton of fun.
I stuck around where I woke up for a little while, wandering around and talking to some new friends. A lot of people just like me,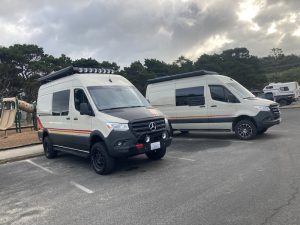 wandering aimlessly, were all gathered together at this rest area on the coast of Oregon. Who would have imagined? So I took the time to chat with every one that would chat with me. It was all of them. I even parked right next to another BEAST! Once I started heading south on the PCH it wasn't long before I was at the Tunnel of Fun. This geocache deserves it's own entire entry, and I am sure someone has already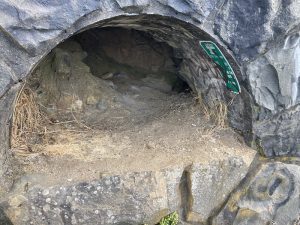 done it. Duck Duck Go there if you want. That tunnel was so much fun I did it three times. Once because I had to, the second time because it needed a replacement log, and the third time so I could do it with a friend of mine on FaceTime. I would have done it 7 or 8 times if more of my knucklehead friends answered. People back east are not happy about how much fun I'm having.
After a bunch of random pull offs and photographs it was time to head inland a little bit and find out about Hembres Ridge.
Today is the day I hope to finish up the continental portion of the cache across America series. Once I find Oregon, I should have 49 of the 50. Hawaii being my last. I guess I just hop on a plane right after?
I continue driving south on the PCH, stopping often, taking pictures, making new friends, and thanking the universe for my life. I finally made it to the parking area for Cache Across America, Oregon version. it wasn't dark, but I was running out of daylight. I dashed up the hill, made the find, took my pictures, gave myself a high five down low, and went back to my van. just then another guy named Derek, with the exact same van I have pulled in. We talked for a long time, laughed and made fun of other people neither of us knew, swapped road trip stories, and I listen to him about how he pilots his own propeller glider? The video was insane! Derek also let me play with his dog.
I decided that's where I would sleep for the night, so did Derek. I bed down for the night and reflected on one of the most amazing days of my life driving south on the Pacific Coast Highway.
I did start an album of this trip that I am updating as I process. HERE.