Day 11
After 2 long and successful days of travel, hiking, climbing, and geocaching, it was time to get a hotel for the night. The night skies are not cooperating. There was no reason to stay the night in the middle of nowhere Colorado, when the skies are going to be cloudy and not clear for the New Moon. We stayed the night in Colorado Springs. We had an amazing Thai dinner and then a leisurely morning. The next thing we had to do was be in Estes Park by nighttime for a rafting trip tomorrow. We made our way north through Colorado, stopping by Pikes Peak on the way. We were able to drive all the way up, spend a ton of time at the top, and enjoy watching the weather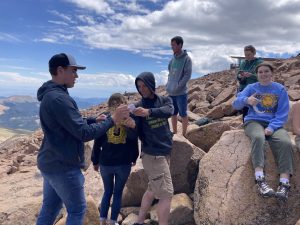 change and scare everyone about 3 times in an hour. One of my most memorable finds ever is going to be at the peak of Pikes. It was a traditional in the rocks, just off the walking path. Wifey and I spent about 20 minutes with no luck. It had just been found earlier in the day too! After some time, I think I was ready to give up. Next thing I know, a lady asks if she was in our way. I told her no, we were looking for a geocache. She got very excited, yelled for her kids to hurry up and get back here, and the next thing I know, about a dozen strangers are looking for this geocache. Most knew about geocaching, others were friends of theirs just aimlessly looking in rocks. It was truly hysterical, and an amazing reminder of how much fun it is being a human and interacting with strangers. That is a skill that has not been exercised as regularly lately…for some reason. It still took a long time, I bet we were there for an hour, finally a young man yelled, "I found a geocache!" High fives were given all around, and a bunch of pictures.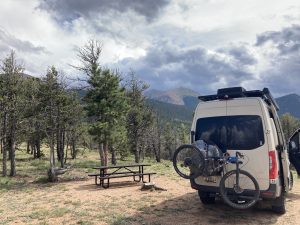 On the drive down we stopped at the halfway picnic area and had leftover Thai dinner for Thai lunch. Thanks to our campervan for keeping lunch refrigerated until needed. And thanks to Colorado for the most spectacular picnic spot in the world!
From Pike's we made the drive to Estes Park, where we will bed down for the next few nights. What a great drive. The skies were amazing, ever changing, and so dramatic. Saw lightning bolts in one direction, and perfect blue skies in the other. I love this world and this lucky life I get to live.
During that drive we also stopped at Buffalo Bill's alleged grave, and a few other interesting places that presented themselves.
Day 12
Today was all about rafting. Nothing geocaching to report at all. We booked a half day rafting with an outfit I have used in the past. This time we did a very mild section of the Cache La Poudre River. OK, I guess I did do something Cache related today. Forget everything I said before this.
We had a blast. The weather was perfect. The water could have been a lot higher, but it is that time of year, running out of snow. Nobody went overboard, there were not water fights. It was far from boring, but there was also not nautically themed drama, like I am accustomed.
We had a great dinner at the Owls, and I found a geocache near there.
Day 13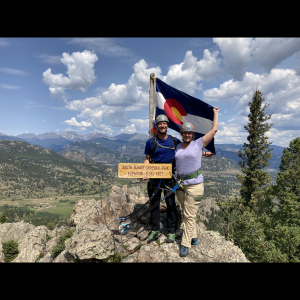 Today was the final of 3 Via Ferratas during this road trip. This was on private land near Estes Park. It was on some fantastic looking youth camp. The kind of thing I can only have dreamt to participate in, as an awful child. It was by far the most challenging. Much more rock climbing than traversing. Wifey did great on it, and all 3. I am so proud of her. After that I drove out for a letterbox I attempt in the dark last night and failed. Easy peasy today when the sun is shining. Someone in my group wanted to nap, so I cruised the town. I did 1 ½ adventure labs. I walked all over the lake areas. I went from end to end of this town for all the geo-related items. I do not think there is a more inefficient way then the route I made today. I had a great time. After all that, we finished with a fun meal at Dunravens, which is where I drove from to pick up my dinner date. Like I said, lots of rerouting and inefficient travel today.
Day 14
Probably not much of a reporting day. Today is the day that Wifey flies home on an airplane from Denver. After that I will head a bit further east, and then work my way all the way back west.
After the Denver airport drop off, which went smooth but very sad, it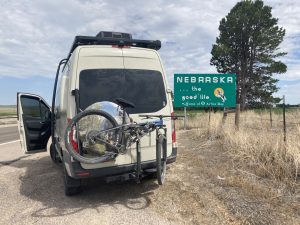 was time to continue and see what I can get into on my own. I started by going a bit out of my way back east, to grab the Kansas oldest geocache. I found a few others in between, but mainly focused on getting from place to place. I have a packed agenda of things I want to do. And I don't know how long this fairytale is actually going to last. (I still don't)
After the old one, it was time to head north to Western South Dakota for that old one.
My first day driving alone it was through the sweltering heat of Eastern Colorado. I appreciate all the kind folks and farmers that afford me the privilege to eat whenever I feel like it.
I made sure to stop by Carhenge, since it was directly in my route. What a wild place that is. I think my favorite thing about people, is just how crazy they can be.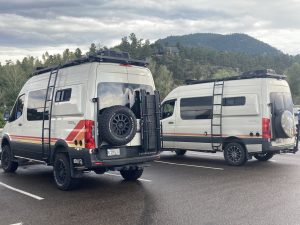 I learned a lot about all kinds of different trails. The Postal Pony Trail, The Book of Mormon Trail, the Pioneer Trail, and of course the Oregon Trail Trail. Lots of people used this area for travel cross country. Yeah, duh, I am doing it right now. Of course this is the path they took. It is blacktop all the way.
I continued north, eventually picking a town to sleep for a few hours, near the SD/KS border.
I intend to be out and moving tomorrow before the sun, so that I can watch it come up, in all it's glory. WOW is tomorrow an unrealistic day!!