We recently returned home from Norway (after a quick stopover in London to see Magic Goes Wrong) just in the nick of time. With the onset of this pandemic knowing as the Toyota Corolla Virus, air travel was shut down and US citizens were not welcome anywhere. We landed in JFK late in the evening after being flown home from Heathrow, basically on a private plane. It was the giant 2 story plane (747 I think), and we were 2 of only about 50 passengers. I think there was more staff on the plane than paid passengers. Team Sellers unparalleled luck strikes again. Our time in Norway was wonderful, truly a magical and beautiful place. At least the very tiny portion we saw in North of Norway was.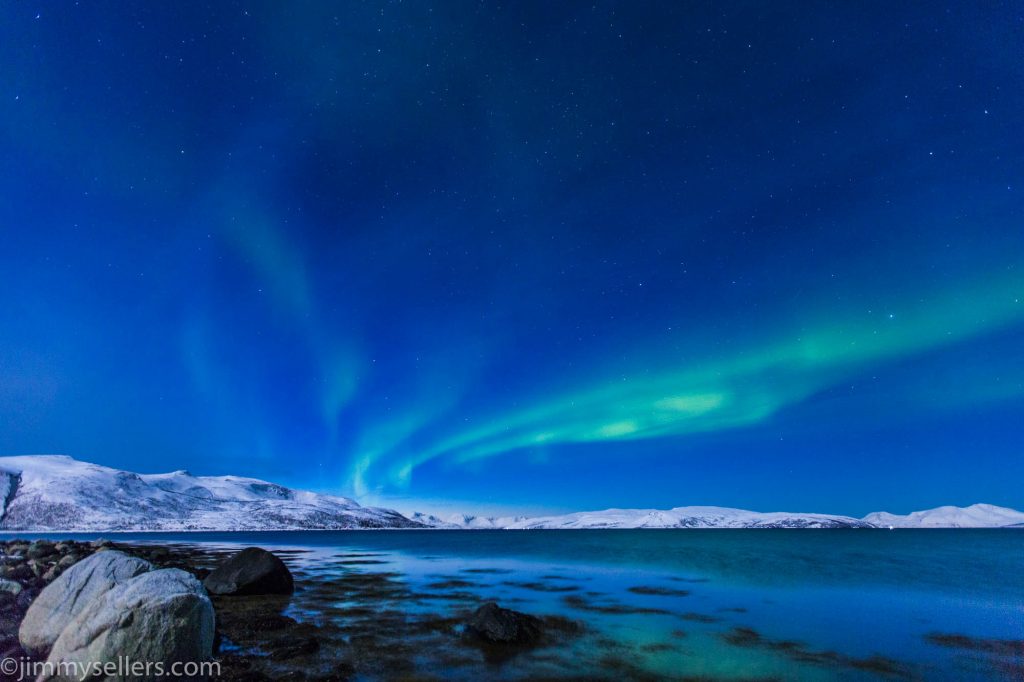 We were treated to the Northern Lights on 2 different evenings, including our first night there. A comical young Portuguese man named Marcos Sobrel took us on a private hunt about 2 hours north of Tromso. He set up a base camp in the middle of the snow with a big camp fire to make dinner, roast marshmallows, and keep warm. It was on the edge of a lake with no irritating artificial light around. We stayed in this spot for about 6 hours, until the wee hours of the morning. Got a ton of great Northern Lights shots, and had an all-around fun time hanging out in the cold and snow around a roaring camp fire. Of course, we strolled around each of the towns we stayed finding Geocaches. That always adds to the fun and adventure of any travel. 
Our second night there we went dog sledding at Camp Tamok. I believe wifey found her new calling in life. As of now all future travel must include dog sled mushing. She is thinking about getting a few here to train and try for the Iditarod in a couple years. There was only one crash and it was because while I was mushing, she did not heed my instructions on which way to lean. Her story is different than mine, feel free to go read her blog where she says mean things about me. We also happened to be in North of Norway during their annual giant Dog Sled race, the Finnmarkslopet. It was probably like being in Brazil during the World Cup, everyone talks about it constantly. 
Then we got on a boat from Tromso to Kirkenes for 2 nights, the Hurtigruten Nordnorge. It was not at all like being on a cruise, it was like a floating hotel. This boat company is used as transportation by a lot of people to get to port cities that don't have roads connecting. It was a different experience. While onboard we got to visit The North Cape, or Nordkapp. This is the northern most point on the European continent, pretty cool! The boat dropped us off in Kirkenes a couple days later. We did not know it until we got there, but we were only a few KM's, as the crow flies, from the Russian border! We were not allowed there, maybe next time. 
Thus, begins our time and stay at the famous Snow Hotel in Kirkenes…WOW! This is easily the most unique place we have visited, let alone stayed overnight. It is a giant compound with all the Nordic activities you could imagine, sled dogs, snowmobiling, skiing, puppy walks, king crab fishing, and king crab eating. They have about 20 little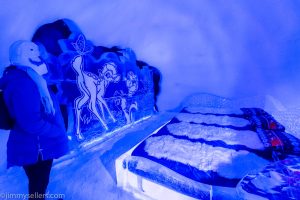 cabins for overnight stays. They also have a Snow Hotel! This is a hotel made completely of snow and ice and some low voltage electrical wires for lighting. No plumbing, no heat. There are about 20 of these rooms as well. This is where we slept on a nice mattress, all bundled up in giant military grade sleeping bags. The temperature was not a problem at all, it stays just a few degrees below zero all the time. I was much colder on my last backpacking trip in New Jersey a few months ago. I actually got hot in the giant bag long before I was ever cold. Each room has a unique theme, most of them Disney related. Of course there are pictures of all these rooms HERE. After the night in the Snow Hotel it was an overnight in a hotel in the nearby town of Kirkenes. We were treated to another great showing of the Northern Lights that evening. The lights were viewable over the water just outside our hotel, so convenient. The last day was all day of traveling, 3 planes, not 1 delay, lost bag, or quarantine because of viruses. Somehow we made it home on time and unharmed.
I might do a little more detail on some of the activities in the future, in case you care.
Some pictures of the entire London and Norway trip are in a gallery OVER HERE.