Day 4 at Ultima Thule. Lots of pictures HERE. Today was a shorter day because we had to depart at 4pm. We flew with Steve who is possibly the loveliest man alive. He is the mechanic for the Ultima Thule fleet, as well as the guy that flew us from the airstrip in McCarthy, and our first ride in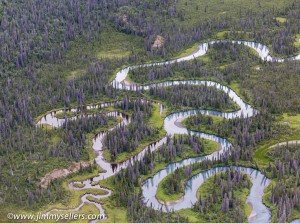 these tiny Super Cub planes. Most of the day was spent in the air. The wind was higher today and a lot of landing areas were not available. Today's goal was to see moose for Wifey. So he went straight to an area that they call Moose Valley. Even moose valley was empty today because of the high winds. After some time searching Steve finally spotted a moose and her baby. We did a few circles, watched them hide in the brush, and then take off running. Mission complete. We later saw a giant buck as well. Steve did a few laps inside the very narrow valley for me to get some pictures of him. We then went onto a sandy beach area.  It was almost comparable to a desert, so crazy to see in Alaska. It was a giant sandy beach area in between 2 glaciers with a bunch of crystal clear glacier ponds. Steve said this was his favorite swimming hole.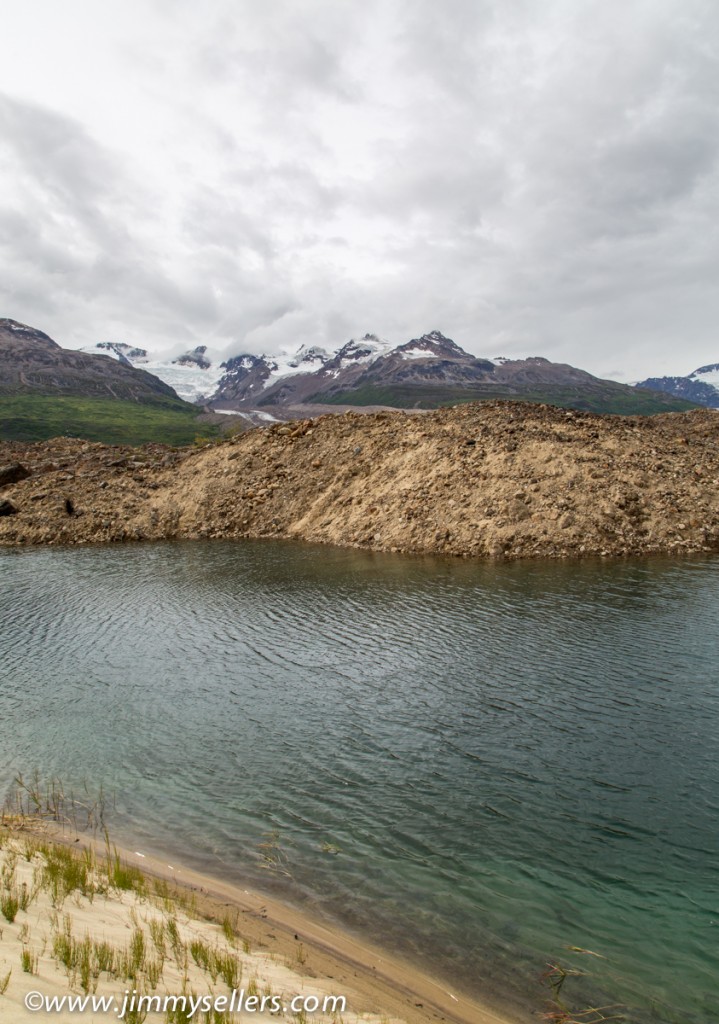 There was a fantastic view. In a single site line you could see sandy beach with green grass growing, then a crystal clear pond, then rocky mountain outcroppings, and finally the snow capped mountain peaks in the distance. It was finally off to find somewhere to eat lunch. On the way there we flew over a recently burned area. Not too large, only a couple hundred thousand acres. This is where we saw the giant moose buck. It was decided to have lunch at a place called Jakes Bar. This was an old trapper lodge that was build by a guy named Jacobson. This was so fascinating. There were 2 small cabins still standing. The NPS has since done some improvements to ensure they remain standing. Mostly they were original with the woods stoves, a sauna, some cots, and shelving. There we also a lot of the original tools including a still operable axe grinding stone lying around. These cabins were open for use on a first come first serve basis. Of course they only way to get here is by a tiny plane. I was surprised to see how many visitors it actually had in the logbook considering how remote it is. Past visitors had stocked the cabins with everything. There was plenty of kindling, firewood, books, cooking supplies, water, and all kinds of other amenities. It is an unwritten rule to leave a cabin in the wilderness ready for the next visitor as they may be coming in from the cold, and need to make fire immediately with frost bitten hands. This cabin anywhere else would have been vandalized or not respected to the degree it deserves. I love Alaska. We were chatting with Steve over lunch about all kinds of things. Having a bunch of laughs and filling him in on what awful people we are, how we like being mean and having fun at other peoples expense. Steve made a comment that "in another life we could have been friends." I jumped all over that by saying, "But not now? Gee thanks a lot." He loved that one, almost fell off the porch laughing. I knew what he meant, but it was still fun to pounce on him. After lunch it was time to head back to the compound for packing and a very sad departure. I went to the main lodge to say goodbyes and take a picture of their geocaching trophy. I milled around like a sad lost puppy making sure they did not want to offer me a job. Paul flew a big group of us back in his larger Otter plane. I got to ride as the copilot, not much could have made me happier. I think Paul felt safer knowing I was there in the copilot's position in case anything happened. One more round of goodbyes to our new friends, a handsome and well traveled family from Chicago, and the reporter and photographer for the financial times magazine. Hopefully I will be quoted. Lots of pictures HERE.