Day 61:
13,830 miles and counting.
Today is the day that my van re-proves how amazing she is. Getting me to the funnest spots imaginable, to play in the silliest places possible.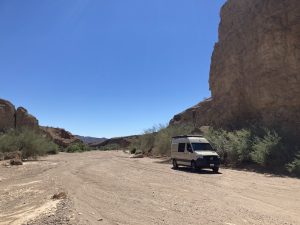 Also today I met a girl dog named Blue. Hands-down the coolest dog I've met on this trip. Even though she was a girl, I had to yell, "You're my boy Blue!"
I woke up this morning in a big pull off near Phil's memorial. I had a great afternoon playing there yesterday, until I ran out of daylight. I got an early start and wanted to head back north and east ultimately getting to Joshua tree. But I think I'm going to take a run at a 2001 geocache in Red Canyon. We'll see how it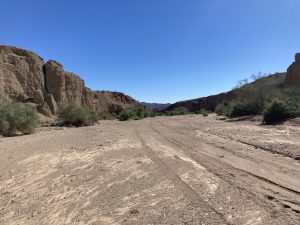 goes. Boy, am I glad I did that! It is a geocache that has been around for 22 years, and only found (now) 50 times. Not bad.
Getting to the "trailhead" wasn't so bad. Just time consuming, slow going. But thankfully my van has seen much much worse in the past couple months. It took two hours to drive from the interstate to the "trailhead". Maybe 10-12 miles. I parked, got out,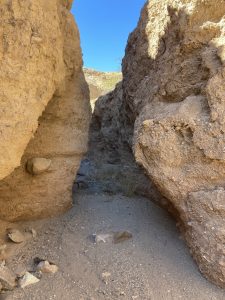 lifted my chin off the ground, because I was in absolute awe of where I was, how I got here, and my overall gratitude for this life I get to live.
While I was walking through the canyon, I saw tire tracks, and realized I could've driven a whole lot closer to GZ. But I was already changed into my hiking apparel. I drive my van in my underwear, so I had to put on some clothes and shoes. I have my pack, camera and water loaded up, so I figured it's best that I use all the stuff that I brought.
I walked until I could not go any further using only my hands and feet. I looked at the satellite map, I walked "up" the wrong "stream". There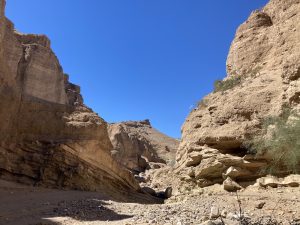 were 2 slot canyons going away from where I parked, I picked the incorrect one. Uggg, backtrack, and find where I should have went. The only thing the wrong way resulted in was more fun, adventure, and great pictures. After that it was smooth sailing. I walked right up to a 3 ½ year lonely geocache, signed the log, took a bunch of pictures, took some Pez and the disposable camera that were inside the ammunition box, and went on my merry way.
I thought for sure they were going to be making a movie about my last day of life, and call it something like 127 hours. Two hours of slow driving from the interstate, and about 90 minutes of desert walking, some light jogging.
After that, I still had several hours of daylight. I off roaded all around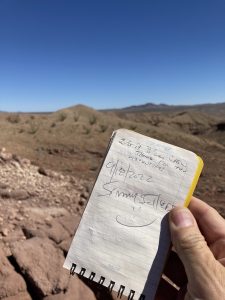 the 2001 hide, and found several other geocaches. I had a blast! I only got stuck once, first time of the trip as well. Thankfully it did not require anything more than 4WD rocking (and rolling).
Then I bopped a few miles down I-10 to a very interesting location for a geocache. A very interesting location in general, geocaching is just what brought me here. Thanks again. Desert Center, CA. Not sure how to describe it. It is like an intersection of abandoned, repurposed, and no longer used deserted desert infrastructure. A couple of multi's and then back to where I spent the day, to spend the night. No problems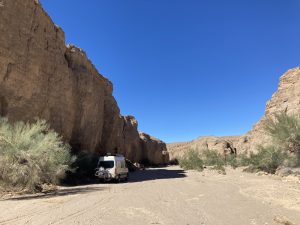 finding plenty of places to spend the night in this area. Between forest land, desert, and abandoned towns, it's dealers' choice.
I did just that, stopped, shut down, showered, ate, slept. I think tomorrow might be finding out what Joshua Tree is all about, maybe for a couple days.
I started an album of this trip that I am updating regularly HERE.