At least I got these pictures!
I'm going to do the best I can to paint this story and mental picture as if it was an animated cartoon. Because I lived my life for about 15 minutes feeling like I had to be in some sort of fantasy fever dream. Either that or Bugs Bunny had chased me deep into the desert because I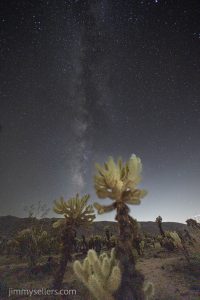 forgot to make a left turn at Albuquerque. Either way, cartoonish.
I wasn't pooping. It was the middle of the night in Joshua Tree. I was taking pictures in the amazing Cholo cactus fields. The sky was crystal clear, and the milky way was shining in all her glory. I was taking pictures from the ground looking up, through the cactus. I was being very careful. I was doing a lot of sitting and laying in the desert to get the right angles. I was being very diligent, checking everything before I moved. It was pitch black, only light was my headlamp. I knew I had to be careful, so I was. One time I was not quite careful enough. I squatted down to check a setting on my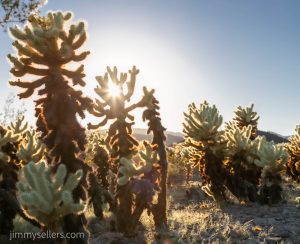 camera. I sprung up, like I was shot out of a canon. Within a few seconds I noticed that I had a softball sized hunk of cactus attached to my left ass cheek. It went all the way through my shorts, underpants, and deep into my skin. Countless cactus needles were puncturing my cheek. I immediately knew I had a problem. I did not know what to do. I knew NOT to panic, and I knew that I was not mortally wounded, just a flesh wound. It was pitch black. I grabbed my underpants to try and pull everything away from my body. I could not, so many cactus needles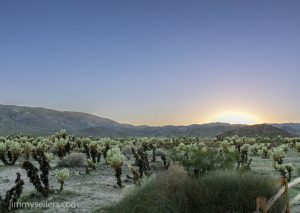 had my clothes stapled to my body. As I started to pull a little harder, I realize this was not gonna be easy. All my playing in the woods and outside I have had a lot of stickers, bushes, thorns, spurs, briars, every imaginable natural thing stuck to and penetrating my body. I grabbed ahold of my clothes on both side of where the cactus bulb was glued. I started pulling and realized exactly how much cactus was stuck in me.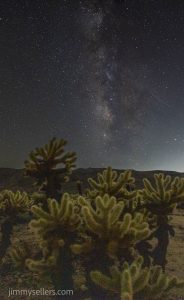 It was painful. I would love to say that it was just like ripping a Band-Aid off, get it quick get it done get it over with. It took a lot of strength to pull that thing away from my body and that was only the beginning.
I'm standing there with two handfuls of my clothes and a giant cactus bulb wrapped in them, holding it out and away from my body once I finally got it out of my cheek meat. The elastic bands of my underpants and shorts were currently my biggest enemies. I then slowly started to take my shorts and pants down. There was no other way than to take everything all the way off. I was careful as I could be but somehow, I still panicked at one point and lost my grip on the elastic of my clothes. This caused the cactus ball to shoot straight in my knee and then ankle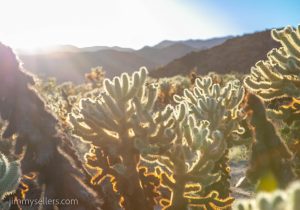 as I got close to being done. After I pried it away from my body for a second and third time, I finally get my shorts and underpants all the way off. Remember, this is happening in the middle of the desert, in the middle of the night. So now I am rocking nothing but a Donald Duck. Top only. I must walk about 10 minutes through this cactus field back to where I parked my van. I only saw one other person the whole time, and it was dark, so (hopefully) she had no idea I was Donald Ducking. I ended up with at least a handful of cactus spikes that I had to yank out with a pair of tweezers. They were stuck in such a way that even though I can get a hold of them with my fingers, I didn't have enough strength to yank them out of my body.
All in all, I would definitely say worth it. A very valuable life experience. I now know the next time I photograph in a cactus field, in the dark, I do it naked. That way I will avoid getting cactus bulbs stuck in my cloths. Lesson learned, thank you Universe for the message. Most importantly I had a great time, a great memory, and hopefully made some fun pictures!
I started an album of this trip that I am updating regularly HERE.