After a few nights sleeping outside in the Yosemite Valley, it was time to move camp to the high country. We packed up camp and started driving to Tuolumne Meadows. As the crow flies it is only about 20 miles, probably less. But it takes 3-4 hours to drive there. The elevation climb is several thousand feet and the drive is across the beautiful ridge of Tioga Road. We came up to the high country of Yosemite last year, but only for a day trip. This year we were going to sleep outside, under the stars for a few nights, and wake up in the most beautiful part of the park. As Bob Hrabek the park ranger said to us as we entered, "Welcome to Paradise". He wasn't kidding. Ranger Bob then proceeded to hook us up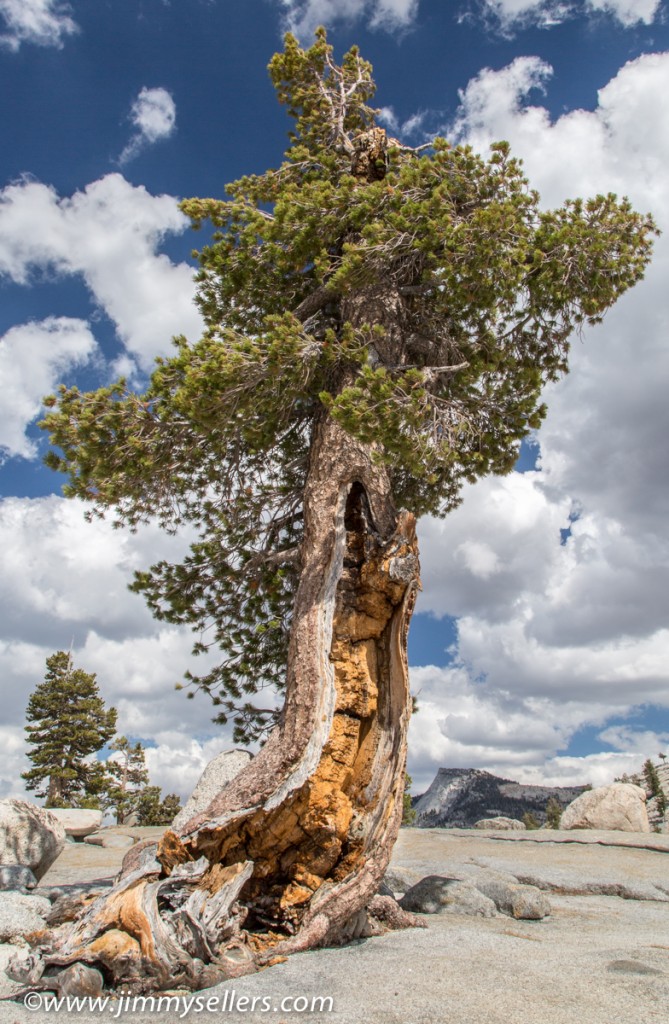 with what must have been the best campsite on the grounds. We were nestled in the trees and backed right up to the trail that lead to everywhere you could possibly want to wander. A giant change from down in the valley. The climate changed too, once the sun was gone it was freezing. Perfect for sleeping outside.
On the drive up to our new home we stopped at Olmsted Point. Another place we stopped last year, but completely different this time. The weather and skies were very cooperative for photography. The skies were deep blue with cotton ball clouds. I was able to capture a picture of a tree I loved last year, but couldn't do much with it on camera because of a dull sky. We marched out to the Point for another view of Half Dome, and then continued to our new home in Tuolumne Meadows. Once there we set up camp and went for a hike straight from our tents to Lake Elizabeth. It was an elevation change of over 1000 feet, maxing around 9500 feet. Elizabeth Lake is were the most amazing photo experiences happened, while we were there everything changed to make for the perfect conditions. I hope I was able to capture something. I will find time to get to those photos next. For now I was able to get through a few more photos, Olmsted Point and our hike toward Elizabeth Lake. Those pictures are HERE.