Day 65:
14,800 miles and counting.
Today I met Chaz, hands-down the coolest dog of my trip.
This morning I woke up in the desert forest area near phoenix. I found a place close to where I had dinner to call home for the night. I got a great night's sleep, and was up before the sunrise and moving to where I wanted to be first thing this morning. I parked and did a wonderful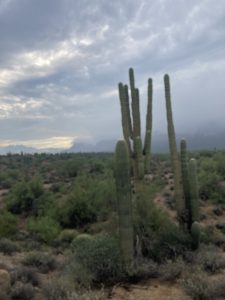 sunrise hike through the desert to find Arizona's oldest geocache. I made about a 6-mile loop over the course of 2 1/2 hours. The sky, scenery, cactus, and mountain ranges are absolutely gorgeous today. They seem to always be gorgeous around here. I looked for and found every geocache I walked by except one. It was fun seeing some friends I know from home had their names on the logs a few months ago. After that fantastic start to my day, I made my way down the road to another really old geocache. That one was very quick, almost a park and grab. I then took that opportunity to take a shower and get cleaned up for the day. I don't think I'll be doing a whole lot more sweating in bulk for the day. I have some real life things to catch on catch up on, laundry, work, and some other communications. And I need to stick around locally as I'm getting rear tires put on my van tomorrow. So, I ran a bunch of errands, food market, outdoor store to stock up on some stuff, and then I found a few of the highly favorited geocaches that are nearby. I picked up my fluff and fold, and made my way to a nearby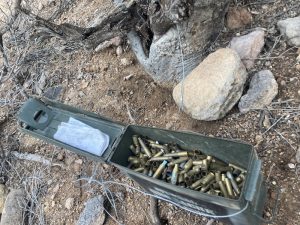 park. I parked there, and worked for a few hours. I got mostly caught up on real life, not at all caught up on my fairytale life. I then found a nice place to sleep for the night, only about 10 minutes from the tire shop…Surprise Arizona!
Tomorrow I will head north for the Table Mesa 2000, and I am renting an off road UTV afterwards! I want to off road in the desert mountains, without fear of breaking my house.
Day 66:
14,900 miles and counting.
Today I met Donny, hands-down the coolest dog of my trip.
This morning I woke up in the middle of the desert, to watch the moon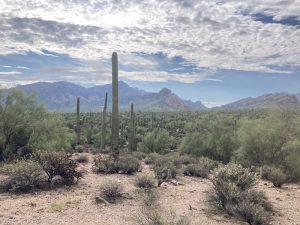 set and sun rise over the city of Phoenix. It was beautiful. I have an appointment first thing this morning in Surprise! Arizona to get new rear tires.
After my van got new rear shoes, we were on our way north toward Table Mesa. I had at least two full days here. Today I plan to drive out and hike to the old geocache there. Stay the night nearby, and then tomorrow morning I'm renting a UTV to go off-roading. I've done so much off roading in the past two months that I really can't wait to do it, as fast as I want, without fear of breaking my house.
Well…….that did not go as planned for my first attempt. It is 10 miles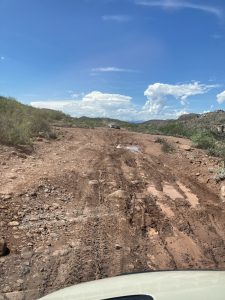 of driving from where the pavement ends to where people park for the 2000 geocache in Table Mesa. 10 miles that I read will take at least 2 hours. I'm fine with that. I got about 4 miles in. I have gone through much worse and over much worse with my van so far this trip. But I didn't want to anymore. This poor girl has taken a beating. I backed out and abandoned trying to go for Table Mesa that way. After that I went to visit a couple of outdoor rental stores, and hopefully have secured a UTV rental for tomorrow morning to get me there. It's gonna be a ton of fun, off-roading without concern for breaking my house.
As for today I didn't do a whole lot. I sort of meandered around rock Springs area, the sunset rest area, and the Black Canyon area. I took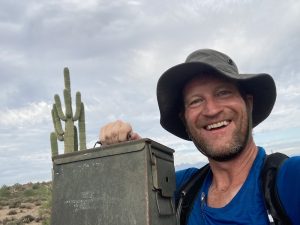 some pictures I saw some sites. I saw a lightening storm that was amazing, from my point of view. This is the first adventure of this trip that I have chickened out of. I believe today is the first day of this road trip that my plans have really just blown up, and left me feeling rather helpless. Usually when I plan, I follow through. I still hope to follow through, just a day later, and in a different fashion.
I settled down early for the night, and just enjoyed some music, and snacks. The rain came and went, and I constantly checking outside for what amazing thing the sky is doing.
I have processed a lot of my pictures and made an album HERE.