Saturday March 17, 2012
Today was one of the most fun, spontaneous travels days I have had yet. I left out of Tacoma with a destination of Mount Hood, Oregon. It was just a few hours drive and I had all day to get there. I had a short way to go and a long time to get there. Once I was on I-5 south I saw an exit for the Oregon Coast Scenic Byway. It seemed like a sign for me to see the Pacific Ocean during this trip. It was the closest to the ocean I have been up until this point. I quickly checked the map to see exactly where I was. Once I realized my proximity, I set the GPS for Astoria, Oregon. Anybody worth a crap knows exactly why this town is important.
I spent a lovely day carving through the forests of Washington State. I was following the Lewis and Clark Trail. I guess this is better than following the path of the Donner Party and meeting their destiny. After winding my way to the coastline I crossed over a body of water on the Astoria Bridge. In the middle of the bridge it changed from Washington to Oregon. On the far side of the bridge was the legendary Astoria, Oregon. I drove all through the seaside town streets, just taking in the sites and sounds. I pulled over and plugged an address into my GPS, 368 28th Street. Yep, this is the famous house from The Goonies. I parked down the street like the sign requested, strolled up the hill, grabbed a few snapshots, made a donation, smiled, laughed, and left. It was hailing on me while I took the walk and grabbed my photos, which was perfectly fitting. If I had any friends I would have a nice picture of me in front of the house. I can Photoshop that I guess. The whole event made my day. What better way to honor my trip than to visit the place where one of the greatest adventures of childhood lore took place. I just now googled The Goonies movie. The images that came up rather shocked me. Here are a couple.
From Astoria I decided to drive a bit further down the Pacific Coast on 101. I drove and walked around the seaside towns of Seaside and Cannon Beach, Oregon. I believe Cannon Beach is where the rocks are that helped lead to One-Eyed Willy's treasure, the rich stuff. Don't quote me on this. It was a gorgeous day in those towns. A perfectly sunny 50-degree day. The beaches were sprinkled with people walking their dogs. The Pacific Ocean is amazing in an indescribable way. The towns were full of tourists wandering, shopping, and eating ice cream and cotton candy. It was an extremely serene experience. Busy, yet quiet and peaceful, nothing at all like the visits to the beach I have.
From the coast I made the rest of my journey back inland and east of Portlandia to Mount Hood. This is where I rest tonight in anticipation of playing tomorrow at Mount Hood Meadows with the Natedawg and his posse. This is the fist time I have been to Mount Hood since I came here about 100 years ago. I came here in a July with LP, who is probably my longest standing friend. We tried to go snowboarding…in July. No we weren't stoned…well…whatever, the mountain really is open in July. However we were turned away because the Olympic team was training. So I believe I went and played golf instead. Oh, former Jimmy, what a fool you were. I'm really looking forward to tomorrow. I am finally getting around to what I hoped to do more of during this trip, hitting lesser known, random, nonresort mountains. If I had friends this might have happened more or sooner. And I would have a pic of me in front of the Goondocks that didn't look like this.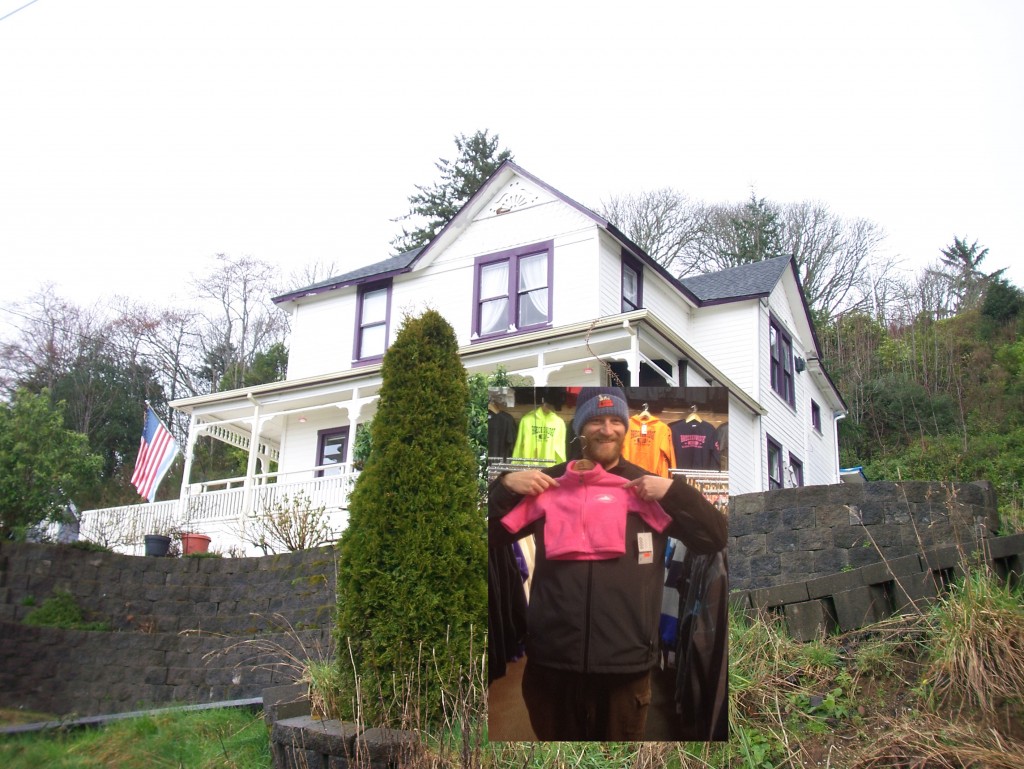 A lot more photos of the Pacific Ocean and Astoria added to the Traveling Photos.