There was some steady action happening in Carnival Land yesterday. Stopped and picked up some supplies for trekking around the mountains.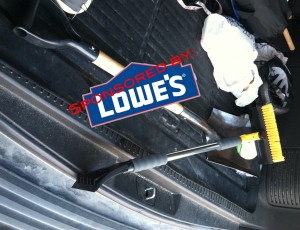 This was after being treated to a fantastic free lunch from a lovely Japanese lady. Never know when I might need to shovel myself out of a snow bank, bury a body, get ice off my windows, or beat a hobo off the hood of my car. It also looks like there might be some itinerary changes. I was offered another place in Colorado at the end of January. Updates were made to the calendar in case anyone needed to make flight arrangements. Just a reminder, all Carnival guests get a Complimentary Carnival Caravan to and from the closest airport. I was going to quote "cash, grass, or ass…no one rides for free", but then I remembered my wife has this new gun, see…
On a different note I found out that The Simpsons made a JR Ewing reference in the last episode. Seems a little fishy to me. This is not the first time I have suspected that show and their writers of stalking the Winter Carnival 2012 website. Come on Simpsons, you are better than that.