Day of Safari in Ngorongoro Crater
Men and women are very different when it comes to taking a massive leak. It is both scientifically and biologically proven that a man cannot hold pee like a chick. Men have adapted and are accustomed to being able to go whenever and wherever we please. It is a fact that if a man has to go, and his brain thinks he is gearing up to go, the next action MUST be a full bladder draining. Today, (9/11/2013) was our first, last, and only day doing safari inside Ngorongoro Crater. Quite a different experience from the couple of other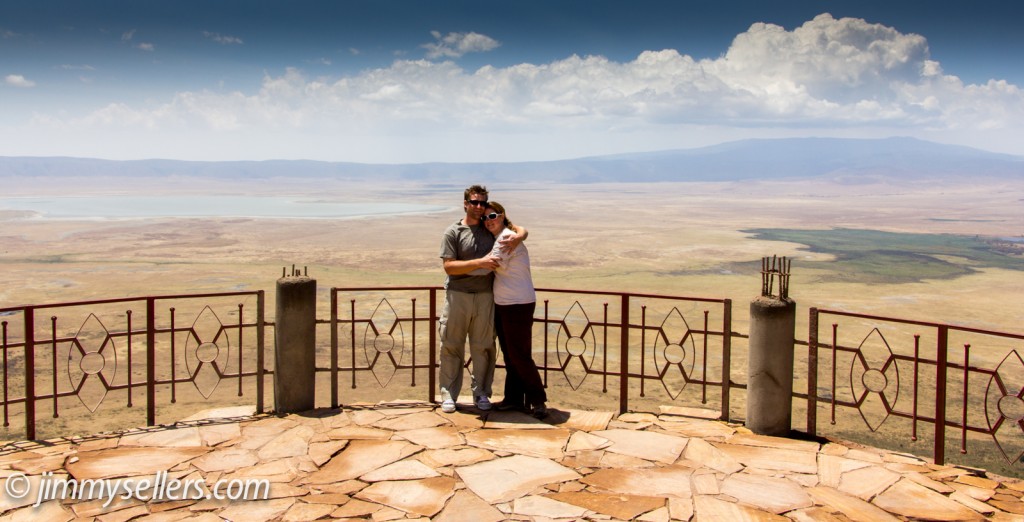 safari adventures we have been lucky enough to enjoy. We arrived to a spot this morning in the Crater that was going to be our breakfast spot and bathroom break. When we got there, an elephant had decided to post himself up in the parking area. There was literally an elephant right where we wanted to park. At that time there were plenty of other people out wandering around and using the bathroom. Some peeps were enjoying a nice breakfast snack, others were taking pictures, but plenty of people were out and about. I assumed we would also be stopping to eat and use the bathroom, so my body, mind, and bladder geared up for a well needed evacuation. Our responsible ranger, Aziza, would not let us out of the vehicle. It was too late to turn back the hands of urine time. Ranger Aziza said we would go to the next spot, about 30 minutes away. I justifiable got extremely grumpy and pissed off. I sat in silence until the next bathroom stop. The only other passengers were ladies, Wifey and Ranger Aziza. They have no problem holding it. Do I have to mention the scientific findings again? I was stewing about the situation, my silence showed them who was boss. In hindsight these are the drawbacks of using a reputable, safe, and reliable outfit. That's not bad, 30 minutes of grumping for a trip of this magnitude.
The great, redeeming news was there is a Geocache at that other picnic spot. Imagine the odds of that happening. That made jimmy all better…that and finally returning the water I borrowed to Mother Earth. I knew there was a Geocache in the Crater but was not sure if we would make it to that spot. We did. Aziza never heard of Geocaching and seemed fairly interested once we explained it to her. She was not quite as excited as Rabine, but showed (or faked) interest. We showed her where the geocache was, and what we meant by "hidden treasure". We let her make the find and took her picture. She was shocked that there was something hidden in plain site, in an area that she visits every single day. She had no idea it was there, but will now keep an eye out for people wandering around a certain tree near this parking area.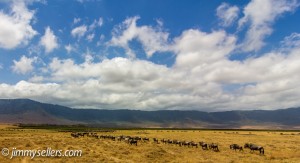 Today was our only day in the Crater. We got up really early, before sunrise, and made a half-day out of the adventure. We were back about 2pm. The Crater is definitely fascinating, but for sure a "been there done that" type place. I don't think I would force it on anyone. I am thrilled we made this journey of getting here and actually seeing this land formation. Driving down into the crater first thing in the morning the fog was thick.
The way the game drives work inside of the Crater is like a guided theme park. There is only one way in and out, vehicles have to stay on assigned roads at all times, if you can call them roads. The ranger drives until they see something, stop and gawk with up to 20 other vehicles, and then continue driving straight ahead. Luckily we were never in a situation
with nearly that many other vehicles, but we were told there could be dozens of vehicles at 1 animal sighting. It is still fantastic, but hard to compare when coming from private land concessions, driving anywhere, off roading, and only 5 vehicles on a 10,000-acre plot of land. It is a unique and crazy ecosystem, glad we saw it. We saw most safari animals and some we only saw here. The most unique part of the Crater is a salt-water lake in the middle with countless pink flamingos. They were weird to see in Africa. I think of flamingos as more of a Caribbean thing.
There is very limited fresh water inside the Crater. The entire purpose of every animal inside the Crater is to not get eaten and walk in circles until it is time to drink again. Then when it is time to drink, sidle up to the water and hope that nothing in the vicinity is hungry. Watching the zebras try to hydrate and not die should be called "The Thirsty Games."
We are out of here tomorrow, Africa that is. This was our last game drive, now we are off to Rwanda for Operation Gorilla Hair Conditioner.
Pictures of the views and wildlife in Ngorongoro Crater HERE. A few pictures of our surreal accommodations, lodge, and the view HERE.