Another experience this weekend that makes it to the top of the memories list, brought to me solely because of Geocaching. Being Indiana Jones is pretty awesome, Steven Spielberg already showed us that. Yesterday Charlie the Dog, Josh, and I set out for another unbelievably fun day of adventuring. We drove up to Lebanon, PA for the sole purpose of finding a Geocache called Raiders of the Lost Cache. We have heard good things about this one for a long time now. It is the most favorited Geocache in the entire state of Pennsylvania.  We did over 6 miles of fairly grueling hiking, which means that Charlie did about 10 miles. The hide itself was in a cave of boulders. You either had to come down inside from the top, or crawl on your belly from underneath. This definitely classifies as one of the more adventurous things I have ever done. This statement is coming from a guy that once drove the length of Trail Gulch Road, just because my GPS machine told me to. Once inside, the entire "tomb" was decorated out like a scene from Raiders. Fake spider webs, skeletons, snakes, an actual Arc, the whole nine yards. It was completely worth the drive and the hike.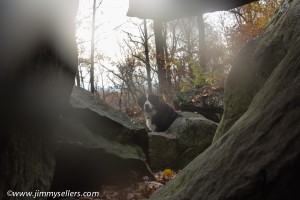 After Josh and I had our fun inside the tomb it was time to pack up and exit. As I got to where I could see the light of day, all I saw was a patient little dog's head waiting for me. It was so sweet. We thought it might be fun to get Charlie inside and see if he was good at spelunking. It took a bit of coercion, but we got him inside.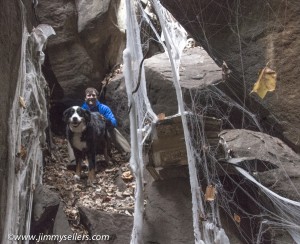 Josh took some pics of two best friends hanging out inside a cave. What a blast we had. Yet another top of the list life experience I never would have had without Geocaching. Here are some pics in case you care.