What a day it was, possibly the funnest day I have had since The Carnival. In a world of ever evolving new experiences, I found my newest. There is an event called Cache across Maryland. It is 10 geocaches hidden all across Maryland, once found will decode a secret location of a big picnic in May. I know, it sounds pointless, confusing, nerdy, and insane. 100% up my alley. There are 10 hides that span from western Maryland all the way to Ocean City. The idea is to see all of Maryland, and experience how diverse the state truly is. It promotes tourism, and the lesser agenda of "getting of fat lazy asses and do something". This is the first year we can participate, from everything I have heard all the past years have been a blast.
Charlie and I spring out of bed at 3am like anxious children on Jesus' assigned birfday. We loaded up all our gear for a day on the road. Food, water, towels, leashes, cigars, just the essentials. The plan was to head the furthest away first, and then work our way home. The furthest point was western Maryland, past Cumberland, just before West Virginia, 250 miles one direction. We arrived at destination number one right around sunrise. The area was beautiful. Snow was lightly falling and the ground was covered in fresh snow from recent days. The trail we had to follow was along a raging stream. White caps, narrow scary bridges, cliffs edges that fell straight into the water, quiet, seclusion, and hidden items…this area had it all. We spent a couple hours wandering this trail, made our find we needed to make, and then ventured back to where we parked. Charlie had the time of his life. He was running free, hopping logs, posing for pictures, and playing in the snow…every little boys dream.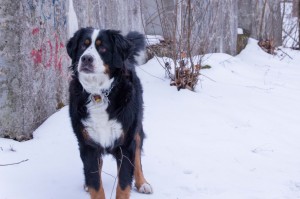 Once back at the car we set our GPS for the next destination, back east near Rockville. It was still early in the morning and we made it to the next target mid-morning. By the time we arrived the climate was completely different. No more snow, the sun was shining, and it was almost short sleeves weather. Another great hike out and back along this trail. It was just me and Charlie in the winter ravaged woods. He is such a good boy, no leash required. He makes me so proud. On the way back to the car we ran into another group of cachers out to find the same hide. We swapped pleasantries, the canines sniffed assholes, and we parted ways as newfound friends. Back at the car again I checked the map. Apparently we were right around the corner from something known as Coffin Rock. It is the location shown in The Blair Witch Project where some murders took place. There was no way Charlie and I were getting away from here without grabbing some photos of a handsome boy in front of Coffin Rock. After escaping with our lives we set the next destination, near Frederick.
It was just after lunchtime when we arrived at the next destination. This spot will be forever known as the only place that Charlie decided to speak up. All day driving, running into other people and dogs, and this is the only place Charlie barked at anything. At the entrance to this park was a statue of a shirtless man that Charlie was not fond of. He made it very clear that he was not happy that this statue was here, or that he thought this statue was dressed inappropriately for a family location.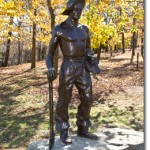 Another beautiful park. The trail system here was a giant loop around the perimeter of a raised area. Every turn offered another vista point and view that went on forever. It must be the highest elevation in that part of Maryland. This hide was an extra fun one, a multicache. It required several stops along the way, offering more views, doing math, and solving a puzzle before ultimately making the final find and obtaining the necessary information. Real detective work we were doing, I know. Back at the car we ran into an old man who was just taken by Charlie. Of course, who isn't now that I think about it. Into the car, next destination programmed into the GPS, it was northern Baltimore County.
The last stop of the day was at Prettyboy Reservoir. This is a place only an hour from my home that I had never heard of before in my life. Oddly enough I had been told about Prettyboy Reservoir just a week prior. I was having a chat with my long time friend John, telling him about all the hiking Charlie and I had been doing. He suggested that we should go to Prettyboy Reservoir. I told him I never heard of it, but would put it on our to do list. Well wouldn't you know, the very next day the list for the cache locations come out, and one of them is Prettyboy Reservoir. Just more proof that this world is not real and we are all living in some type of simulation. I am really believing that life works like popup adds on a computer. Do one Google search for a hotel in Mexico, and immediately every advert on the computer is geared toward Mexican accommodations, prescription pills, prostitution, Taco Bell, and making extra income colon smuggling heroin for the Mexican Cartel. Maybe that's just me, I don't know. Charlie and I made it to Prettyboy Reservoir parking around 4pm. Plenty of sunlight left to fulfill our mission and enjoy the sunset. The walk from where we parked was a long walk. Once down to the reservoir the views were spectacular. We followed several trails that were well out of the way from our destination. Taking our time, taking in the sites, and killing time until closer to sunset…great photo opportunities. Along the way back we found a natural spring. Charlie decided that was a great time to start playing in the water. Not swimming, more like frolicking. He drank several gallons of water, and then we headed back to the car. This time the programmed destination was home.
We arrived back home around 9:30pm. Total was about an 18-hour day. We covered a large portion of Maryland, saw a lot of wonderful sites, met some nice people (and dogs), did a lot of aimless wandering,  took plenty of pictures (a select few that I am proud of are HERE), completed the geocaching mission we set out to complete, found many more along the way, and did a lot of pissing outside. It was without a doubt one of my most funnest, adventurous, and pleasurable days since The Carnival ended. Thank you Charlie and geocaching for entering my life.