Friday January 13, 2012, yep that's right. Friday the 13th.
Wow, what another hell of a day. So many things, so many stories. Did about another 850 miles today. Currently west of Denver somewhere, about an hour from Vail. I think that is the current plan, head to Vail. Take a couple days to settle in, slow down, and adjust to everything. I got some help from my close friend and travel assistant Bradford today. He pointed us in the right direction. And he did it in typical Bradford fashion, while making everyone laugh, yoinks. It was smooth steady driving. Once again, no traffic. Seems odd, but there was no traffic. I can't decide if there is just nobody that lives in the areas we are driving through, we are in places that nobody cares about and want to be at, or just getting super lucky. I saw gasoline today for as low as 2.79/gallon. It was 85 octane, but whatevs.
Friday the 13th started early for us today. We ran out of gas, yes, 2 adult men ran out of gas on I-70 westbound at exit 85 in Kansas. Here is my version of the story. GMB was driving, I was taking a nap in the passenger seat. Next thing I know we are sitting on the shoulder out of gas. That is my story, and I am sticking to it. If GMB has a different version you can go read it on his website. Luckily we only sat still for around 10 minutes. A cop and a service station guy both showed up and sold us gas within 10 minutes. We were pretty lucky. Before they got there GMB and I got out of the car, started Tebowing on the shoulder of the highway, nothing happened, then we realized we had not crossed into Colorado quite yet. But then shortly after we were! Colorado!!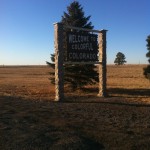 Before we left the hotel this morning we had their continental breakfast. Everyone has seen a continental breakfast before and we are all familiar with how dreadful they always are. The one this morning had something neither of us had ever seen. It had an individual pancake maker machine. It was pretty cool, and completely new to me in the world of things I have seen. I was somehow able to take the coolest thing that has happened so far on this trip and make the most boring video in history out of the event. It's here unfortunately.
We were at dinner tonight in some hole in the wall local diner. Probably my favorite way to eat when I travel. I made a few personal revelations about myself during that dinner. First, and most important, I am probably going to be wearing a cowboy hat before the end of this trip. Next, the town we had dinner in is probably the kind of town I would like to ultimately move to. The lady at the table next to us paid for her dinner with a check…a paper check. If you are not sure what that is, Google it. Since I fell in love with the town I took the liberty of grabbing some real estate papers. I think I might put an offer in on a spot there, but please don't tell Wife, she might be upset. I think her one rule to me when I left was "don't buy any land". Seemed like a weird rule when she said it, but I guess I get it now.
Today was Amber Alert Awareness Day. There were signs about it all over the interstates flashing nonstop. Once GMB and I saw them we decided we better be on our best behavior. Seemed like an odd thing to have an awareness day for. Is there really someone that would see an Amber Alert on another day and think to themselves, "I'll call tomorrow, it's awareness day."
Somehow in the past 24 hours I have gotten deathly sick. I feel like hot buttered crap. Everything from my shoulders up is wrecked. I hope a good night sleep fixes this. I went through 2 boxes of tissues today. I just drank some Nyquil and waiting for that to kick in while finishingggggggg12wsxde3frvbghnm,?,kjukl,.l/