Winter Carnival is coming…
are you ready?
Snow is coming down all around. Starting to get itchy. The carnival calendar is up www.jimmysellers.com/wordpress and I am mentally preparing…
The Winter Carnival Calendar has moved…
It now has it's very own site. It can be found at the link above in the headings, at www.jimmysellers.com/calendar or you can clicky here!!!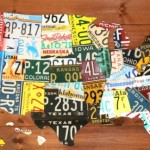 Photo galleries uploaded
Getting prepared and getting excited! I uploaded a few of my photo galleries. I started with the ski related ones, obviously. I just moved everything to a new web hosting company and they have easy to use photo gallery tools. I put a link in the menu or www.jimmysellers.com/pictures
Farfetched? Probably. Impossible? Definitely not.
Buckle up boys and girls, the carnival is gearing up to commence. Plans have been made, plans have been changed, and the itinerary is always developing. The endeavor I am striving to undertake has been described as farfetched…to travel cross-country and spend the winter chasing the snow around the western North American mountains. Farfetched maybe, but not quite impossible. For an oil baron this seems like an even crazier, more unlikely possibility. With the encouragement of the best wife ever (who happens to own a gun), the freedom of a non-breeder, and the backup of an amazing and mostly competent staff, I may just make this dream happen.
Contrary to some opinions, I believe life is most likely short. With that in mind, this is either my very first life (because I can't remember any others), or the stories I have heard about reincarnation are a load of dog shit. If I don't do this now, I may never get to…..or this may just be the first year of a new tradition….like last year was for real christmas trees.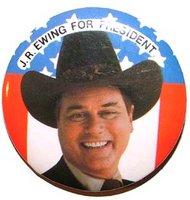 Not quite, but it's something…
I'm still finding ways to keep myself entertained while the Carnival clock counts down. The downhills make me crave the slopes. The uphills make my legs burn with euphoria. I think a few day trip to Killy is in order to make sure the legs still work and to bang the rust off myself and my board. Thanks to wifey (gun owner) for keeping me company today.
I'm not the only one excited for Winter Carnival
Posted on
This guy makes even me look good.
One step closer
Posted on
Man, this almost makes it feel real. In today's mail was my Epic Pass. That's right, I bought a season pass that is good at 7 or 8 mountains in Colorado and Lake Tahoe. I can't believe how cheap it was in comparison. 7 uses and it will have paid for itself. Thanks for the heads up on this deal Greg in Colorado (like he is actually seeing this).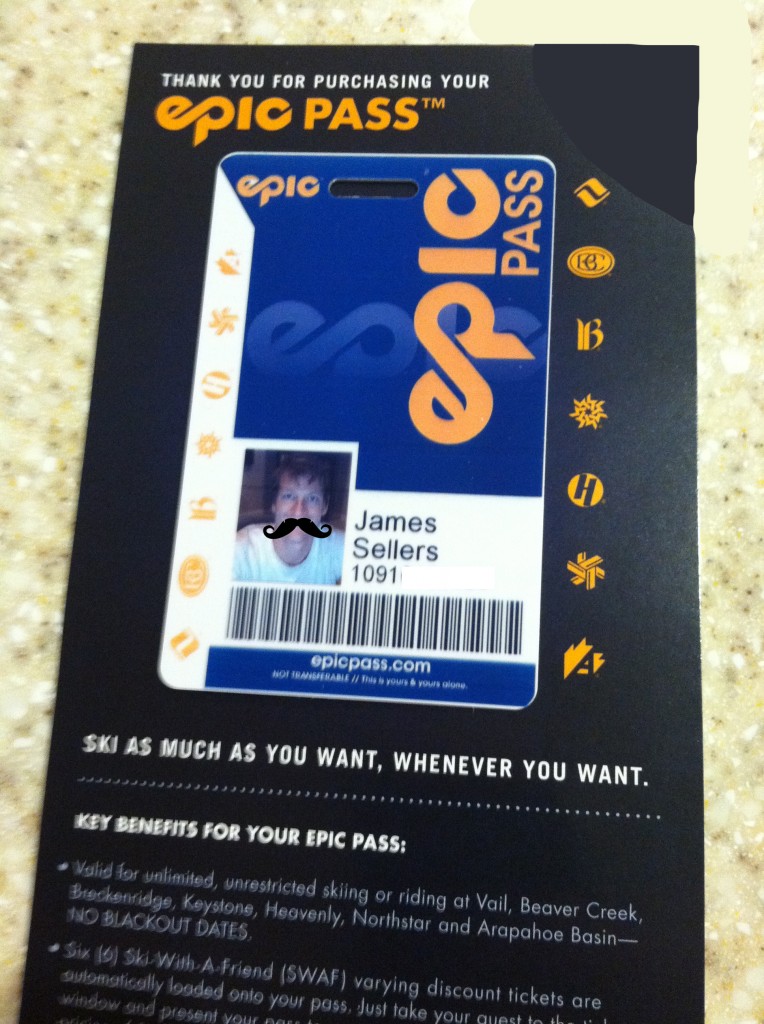 Taking the giving out of Thanxgiving
I am not 100% convinced that pilgrims or indians ever actually existed. Regardless of my religious beliefs (or complete lack thereof) in buckle hatted buffoons, or Chris Columbus fearing, tee pee building natives, it seemed like a brilliant day to make a turkey.
The only thing missing is our mommy family member. We think she is in Mexico buying guns from the Cartel, and we miss her.
PS- feathers are not a hat.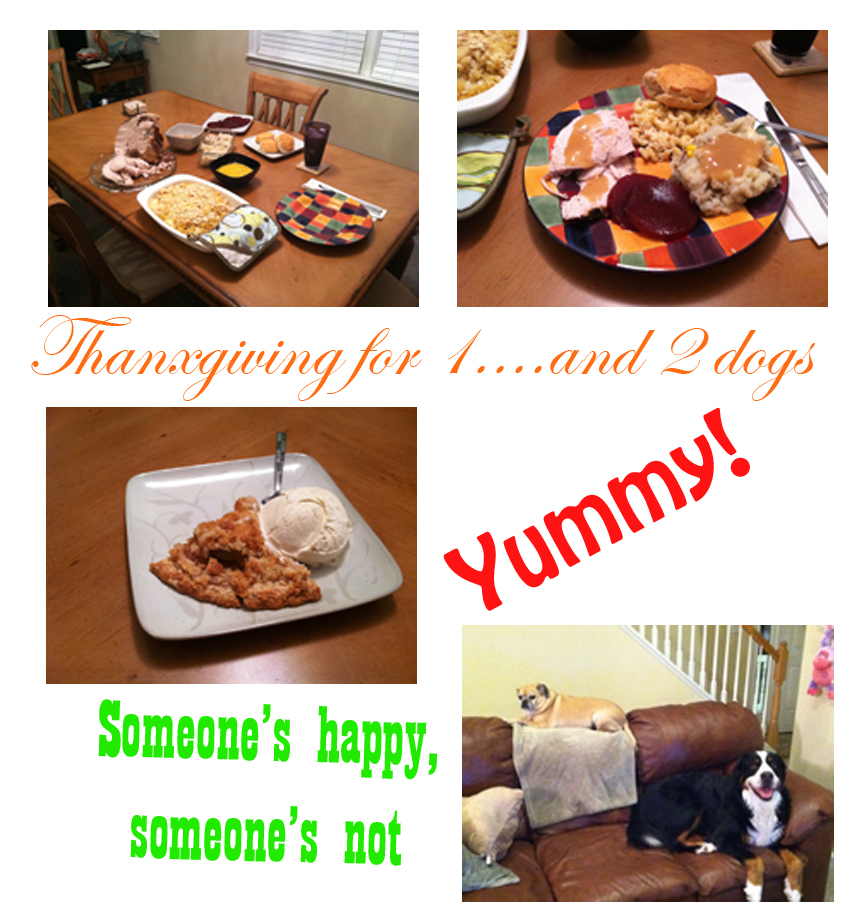 It's beginning to look a lot like…….
Carnival time…what did you actually expect it to say here? Of course Christmas is also just around the corner. As everyone already knows, there is no happier and joyous time of the year for me, which is why I was bestowed the nickname Christmas Jimmy. Most people know that I celebrate a much lesser observed holiday known as Winter Carnival. Christmas Jimmy is simply a nickname of convenience for others. Regardless, it is a time of year for celebration, joy, avoidance of family, festivity, and gluttony. My office is decorated with all the festive ornaments that symbolize Winter Carnival. There is a baby jesus in his manger sitting on one of my desks. Next to him is a paper clip holder. Across the desk from there is a yamaka that I use to keep the lid safely on top of my cigar jar humidor. I also have a picture of my dead dog and some granola bars. It is fairly obvious that this season really brings out the best in everyone, especially me.
Happy Winter Carnival to all!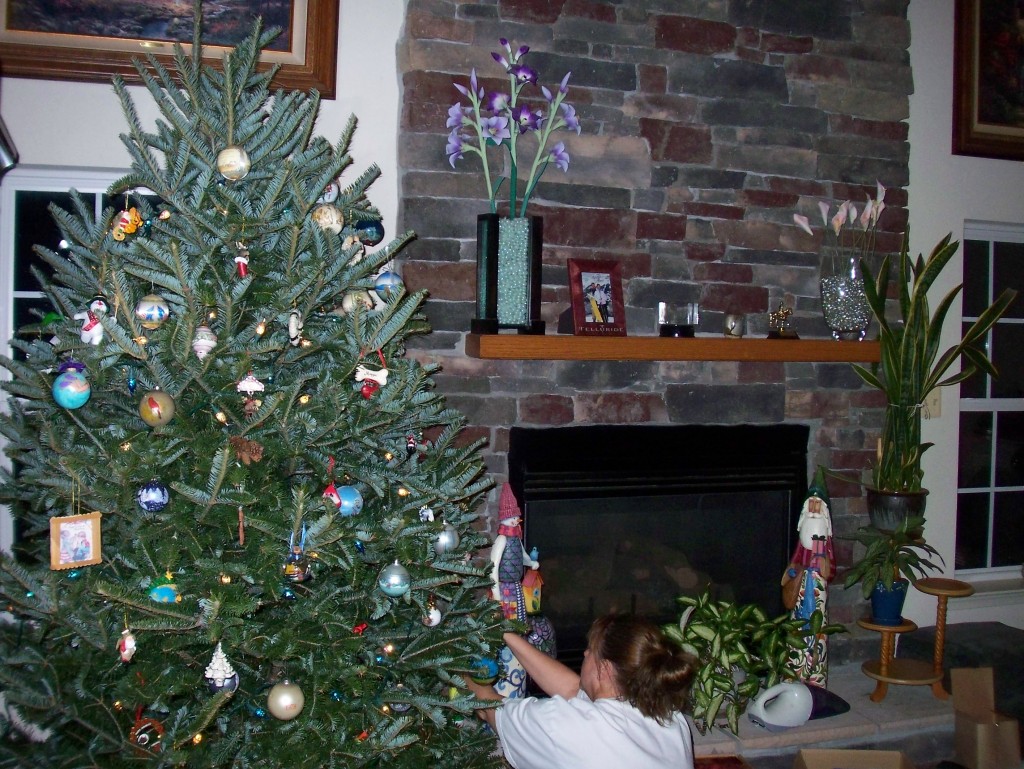 SURPRISE!! I mean supplies.
There was some steady action happening in Carnival Land yesterday. Stopped and picked up some supplies for trekking around the mountains.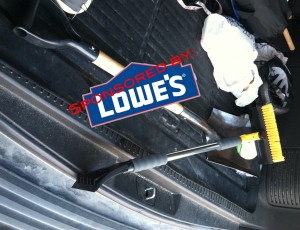 This was after being treated to a fantastic free lunch from a lovely Japanese lady. Never know when I might need to shovel myself out of a snow bank, bury a body, get ice off my windows, or beat a hobo off the hood of my car. It also looks like there might be some itinerary changes. I was offered another place in Colorado at the end of January. Updates were made to the calendar in case anyone needed to make flight arrangements. Just a reminder, all Carnival guests get a Complimentary Carnival Caravan to and from the closest airport. I was going to quote "cash, grass, or ass…no one rides for free", but then I remembered my wife has this new gun, see…
On a different note I found out that The Simpsons made a JR Ewing reference in the last episode. Seems a little fishy to me. This is not the first time I have suspected that show and their writers of stalking the Winter Carnival 2012 website. Come on Simpsons, you are better than that.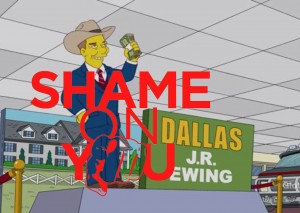 Mobile homes are homes too
My darling friend Bradford sent the video below to me. It is short, under 2 minutes, and an easy watch. I am guessing that if my winter plans had any real thought, organization, or planning it would look something like this:
I'd have built a trailer on wheels if I had any friends. Traveling solo does not warrant a truly mobile home. Watching this over and over gives me hope that WC2013 could be a far-reaching and life-altering escapade. Either that, or I'll simply follow the travel model set by the Griswolds, European Carnival 2013.
Just in case anyone did not know already, and was curious what exactly a Bradford is, here he is, captured at what can only be described as his happiest moment: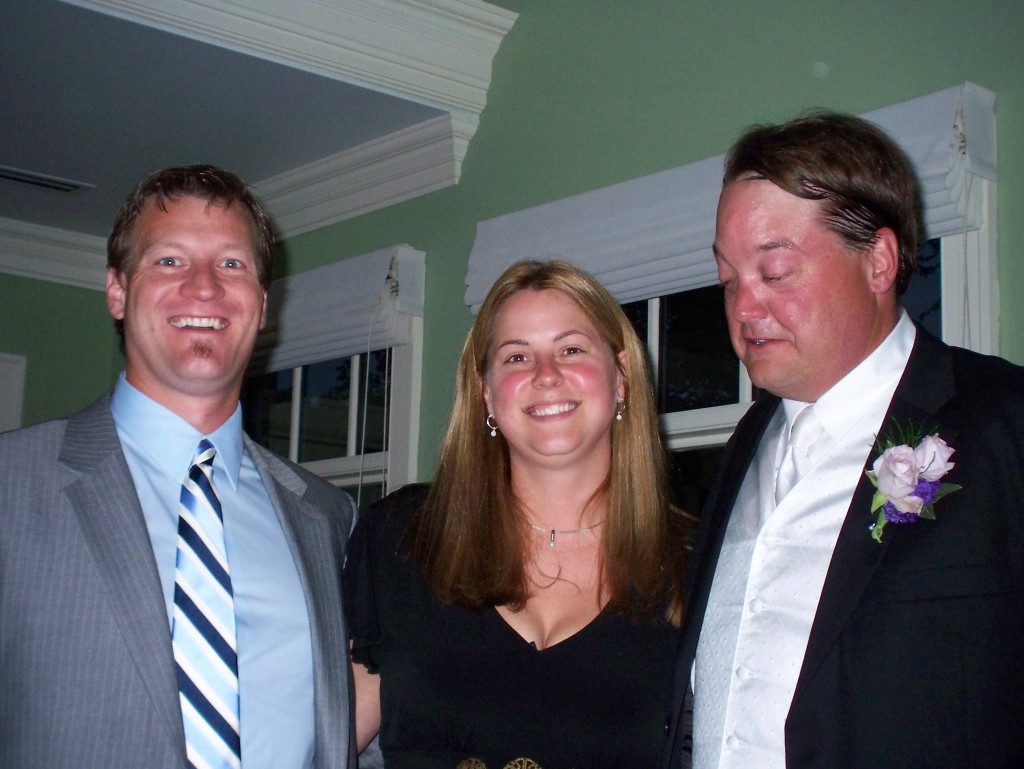 Last minute plans & First person shooters
Posted on
Most of my day was spent gearing up and getting ready to be traveling for a long time. Packing, organizing, cleaning, tidying, and preparing are how my day was spent. One of the things I did was get a new helmet cam set up. I still have some tweaks to work out and need to optimize the mounting, but I do believe that in the process of today I may have invented the worlds newest and most outstanding first-person shooter game. I haven't been approached about selling the rights to this game yet, but I am open to offers.
I realize this is not the talent level of Bennie and the Jets, but that is no reason to not be proud of my creative and inspired team. And the answer to everyone's question is YES, many neighbors saw me running around in the back yard like a lunatic wearing a helmet and goggles playing Frisbee. It is probably exactly what the kid on your block with no friends looked like after he saw Tron the first time.
Is this real life?
Well under 2 weeks until embarkation day for my journey. I can hardly believe how the time flies. My gear seems to have started living the carnie life before me. Regardless of what I am able to do in the next few weeks, if I'm able to pull off this pipe dream of mine or not, my snowboard is on it's way to Colorado. Bon voyage, farewell, I bid you adieu.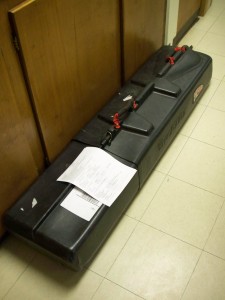 I don't know if I can actually go away. I turn my back for a few minutes and find 3 of my top paid guys rummaging through the dumpster. I'm not sure what they were looking for, but I guess this is better than catching them pantsless behind the dumpster.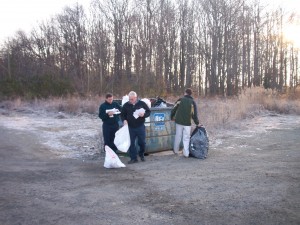 But don't think for a SECOND that my family is not protected. Anyone that knows me knows that I offer very little protection anyway. Now my family FINALLY contains a bad-ass gun wielding hot mama.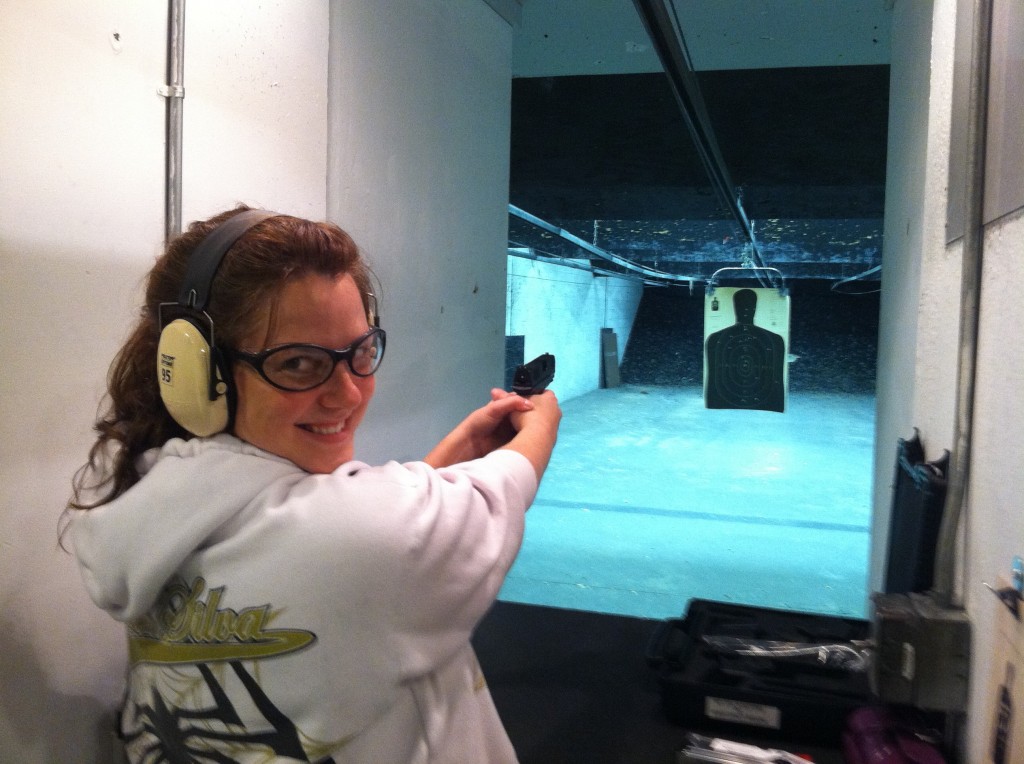 After months of searching and waiting, the new Chariot of the Carnival has finally arrived. It's fully equipped with 4 wheel drive for life threatening mountain passes, navigator so I can safely traverse from settlement to settlement, a backup camera so I don't run over children, all-weather floor mats for filth and french fries, and a steering wheel. As you can see Chevy has done their part, they are an official sponsor of the Winter Carnival 2012 crusade. I feel pretty stupid and immature for putting these stickers on my new car, but I have been told those are 2 of my finest and most useless super-powers.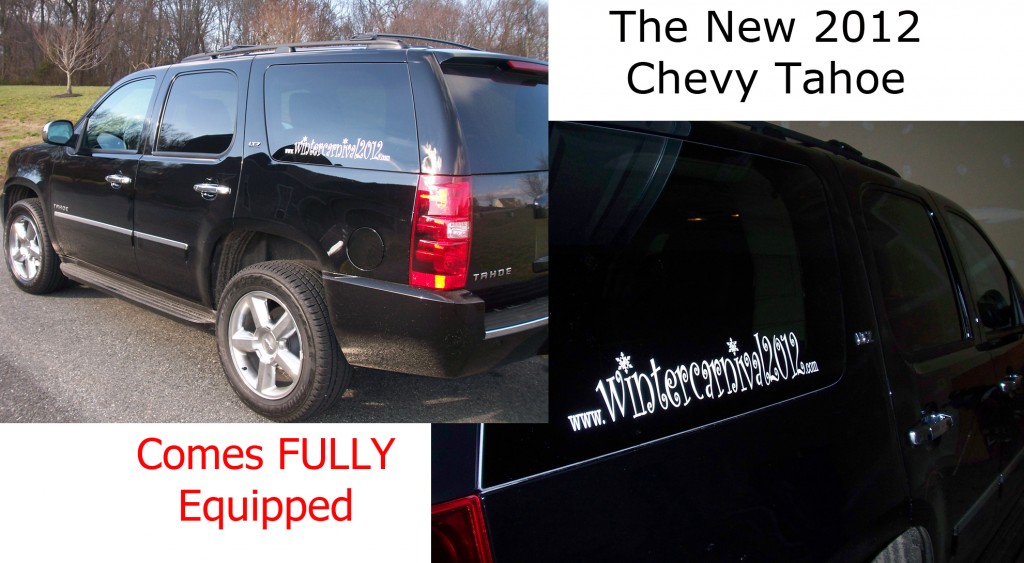 Oh yea, Merry Christmas and GO PACK GO!
Tomorrow, you're always a day away
Hopefully the sun snow will come out. I can't believe this is really only a day away!
We just got back from finalizing our estate planning. Since I was going to be away for a possibly extended period of time, Wife thought it might be a good idea. I am going on record right now to say that if anything mysterious happens to me in the near future I want her questioned immediately

First the "OK" to travel cross-country without a mountain dog for safety, then a gun, now updates to my will. This is playing out like a bad Agatha Christie novel.
Looks like there may be a major overhaul to the calendar. The snow is not happening anywhere yet. So far this winter has had a preposterously small amount of snowfall for the entire country…nothing this bad since the 1800's, at least that is what I was told by one of my heroes. I may have to abandon the 'Colorado for January' plan unless something changes in the near future. British Columbia Canada and Jackson Hole, Wyoming seem to be the only 2 places I am tracking that are getting any significant snowfall. There is still plenty of time, but something has got to happen soon.
Luckily for me the complete freedom for revision is one of my favorite aspects of Winter Carnival 2012!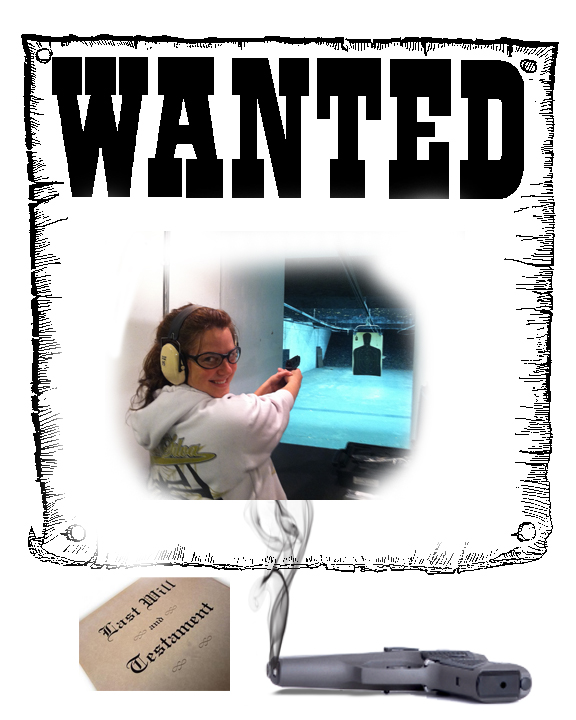 The Carnival is officially under way. Made it into Colorado yesterday unscathed, without delay, and arms full of caramel apples. Needless to say, I've got a sour belly. But that is not going to stop us from dashing to the slopes this morning. We are about to brave some of the worst and most dangerous conditions the locals have seen in years. Because of the lack of snowfall there are bare spots and rocks jutting out. Then we told them we are from the east coast and they said we would be just fine and feel at home.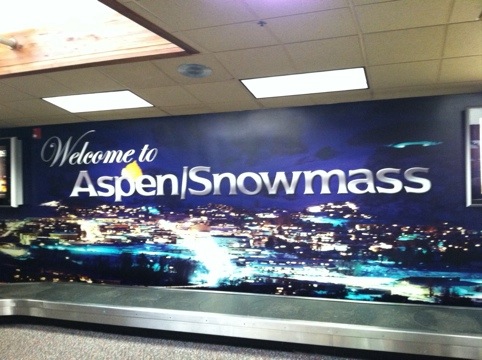 January 2, 2012
I am a bit disappointed in myself and in my body and mind today. I have spent the last 10 months of my life preparing for this day, and this day has finally arrived. I could not have been more excited. The past week of my life has been filled with more anticipation and excitement than any "night before Christmas" memory I can imagine. I have exercised almost every day, I have eaten (mostly) right, definitely much better, I have turned a great deal of my fat into muscle, and I built a website dedicated to this journey. I have been mentally and physically preparing for this day for almost a year. Today was such a personal disappointment. I have plenty of things I can blame it on, excuses to make, and Wife is telling me they are valid. I didn't sleep for almost 2 days until last night, my muscles are tired and sore from the working out, I took a terrible fall early and probably have a minor concussion…they aren't letting me sleep.
Snowmass Mountain today, 40 degrees, no snow in weeks: We got to the mountain before the lifts opened, prepared to be on there first thing in the morning. The locals here would have you believe that the current conditions are some sort of plague stricken upon this area by a wrathful and vengeful god. In their minds, they are right, but we come from the east coast. I have grown to love the powder and tree skiing in the past few years, but that is not the environment I learned in. Early in the morning the trails were freshly groomed and quite nice. As it warmed up everything does turn to crap. It is not the January conditions they are used to in Aspen, but it is plenty of fun for out of towners. About 2 hours in I took a terrible fall because I was either trying to avoid an outcropping rock or a deer crossing the trail, I can't remember. I knew immediately that I was physically OK, but I hit my head, and it was one of those head hits that would have been death or worse if I weren't wearing a helmet. I sat there for a couple minutes gathering my wits. Again, I knew immediately I was OK, but shook up. That is not a confidence booster on the first day out. I kept going for a couple more hours, but was obviously a bit shaken and dizzy headed. Later today I wasn't even able to kick Nick Finazzo in the face without losing my balance. I called it a day around 1pm and it hit me how disappointed I was in my body and myself. Day 1, I need to shake this off quickly and not be discouraged.
Wait, what? A spaghetti sandwich? Is that Japanese?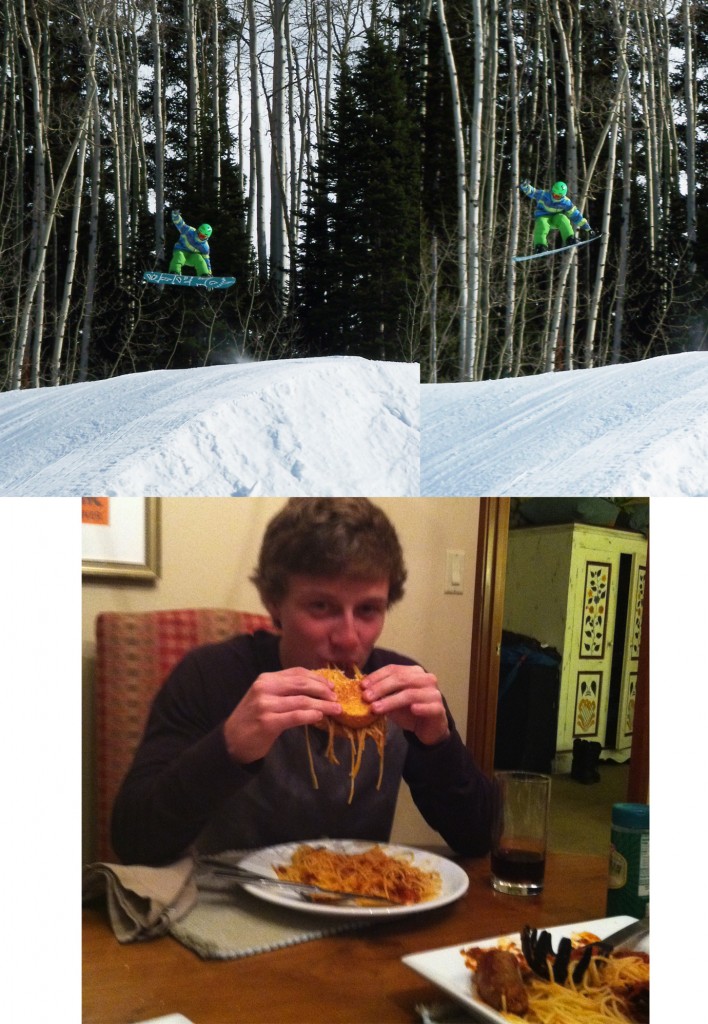 Can you believe this is the same person in all of these pictures? In the top pictures he looks to be the smoothest, most hip fella, soaring through the air with the grace of an eagle. However, in the other he looks like an absolute degenerate with no table manners and the common sense of a bag of burnt dog turds. I promise you though, this is the same human being in all pictures. Somehow he has invented the long sought after spaghetti sandwich. I have no idea how we have existed this long as a species without the creation of the spaghetti sandwich. He has somehow taken the cumbersome act of eating spaghetti and made it even more of an awkward, clumsy hassle.
This young man's name is Nick, he is a fine upstanding democrat. Wife and I both agree that he is one of the nicest kids we have ever met. Knowing him partially negates my experimental concept of abolishing all burdensome children from the planet.
www.nicksspaghettisandwich.com
Tuesday January 3, 2012
Happy anniversary to me. Snowmass Mountain again, very warm, still no snow. Conditions were even spottier then yesterday. Early morning was fine, but then the rocks and dirt came through the top layer earlier today. I hesitate to use the word terrible, because I do not feel that way. But these are not the conditions people travel from around the world to Colorado in January to ski. Being an east coaster this is still marvelous to me. The views are spectacular, and getting 4 or so hours of early day runs in is plenty for me. I'm still ramping up for what could hopefully be a long winter.
Personally I felt much better today. My neck is terribly sore and stiff. I definitely did some damage. Apparently a certain list was left at home, and nobody was keeping a close eye on me yesterday. Both Wife and the Finazzo's are fired from daycare duty. Looks like I will just have to try to take care of myself…that is never going to work out. I took everything very slow and leisurely today. I had to keep my head and upper body pretty much cemented as one unit. Thankfully I did not have any problems. Taking it easy for the day allowed me to practice riding switch foot most of the day.
Wife and Mel took a fall together today that was quite hysterical. I missed most of it, but when I rode up I couldn't tell if they were screaming in pain or crying of laughter. It was laughter and I think they both peed a little bit from laughing so hard. We also got a glimpse into one of our potential alternate futures. From the lift we witnessed a beautiful mountain dog running down the hill chasing a particularly tiny human being on skis. Not sure if the dog was protecting or trying to eat this future adult.
On a much more serious note, I had an amazing beef brisket sandwich today for lunch. Day 2, considerably better than day 1.
Is it murder if it was never alive?
I guess if you order a dessert called a "snowman", you shouldn't be surprised if this is what you get. It might just be the cutest dessert ever. It seemed like a tragedy watching him get eaten. Unfortunately this is the most snow we have seen in one place our entire week. I swear I heard him scream out in agony as the spoon knocked away his corncob pipe, plucked out his eyes of coal, bashed his button nose, and dug into his snowman brains. Thank you Jimmy's Restaurant in Aspen!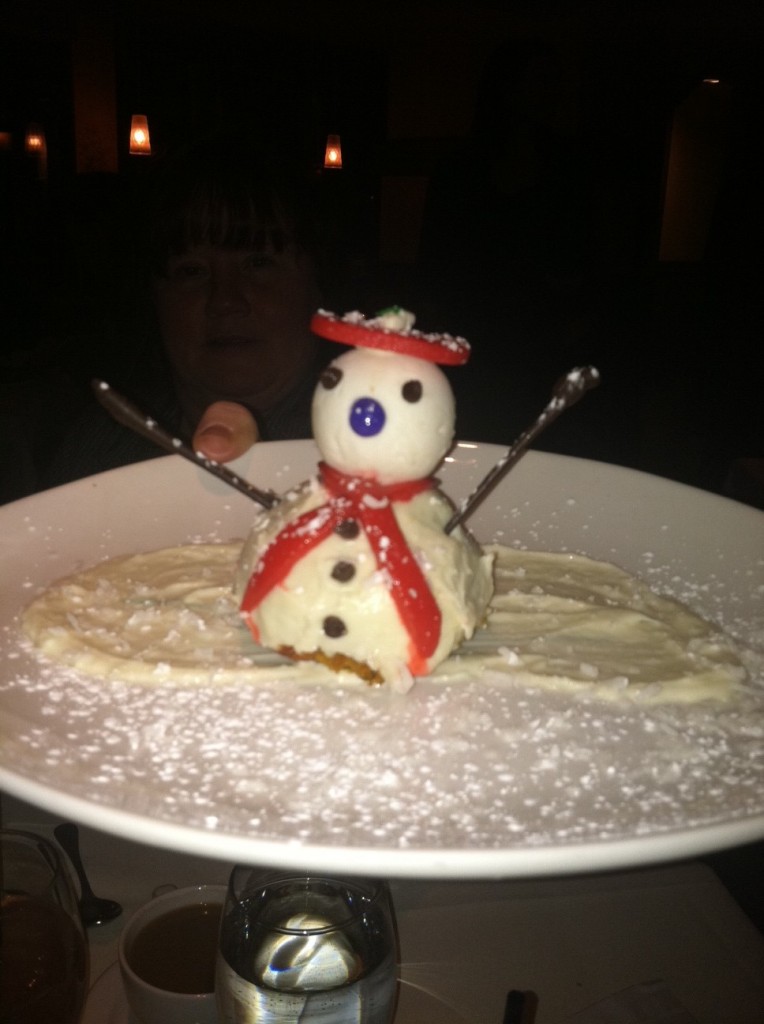 Wednesday January 4, 2012
Buttermilk Mountain today, still warm, still no snow. We headed into today without much hope for anything better than the past couple of days. Truth is that it was about the same conditions, but Buttermilk is a much much smaller mountain. Almost everything was groomed and this mountain is blowing snow. Nowhere else around here is blowing snow. Buttermilk is allowed to blow snow because they are hosting the X-Games in a couple weeks. The mountain was empty, like having our own private ski resort. Still no fresh powder anywhere, but the blown snow made for a much better experience. Anything getting blown always makes for a much better experience. We played today until almost 2pm, which included a quick snack break. Everyone was happy with today's conditions. Again, not the Colorado powder you come here for, but noticeably better and more fun than the past couple days. Awww, there is an adorable dog over there right now. Makes me miss my puppies.
My confidence level gets a +1 after today. About an hour in to today I had a vague recollection of why it is that I planned a monumental journey for this winter. Some semblance of why I have prepared physically, mentally, and professionally for the past year came rushing back to me today. Today was better for me personally than the past 2 days combined.
The neck is still very sore and my range of motion is restricted. Ha, the neighbor was just outside firing up the grill and invited us over for salmon dinner tonight. That was nice of him. Very handsome fella from Boulder. He asked me if I was from Boulder, said I looked familiar. I told him I wished I was from Boulder and might be one day. Went to the gym for about an hour today after the mountain. First time since Saturday. I was afraid because of the neck, but made out OK. Dinner reservations tonight at a place in town called Jimmy's. They will have high expectations to meet. UPDATE: expectations more than met!
I think tomorrow is going to be an off day. Wife wants to take a break and tomorrow is supposed to the warmest day of our week here.
What's grosser than gross?
No, it's not a dwarf telling you that your hair smells nice. It is waking up in the morning, flipping on the news, and seeing this image flash across the screen: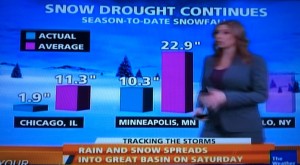 What is happening to me right now is the equivalent of Jeff Spicoli heading over to the Australian and Hawaiian internationals only to find out that the ocean has dried up. Then winging on over to London only to find out that Keith has finally died of an overdose. He would be one sad stoner. I think I have made it pretty clear how I'm feeling right now. A snow drought? Really? Is that even a thing? If there was a god I'd swear he was smooting me…smiting me…either way, something bad. Luckily I live in the age of hot chicks giving out the weather.
Thursday January 5, 2012
Another day in Aspen, today was a day without skiing. The weather was a gorgeous spring day! Too bad it is January in the Colorado Mountains. We decided to take a leisure day of rest today. Decided to spend the morning checking out Aspen to find out what all the rave was about. I felt very underdressed, I had absolutely no fur on whatsoever. This town appears to have more fur per capita than anywhere else I've been. Fur on everything, boots, jackets, hats, ski helmets, pants, gloves, and I actually saw a mink scamper across the street wearing a fur.
It started with a very yummy mountain breakfast, one of my favorite treats in life. Then we walked around the town checking out the shops. I have never seen so many digits on price tags. This town caters to a type of person I am not, nor is anyone I know. We don't fit in here very well. Our chauffer for the day told us that we seemed too down to earth for this town. Then I told him I don't like to be spoken to by the help, and to keep his eyes on the road.
Early afternoon was simply lounging around, being lazy, but then the real fun began! We went on a dog sled ride through the forest that finished with a fine dinner. The dinner included buffalo and elk, 2 animals that could eat me if they wanted to. That's right, a dog sled ride. We sat in a sled while a team of dogs mushed us around the mountain trails. Pictures are HERE. It started out rather scary, but just for a few seconds. It was not at all what I pictured going into it, but ended up being a ton of fun and a really unique experience. Avril Lavigne was there, ask her, she'll tell you how much fun it was. You might not be able to get too close though, because her bodyguard was there and this guy was bad. He apparently forgot to not get neck tattoos. Sorry no pictures of either of them as proof, but she really mushed and had dinner at the table next to us. I think she was trying to get my attention to make out with her.
Back to the slopes tomorrow!
At least these dogs can earn their keep
Last night Wife and I went on a dog sled ride and dinner at a place in Snowmass called Krabloonik. It was not quite what we expected, but ended up being quite a fun and unique time. I don't think us or any of our dog team will be winning the Iditarod anytime soon, but we did set a world record for number of running dog deuces. George Carlin has an old bit about how you never see anyone "Taking a shit while running at full speed". The late and great Mr. Carlin obviously never went on a dog sled ride.
It became obvious during the picture sequence when and where I spotted the camera guy. If you watch the pictures in sequence you can see where I first spotted him, then I tried to act natural for the camera, then it simply turned into an uncomfortable staring game between me and the cameraman. What a weirdo I am.
Last night made me examine exactly how we treat our dogs and just how lazy those mutts are. As soon as we get home they are either going to have to get jobs or enroll in community college. Roller coasters.
[nggallery id=2]
Friday January 6, 2012
Aspen Ajax Mountain, still warm, still now snow. Today was a great day on the mountain. I think all 5 of us had a great time. Once again the conditions were much better than we expected. Getting there first thing in the morning and hitting the fresh corduroy makes all the difference in the world. Still not quite like fresh powder tree skiing, but much better than anything at home. Of course the forecast is calling for some snow this weekend here, just in time to close down the airport and trap us here in Aspen…darn. The mountain itself seems amazing. Really big with a lot of potential. Too bad we were not able to see much of the mountain. I think we are going to end our trip tomorrow at the same mountain.I did get called something fun yesterday. I told someone about my planned winter adventure, and she called me a snowboard gypsy. I like the title, hopefully it will stick. It feels more natural than my self appointed title of Oil Baron.
I haven't taken many pictures so far, either the camera or the battery or both are totally busticated. I guess I need to put that on the replacement list along with my helmet. The few I have taken are HERE.
Great Italian dinner to finish off the evening. Thanks as always to yelp for pointing me in the right direction in towns I know nothing about. The only thing I thought I knew about this town is that it catered to the hoity toity, snooty, stuffy, ultra-rich, purse puppy carrying upper class. This I was correct about.
I stand by my opinion that there is nothing cuter on this planet than Wife skiing. She somehow makes it the most adorable thing I have ever witnessed.
Saturday January 7, 2012
Aspen Ajax Mountain again, for our last day here in Aspen, maybe…
Something really strange has happened here today. I am not sure what it is or what has caused it. All day there has been this mysterious whitish in color powder falling from the sky. The locals are baffled, they say it is something they have not seen the likes of in months. Some of them are referring to it as "snow". That can't be possible though, it's January in the Colorado Rockies. What a great last day! Finally some snow is falling. Visibility suffered because of it, but that is the cost for fresh snow. I don't know why you can't have everything, bright and sunny as well as fresh falling snow. That does not seem like too much to ask for. I love when there is snow on the ground and in the trees. That makes it so much easier for me to swing into the woods and take a pee. I swear I'm not lying about the snow, HERE is a pic I just took outside our front door.
We have all had moments of forgetfulness or confusion, you know, "Where are my sunglasses?" They were on top of my head. "Where are my car keys?" They were already in my hand. Well, Mel is a little more confused than the rest of us. Somehow she misplaced her gigantic, NASA like moon helmet…on top of her head. It provided for one of the larger laughs of the day.
Now that the inaugural week to the Carnival is coming to an end it is time to start planning an escape route home. The airport here is already closed down for the day and more snow is expected through the night. As awesome as being trapped here in the snow sounds, the reality, expense, and logistics of it are not great. Especially when there are 5 of us counting on flying death tubes to transport us back to the Beast coast. (Most) everyone here has something important to get home to. I simply need to get back to my Carnival Caravan to attempt to continue down this road of bliss.
As always, thank you to my ski family away from home, The Finazzos (image used with expressed verbal permission of the alpha male Finazzo). They are a delight to travel with and bring nothing but joy, humor, and tidiness to the trip. I am always glad when they are able to join us. I hope they can make it to another stop on the Winter Carnival 2012 Super Spectacular Tour.
I'm not sure when the Carnival train will start up again, hopefully sooner rather than later. I will be keeping an eye on weather conditions and base my next departure date on that. I assume sometime next week I will just start driving west and play it by ear from there.
Tuesday January 10, 2012
Tuesday night, 8pm, Maryland. Sitting at the house right now, mulling over my thoughts. Sunday night's journey home from Aspen was quite the treacherous escapade. We got to Denver and there was no plane there for us home to Philadelphia. We had to be rerouted to Phoenix, then to Philadelphia. It was about 5 extra hours on a plane then originally scheduled. Everything went smoothly and at least there was no sitting around in airports. Of course both of our bags were lost, they just turned up this morning. The snowboard case ruined, obviously. I am sure that is a lost cause.
Spent the last 2 days finishing up at work and at home. I think things are all square at work and everything is falling into place to run smoothly thanks to all the help. Everything at home is gathered up, organized, and ready to be packed into the Caravan. I think I have everything on the honey-do list finished. Wife hopefully won't have anything to worry about while I'm gone. Everything I can think of is filled up, emptied, turned on, turned off, scheduled, organized, ready to generate our own electric, changed, repaired, broken, and the dogs just had a bath.
I went to The Bum today to replace my helmet and drop my board off for a complete wax and tune-up. You know they have a dog that works there 1 day a week? That's pretty neat. They told me they would have my board done by tomorrow night, so this all probably spells out a Thursday departure. Then I stopped and visited my mommy. I figured I would ensure her that I was still alive and mostly in one piece.
Due to the shitty unnatural January weather out west, I still do not really have an exact plan. Gallivanting Mate Bob (hereinafter referred to as GMB) is also ready to roll. Seems like he is antsy to get on the move. He is easy like a Sunday morning, so there is no pressure for a hardened agenda. I have a feeling we will get on the road very soon. We will have at least a 2, maybe 3 day drive before we will really need to make a decision about where to be. For some reason it feels like I am drag gin my feat about leaving. Wife says it is because I am a sissy. It probably is mostly due to that, but I am also leery about such a significant life decision. The lack of winter in most of North America isn't helping anything either.
Speeding tickets that is. Thanks a lot Ohio. Other than that today was a successful first day of cross-country driving. Right at 1000 miles and a 15-hour day. Not quite sure where the destination is yet, but it is either Vail or Jackson Hole. Sleepy time now. I hope Ohio is swallowed up by a tidal wave that somehow magically skips over the entire right coast.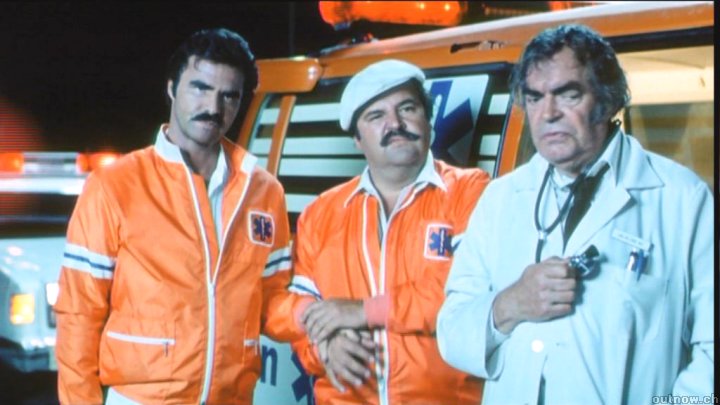 January 12, 2012
Today was a successful first day in a cross-country drive. Other than 1, yes 1, speeding ticket in Ohio everything went swimmingly. We covered right at 1000 miles and are currently somewhere in Missouri. I think this is Missouri. They people definitely have that very distinct Missouri accent. Nobody has shown me anything yet however.Today's gas was sponsored by the letters F U O H I and O. Also by the Christmas from Mommy fund. Thank you. Boy that went fast.I saw more snow today than I have seen the rest of this winter combined. We drove through some pretty bad quasi white out conditions somewhere in Indiana. I think it was Indiana, the snow had that very distinct Indiana accent. There was no real accumulation anywhere along the drive, but it was steadily coming down. Luckily for us we did not hit one second of traffic anywhere during todays drive. I was able to drive as fast as I wanted for every minute of the drive. I used the cruise control just to be safe. I still don't think I deserved that first speeding ticket. The only reason to hit the break pedal all day was to get gas, eat, and tinkle. Amazing, that has to be a once in a lifetime event. I don't plan on any other legs of the journey being quite like that. I am still not quite sure where the destination is yet. It is either going to be Vail or Jackson Hole. I will probably flip a coin before I go to bed.So far the only drawback I have found traveling with GMB is that he is unwilling to try new things. All he wants to eat is the standard fast food. Come on, we are in a different part of the country with different foods. But what really surprised me was his lack of enthusiasm for the local culture. I tried to convince him that we should stop at one of the Indiana truck stops, grab some crystal meth, get completely gacked out, and 24 hour party this trip all on night! Queer said no.
This would never happen to Tebow
Friday January 13, 2012, yep that's right. Friday the 13th.
Wow, what another hell of a day. So many things, so many stories. Did about another 850 miles today. Currently west of Denver somewhere, about an hour from Vail. I think that is the current plan, head to Vail. Take a couple days to settle in, slow down, and adjust to everything. I got some help from my close friend and travel assistant Bradford today. He pointed us in the right direction. And he did it in typical Bradford fashion, while making everyone laugh, yoinks. It was smooth steady driving. Once again, no traffic. Seems odd, but there was no traffic. I can't decide if there is just nobody that lives in the areas we are driving through, we are in places that nobody cares about and want to be at, or just getting super lucky. I saw gasoline today for as low as 2.79/gallon. It was 85 octane, but whatevs.
Friday the 13th started early for us today. We ran out of gas, yes, 2 adult men ran out of gas on I-70 westbound at exit 85 in Kansas. Here is my version of the story. GMB was driving, I was taking a nap in the passenger seat. Next thing I know we are sitting on the shoulder out of gas. That is my story, and I am sticking to it. If GMB has a different version you can go read it on his website. Luckily we only sat still for around 10 minutes. A cop and a service station guy both showed up and sold us gas within 10 minutes. We were pretty lucky. Before they got there GMB and I got out of the car, started Tebowing on the shoulder of the highway, nothing happened, then we realized we had not crossed into Colorado quite yet. But then shortly after we were! Colorado!!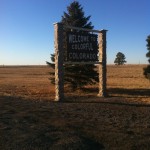 Before we left the hotel this morning we had their continental breakfast. Everyone has seen a continental breakfast before and we are all familiar with how dreadful they always are. The one this morning had something neither of us had ever seen. It had an individual pancake maker machine. It was pretty cool, and completely new to me in the world of things I have seen. I was somehow able to take the coolest thing that has happened so far on this trip and make the most boring video in history out of the event. It's hereunfortunately.
We were at dinner tonight in some hole in the wall local diner. Probably my favorite way to eat when I travel. I made a few personal revelations about myself during that dinner. First, and most important, I am probably going to be wearing a cowboy hat before the end of this trip. Next, the town we had dinner in is probably the kind of town I would like to ultimately move to. The lady at the table next to us paid for her dinner with a check…a paper check. If you are not sure what that is, Google it. Since I fell in love with the town I took the liberty of grabbing some real estate papers. I think I might put an offer in on a spot there, but please don't tell Wife, she might be upset. I think her one rule to me when I left was "don't buy any land". Seemed like a weird rule when she said it, but I guess I get it now.
Today was Amber Alert Awareness Day. There were signs about it all over the interstates flashing nonstop. Once GMB and I saw them we decided we better be on our best behavior. Seemed like an odd thing to have an awareness day for. Is there really someone that would see an Amber Alert on another day and think to themselves, "I'll call tomorrow, it's awareness day."
Somehow in the past 24 hours I have gotten deathly sick. I feel like hot buttered crap. Everything from my shoulders up is wrecked. I hope a good night sleep fixes this. I went through 2 boxes of tissues today. I just drank some Nyquil and waiting for that to kick in while finishingggggggg12wsxde3frvbghnm,?,kjukl,.l/
Saturday January 14, 2012
Made the rest of the drive today to Vail. It was only just over an hour. I am feeling somewhat better today after a good, long night sleep last night. I'm still sick, but living with the problem. We got into town around noon, parked, and got oriented with the town. We are staying in Lionshead, one of the mountain villages in Vail. Our room is about 100-yard walk to the center of the village and the main gondola. Pretty sweet location. I walked around with GMB for a while, talking about the town and skiing, and answering his boyhood questions. GMB has never skied or anything even close to skied before. Everything he saw today he was seeing for the first time. It was pretty cute. Probably what it would be like if I had a 50-something year old son. I can only walk around a mountain village for so long knowing that all my gear was just around the corner not being used. It was a gorgeous sunny 30-degree day, so I excused myself from GMB and put my Epic Pass to use. I am really glad I purchased the Epic Pass. A 1-day pass for Vail is $116! I did about 6 or 7 runs this afternoon, all were good. Vail Mountain seems huge. They claim, "there is nothing like it on earth." I didn't see much of the mountain but I worked my way from one side to the other in a couple hours. It was late and everything was choppy. I plan to be out there first thing tomorrow morning. Nothing to report for snowfall here in Vail, but the extended forecast has just recently changed to snow showers for most of this week. Fingers crossed, but it is hard to have faith. Apparently there is no god or Jesus, Tebow is down 35-7 at the half.
The room we are staying in is something else. This is the smallest room I have ever stayed in while I am staying with the largest person I have ever roomed with. GMB is about 6'11" and there are no beds in this room. There is a pull out sofa and what GMB is calling a 'murphy bed'. It is a bed that folds up into the closet?!? What the eff is that? I feel like I am in an episode of The Three Stooges or Laverne & Shirley. Both unfold toward each other and they touch each other at the end of each mattress. It is like the 2 beds are bumping helmets. There is not enough room for both beds to be out. One of us will be sleeping at a slight incline all week. I am pretty sure I know which one of us it will not be.
I have felt so rushed, hurried, and on the move for the past few days. I guess I have been all of those things. I am hoping now that I am here and settled in, I will be able to relax into this trip and enjoy what I have set out to do. The Snowboard Gypsy is searching for Zen.
Sunday January 15, 2012
Vail Mountain. Nothing much to report about today. I got up early and went down to wait for the slopes to open. I had a nice egg and sausage sandwich for myself while I watched the rest of the world come to life around me. I was on about the 4th or 5th gondola up this morning. Not many people were around for this mornings opening ceremonies. Still no new snow on the mountain but the grooming that Vail does is top notch! If you are a person that prefers the groomed trails then this place would be perfect and you would never know there has not been any snow. They take great care of the snow they do have.
I rode about half the day. It was a gorgeous day, in the 30's and bright sunny. I am assuming because of the nice weather and it is a Sunday, the place got crowded at mid-day. I decided to pack it in. I love having the Epic Pass! I came back to the room and watched football with GMB and did work. Poor packers. It's a good thing I've been a Ravens fan all along. I have pictures to prove it. Going to dinner soon. Nothing interesting or fun to write about. I am just sitting still in Vail waiting for the snow to come to town. Poor Packers.
That's it. Hope you didn't expect more.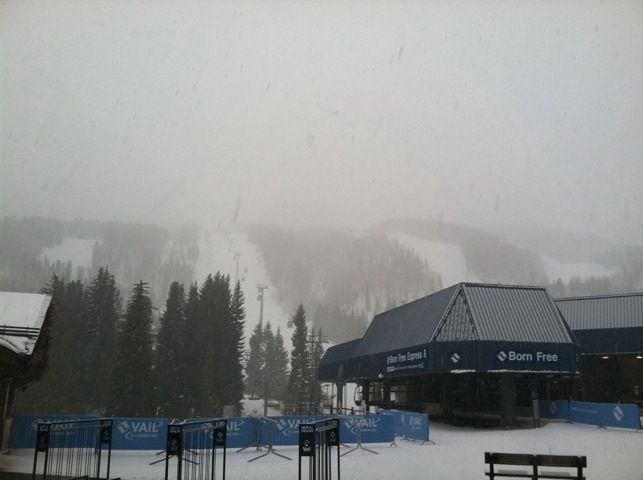 Monday January 16, 2012
Happy MLK day to everyone! How appropriate a day it was, a day that dreams can come true. I think I have to compare myself to MLK today, as I also had a dream. If MLK was around today I'd like to think that the two of us could sit down over a nice cup of tea and talk about how both of our dreams have come true and how important each of those dreams are. I am in now way belittling the dream of MLK, I am simply stressing the importance of my dream…snow.
What a glorious day it is here in Colorado, every snow flake is falling exactly where it should. A day like today is what I have prepared for the past year. Getting my mind, body, and professional life in order to enjoy snow on the mountaintops. Today is what the locals call a "powder day". It was snowing overnight and so for almost all day today. Heavier in the morning, slowing down now. The sun even peaked out for a little while around 11am making for the perfect conditions. I was out for most of the day today. The benefits of being alone out here and a single on the ski slopes were obvious to me today. I was able to fly right into the singles line at each lift and not have to wait. I do sometimes like people and like to be around them, but being a single on a day like today was perfect. After lunch it started to get crowded again and I had just had a nice bowl of buffalo chili for myself. The chili did me in, or I would have stayed longer regardless of the crowd. The combination of those 2 things pulled me back inside for the day.
Fresh powder makes all the difference in the world. Coming downhill on fresh powder compared to anything else are two completely different activities. Even though they are the same thing, one is so much more enjoyable than the other. There is such a womb-like comforting feeling knowing that you can fly downhill knowing full well there is a snowball's chance in the Poconos that you are going to hit an icy patch. It makes for such a much more pleasurable, exciting, and safe experience.
Tomorrow is supposed to be extra cold and windy with no snow. The snow is to start back up on Wednesday. I might take tomorrow off to rest and catch up with work. Never know though, see what universe brings.
Tuesday January 17, 2012
Wow, what an amazing day. 10 inches of snow yesterday and last night. That makes for even better conditions than yesterday riding in the snowfall. I was originally going to take today off. I woke up late, took it easy, and I apparently had myself completely fooled. It hit me about 7:45; there was no way I was taking the day off after all that snowfall. I was up, dressed and in line when the lifts opened. The wind that was in the forecast never showed up and the sun shone all day long. I was able to break out my new goggles for the first time today (thanks to Hillbilly, he really knows me better than anyone). Today would have been the perfect day to finally use the video camera I have. But that would take some planning and productive aforethought on my part. Not something I am typically known for. I was finally able to take some pictures that are worth posting. I think I already used this line, if so I take it back. A day like today is the reason to come cross-country in the middle of winter. The fresh powder is like a snow siren singing so sweetly and seductively.
Today was the test run of actually working from abroad. I have all the supplies I need, but had no idea whether I was actually going to be able to do it. The worst that could happen would be I have to pack everything up and dash back home with the memories of the past week. So far I have been able to do everything that needs done. First round of payroll is done, if nothing else that buys me at least one more week out here. Nothing else matters except making sure the important people get paid. Just about anything else could wait a few months if it had to, but we can't risk having the troops that help support this undertaking revolt. Technology is amazing. I feel sorry for the old people that missed out on what we have today. I actually feel sorry for old people in general.
GMB is planning to start his ski adventure tomorrow. Just in time for him to fly home Friday. He is signed up for a full day lesson and gear rental. Our tour director Bradford put together this amazing pep talk for him. GMB's take on how a lesson should go is pretty hysterical. He is expecting about an hour of orientation, then another hour equipment familiarization, then a written test. He doesn't realize the first thing they do is throw his 6'13" ass on a ski lift. He thinks that will happen on day 2. He is also sad that this might prevent him from wearing ski boots. I know I can't wait to see this side show event tomorrow!
Wednesday January 18, 2012
Today was all about GMB. He finally ended up on the mountain. And I hate to admit it but his visualization of a first timers ski lesson was pretty dead on. They spent a bunch of time on orientation, getting to know the equipment, and all the nonsense that most people overlook when they dive head first into something. I only got to see him for a few minutes. I got bored watching them do baby steps, pivot, put it on take it off, pizza, and french fries. When I realized they were not going to be falling down getting on or off a ski lift anytime soon, I bolted. I had a nice time cruising around on my own, but I was really looking forward to following him around on his lesson and hopefully pointing, laughing, and video taping his embarrassment. None of that was meant to be. I left him for a while and when I came back they were gone, or at least I couldn't find him. I found a bunch of his classmates here, but no GMB. Toward the end of the day, I came back to the mini-crib. He came in about an hour later. The first thing he exclaimed was, "there's no place like home." Then he used the F word and followed that up by telling me he never uses that word. In the end he couldn't stop smiling. He had a fun time. He said it was like being a kid playing in the snow. He thought he did really well, coincidentally so did the instructor that he paid. He fell down a bunch of times but didn't get hurt. He said he won't be going again but he's glad that he can check it off his bucket list. That is when I told him to never use another old man phrase around me again. He is leaving tomorrow and I am sure he will talk about his "ski vacation" that included 1 day on the mountain.
My time in Vail is quickly winding down. I'm scheduled to be in Telluride next, but the weather forecast for Jackson Hole is 6 feet of snow in the next few days. Sometime tomorrow I need to investigate the possibility of a change up in the schedule. That is if I can even get out of this town or into Wyoming.
Thank you and goodbye Vail!
Thursday January 19, 2012
Well, today wraps up this leg of the Carnival. Thank you Vail Mountain for a fantastic last day and memorable week. The conditions today were as good as they were going to get. I finally got into some tree skiing in one of the bowls. I made it out alive. It was wonderful, beautiful, hypnotic, mesmerizing, and serene all at the same time. Since I thought today might be my last day I tried to get to all the lifts and parts of the mountain that I had yet to see this week. I thought I did a pretty good job of seeing most of the mountain. Just as I thought I grasped how gigantic this mountain was, I rode the lift with one of the Information people. He told me that the back bowls (which are still not open) are twice as big as the entire front side of the mountain that I had explored. That idea almost made my brain melt. Another final day ritual is to get a new sticker for my board. A little secret, this entire trip is just a ruse to collect stickers for my snowboard. I stayed out there today from almost open to close, assuming it was my last day here. I rode the entire time minus one cigar break(thank you again Hillbilly, he really does know me better than anybody). One of the great things about tree skiing is you can go an hour without seeing another human. There are times I felt like I had my own mountain. I say human because I did have one chipmunk visitor during my cigar break. I tried to get him to pose for a picture but he was wayyyyyyyy to busy. In the middle of the mountain woods, unstrap the board, prop it up as a backstop and sit against a tree having a nice cigar for myself like a gentleman…nothing more relaxing and peaceful.
GMB is officially gone. He left on an airport shuttle a couple hours ago. Now would be a great time if anyone else wants to jump on the Carnival bandwagon. He says he had a good time, which I think he did. This afternoon he and I went out for his special treat for being a trooper yesterday. Our travel agent blew it on the Vail Cookie Company, but we found him some sweets.
I just made the decision that tomorrow will start the first detour of the itinerary. I had scheduled to head to Telluride tomorrow or Saturday. Jackson Hole, Wyoming is getting pulverized with snow recently and this coming week. Part of this journey was the ability to revamp and go where the snow is. That is exactly what I am going to do. I flipped a coin, honestly, and 2 out of 3 tails told me to go to Wyoming. I just reserved a room in Jackson Hole starting Saturday for a few nights. I will play it day to day after that. The cheapest room they had came with my new favorite thing in the world, a Murphy bed. I was excited to go from one MB to another. Then I accidentally saw that a regular room with a regular-persons-non-fold-out-of-the-wall bed was only $35 more. I splurged. Now that it is too late I think I made a bad decision on the non-Murphy bed room. I may still end up in Telluride before next week ends, but who cares, that feels like a lifetime away.
I saw two other really unusual things today. I saw a bunch of the snowcats lined up first thing this morning. You don't usually see them out in the day. They work like Santa. I know they exist and what they do, but they do it in the middle of the night while everyone sleeps. Then when you wake up in the morning and run downstairs their handiwork is obvious. I think they were going to stage a runaway snowcat marathon. Oh yea, and look at this guy! Adorable! Miniature Australian Shepherd.
Thanks again Vail. Sometimes the idiotic drivel goes over at The Daily.
Today was…I'm at a loss for words
Posted on
Friday January 20, 2012
Wow. I did a synonym search for different words like awesome, amazing, brilliant, terrific, etc.… I was unable to find one to use in the subject. Today was one of the most unique, interesting, and amazing days of my life. I have been lucky enough to do some fun things and see some beautiful places. I think today takes the cake. The drive I had today from Vail to Jackson Hole ran the gamut of emotions. Today's drive was the complete opposite end of the spectrum from the dull and boring cross-country drive. Today was what I had envisioned and hoped for when I imagined driving around the Wild Wild West. Today I officially felt like I was driving through the west.
It started leaving out of Vail as scary and treacherous road conditions. For some reason the possibility of poor driving conditions in the winter mountains slipped my mind. This lasted for the first couple hours, until I got north of Steamboat. I originally got on the road just before sunup. My first experience of this trip that encompasses mountain driving was Colorado route 131. The scenery was beautiful and the setting perfect. I felt like I was driving back to the 1800's. I passed through small towns and for a while road parallel with a mile-long locomotive carrying nothing but coal. It was moving along on the ridge above me. It felt just right. The strangest things I saw were the horse farms. It was just above 20 degrees outside and none of the horses were wearing blankets. This goes against everything I have ever been taught.
The scary driving passed. I was helped by an insightful quote from the thoughtful Jimmy B, "Raise your right foot and repeat after me, I will take my time and get there when I get there." That fit the situation perfectly. Before I knew it the sun had come up and I was driving in the most glorious, sunny, beautiful day. I was in areas where there was not a snowflake to be seen on the ground. It felt like the horizon and sky went on forever. I swear I could see 3 states over at one point. There was a point somewhere in Wyoming I followed a school bus with kids on it for about 100 miles. It was around 11am, and this bus was on a mission heading directly north. We passed no schools or bus stops. I finally got around the bus and have no idea what happened. All I could think of was a school bus driver went mental and there was an abduction underway.
After I sped away from the school bus kidnapping I am pretty sure the GPS had me get off an incorrect exit. I just looked at the map and it definitely did. But I got to know a road called Superior Cutoff Road very intimately. This road was 20 miles of nothing but dirt and gravel with ruts a Volkswagen could get lost in. Taking the wrong…long…scenic route is just part of the adventure. At least that is what my travel guide Bradford said. I agree completely. At different points of my gallivant down Superior Cutoff Road I almost fell off a cliff, thought I was going to get shot by a rancher, had to yield to giant flocks of sheep crossing the road, chased by the sheep herding dogs, almost got Deliveranced, and pretty sure I stumbled across a moonshine still. A few pictures here, but even better is a collage of videos here. I was in no hurry and enjoyed seeing everything I saw including signs for different towns that read, "Elevation 6893 Population 220". I allotted 2 days for the drive, even though I knew it would not take nearly that long. I planned to get to Jackson Hole sometime Saturday. The drive went so smoothly that I was here and checked in by 5pm. There were a couple times that an hour passed without seeing another vehicle.
The last hour of my drive up through Jackson and into Teton Village was without a question a snow-covered thing of beauty. Around every corner was another picturesque mountain peak, valley, or meadow of pure white, untouched goodness. The Tetons seemed to jut out of the earth as if they were left there by accident. There was no gradual incline. It looks like a right angle on the surface of the Earth.
I truly have never seen so much beauty as I did on today's drive. This was what I hoped for. For every one of the amazing things I remembered about today I am sure I forgot 2 more.
Count on me to make great decisions
Saturday January 21, 2012
Boy did I make the right decision. There probably is nowhere better in the world to be than right her, right now. Today was another entirely brand new experience for me. It was fresh powder riding like I have not know before. It was a completely different activity than what I have been doing. I knew I was in a totally different place than I was accustomed when a bunch of people were carrying their own portable, collapsible shovels. Seemed a bit crazy, but some of these people do crazy things.
The snow is so deep that sometimes when I fell it was hard to get up. There is nothing to grasp on to, my hands and arms just fall straight downward. I went ass over teakettle many times today. It was so much fun, just like tumbling and landing on clouds. I am pretty sure I started a couple avalanches today. Sometimes I could only go a few hundred yards and then have to rest my legs for a second. The snow was so abundant and thick that it was quite a physical workout. There was so much snow and it snowed nonstop all day, but it never was actually that cold. Luckily there was no wind, had there been wind it might have been cold. It was a strange phenomenon to be in that much snow and not be cold. The snow was so steadily falling that I was soaking wet at the end of the day. My pants were so heavy and weighed down from being wet that they wouldn't stay up. I looked like thug or a plumber most of the day.
I only took the tram up to the highest point once today. It was about a 30-minute wait for the tram. I didn't see the point when I could get on the gondolala or another lift with no wait at all. The peak of the tram ride was quite a trip. I got off the tram and it was white out conditions. Everything was bright white. There was absolutely no texture or depth perception to anything. It was probably the same feeling or experience that people talk about having when they die and are walking toward the white light. After that all that I could do was walk toward the edge and feel around with my foot for the drop off. If that is what death is going to be like, I can't wait. The fresh powder creates the golden silence of snowboarding. It is so much different when you never hear ice scraping. That golden silence is hard to find, but I know it when I find it. Like a Zen moment. It's kind of like white noise, you know there is a noise there, but there really is no noise. Just the silent sound of the board slicing through the snow.
I met a couple of nice guys from Long Island today. I am pretty sure they just took pity on me and were nice to me because I was alone. That was nice of them. That is fine, I'll take it. Hopefully the get in touch because I'm pretty sure they have some great video of my awesomeness

And this guys name is Linus.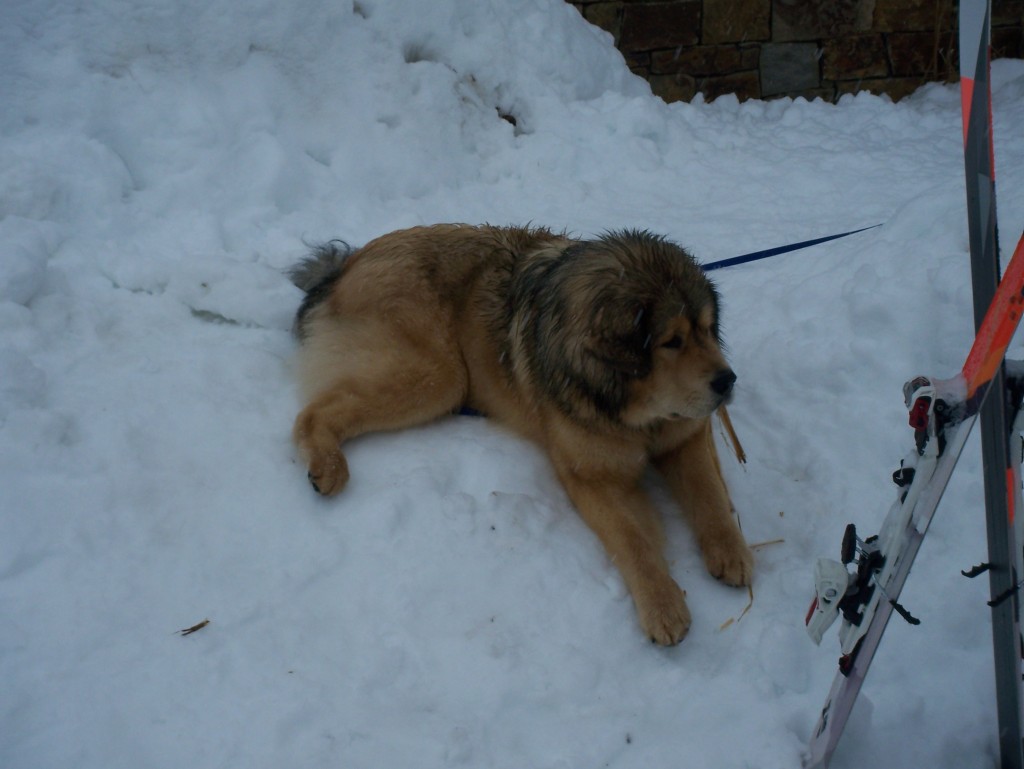 The call me Mr. Butterfingers
Right now there is a guy in my office screaming that is his nickname. Whatever Murray.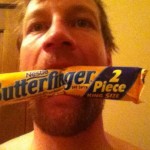 Sunday January 22, 2012
Oh, Jackson Hole, how I wish you really had a hole somewhere. What a beautiful place. I keep hearing from the locals how this place is much more of an attraction all seasons outside of winter. That makes no sense to me right now. Many national parks, the Snake River, and tons of outdoor activities are available here year round. I had a great day on the mountain again. I was completely back country today. I was in areas where it looked like no human had been before, or at least not since the most recent snowfall, which was only yesterday. I got completely stuck a few times today. I am assuming that was payback for teasing people with shovels yesterday. They still deserved it.
The day started with what I was told was "avalanche delay". I wasn't familiar with those, we really only get a few per year in Maryland. At least that is why I tell people I was late for something…"No, seriously I'd have been here on time but there was an avalanche delay." There was dynamite steadily going off. The booms could be heard for miles. They have controlled avalanches on these giant mountains. I guess if they control them there is less of a chance for an untimely avalanche. I wasn't even going to go out today. Somewhere back home on the east coast the prettier half of my family also went skiing today. I didn't think we should both be on a mountain at the same time. Probably for the same reason that the president and his wife don't fly on the same airplane. I decided to not wait around on avalanche control and headed to another lift that simply did not go up quite as high. It was a great decision. I ended up finding untouched powder and made completely fresh tracks for 2 runs. Sexy. After that something bad almost happened. I got off the lift and started down a trail. The sun was coming out so I decided it was finally a decent day for some snapshots. I pull out my phone, grabbed the picture, and then fumbled the phone into the snow. At the time I was in waist high power. I didn't panic because the phone sort of rested on the top layer of snow. I calmly went to grab it and the phone just slowly sank…disappeared like it was in quicksand or when those people from the "left behind while scuba diving" movie finally gave up. I still did not panic. I unstrapped my board and threw it off to the side. Within 10 seconds my mind was whirling. It is sooooo sad, but in 2012 if some people lose their phone it might feel like the end of the world. I was already figuring out how fast I could find a Verizon or Apple store. I started scooping snow away slowly and methodically. Thankfully it only took about 1 or 2 minutes and I had retrieved the phone. It was completely covered in snow and soaked. I assumed it was ruined. Again, thankfully, it never even shut off. I stuck it in my pocket and have yet to have a problem. the entire thing is on video. I really am the luckiest boy alive. I just remembered, Open Water was the name of that terrible movie.
I have been meeting so many nice people and informative locals. The people in the know are giving me the tips on where to and where not to go. It has been helpful, and also nice having the company and conversation. I think I am picking up on some of the local and mountain lingo, but I will refrain from using it here. I still don't know what most of it means, just when to use it. I keep thanking people for keeping me company when we get off the lifts. I was having a pleasant conversation with a guy from London and another guy from Austin when it almost happened again. I looked around while on the lift and thought what a lovely day it was with the sun out, maybe I should take a few photos. This time I reached for my real camera. In my own head I jokingly noted the pole number where we were at on the ski lift just in case I dropped the camera, ha ha, that'll never happen. As I was getting the camera out I juggled it. It made it down below my knee, but luckily I grabbed it just in time before it plummeted to the ground. My 2 best friends at the time gasped and then laughed. A lost camera would stink, but it's no phone.
I was only out just over half the day; it was much colder today and for some reason I wanted to watch the football. Oh I feel so bad for the Raven's fans. I went hard for the morning, then had a nice smoke break for myself with this amazing view, then did a couple easy groomed runs, and then called it a day.
Since the sun was out there are a few pictures here.
There's no place like home
Posted on
That is a world famous quote from my long lost friend Bob. He came up with it just last week. I understand what he means. Wife sent me the below pictures today. She was showing me what I was missing out on. Seems like everything is status quo at home. I am not surprised that I miss my family, but how much has surprised me. By family I mean my chosen and extended family, but mainly my chosen family. I can never be accused of homesickness. But I sure do miss my peeps more than I thought I would. Wife and my extended family really are the greatest for allowing me to pursue this ridiculous trip. I can't put into words my gratitude. Seems like I should be posting a cat picture now, since this is the internets and all…
Monday January 23, 2012
I think today will be my last day at Jackson Hole. I am really glad that I jumped off the itinerary. It was a great decision. I am usually such a planned out person that I didn't know if I would be able to actually go freewheeling, but I did and it was a great success. When I made these plans for this winter nobody could have guessed that the west coast mountains would be having the worst snow winter imaginable. I always assumed I could follow my plan, no problems. When it came down to it I guess I could be a bit spontaneous. I am planning to drive back down to Telluride and rejoin my itinerary tomorrow. There I will be back into the swanky accommodations that a fancy gentleman like myself is accustomed.I spent today trying to see the rest of the mountain that I hadn't in the past 2 days. I am pretty sure I rode every lift this mountain has to offer. I don't think I hit every trail, but I covered a lot of acres. I took a helmet cam video today for a while. I wanted to see if the feeling and sensation of getting off the tram at the top of the mountain would come through in video. I think it somewhat does. It is so crazy. It is like walking out into a complete void. You know there is stuff there but there is absolutely nothing but bright white without depth perception. I hope to have it edited and somewhere soon. Don't worry, it will be painfully boring in case anyone was curious. But I will probably put a nice collage of the best head over heals crashes at the end to liven it up. Just like everything on this site I am really only doing it to entertain me and keep a nice diary for myself of this surreal voyage I get to have.
Tuesday January 24, 2012

Today was another successful all day travel day. I left out of Jackson Holy, Wyoming just before sunrise. The early morning drive watching the sunrise over the misty mountaintops was stellar. It was a bit chilly at first, but nothing the ass warmer/makes you feel like you crapped yourself device couldn't fix. The canyon that I saw at sunset the other day I saw at sunrise today. The effect was equally as brilliant. I arrived here in Telluride just as the sun was setting. I am glad to be here in Telluride. I believe it is still the reigning champion of my favorite town. I already had a delicious Thai dinner since getting here. I think this place I am staying might be the nicest, fanciest place I have ever stayed. I think there is a boy that will draw me a bath if needed. Not bad for $275 for the week.The timing of arrival here was perfect. I got off the mountain switchback roads just as I ran out of sunlight. I am confident that I drove through more switchbacks today than I have the rest of my life so far combined. It was another amazing and jaw dropping drive. Beauty at every turn, breath taking views, and mountainous backdrops that went on forever. Some of the sights are so crazy and foreign to me. The way people that know how to live in brutal winters still live, constantly buried under or digging out of snow. They are scenes that I have only seen on television or in film.I almost took my old friend Superior Cutoff Road again, just for nostalgic purposes, but I decided against that. I had a much longer drive today and didn't want to waste any sunlight running from moonshiners or getting shot at by somebody who is their own grandfather. Other than the views, I discovered another advantage to driving these mountain roads. Sometimes I had gone for an hour without seeing another moving vehicle. This makes it really easy to stop and whiz whenever I need.I passed into Utah today unexpectedly. There was a dinosaur on the welcome sign. Then I crossed through several towns that had Dinosaurland, The Dinosaur Hotel, Dinosaur Museum, everything dinosaur. Today I even drove on Stegosaurus Freeway. Isn't Utah the Mormon place? I wasn't sure of their belief on dinosaurs so I did a quick search, this is what I found, and I feel it is worth retyping (quoted without permission, citation, and awaiting formal charges):
Some have concluded that dinosaurs never existed, that the bones we've found are actually from other planets, and that they ended up here when the earth was created from material previously used to create other planets.
Others have reasoned that there was no death before the Fall, so the dinosaurs must have lived alongside Adam and the early patriarchs, perhaps dying in (maybe even after) the Flood.I felt there should be at least one more occurrence of these facts on the interwebs.I saw
this
great flashing advertisement sign once I was in Colorado. Man, they really love their Tebow. Probably as much as the Mormons love their dinosaurs.
I can't believe The Carnival has to end
Much to my chagrin there is nothing but nonsense going on at my house. If I would have known things like this were going to happen I never would have left. Looks like I may have to end The Carnival early, get home, and attend to my duties as man of the house. Thanks Ben & Jerry's.
Today is my "truck tire" moment
Yesterday during my peaceful drive from Jackson Hole to Telluride I was listening to my favorite talk radio show Ron & Fez, featuring my hero, the funniest, smartest genius, Ron Bennington. He is so great that I named this voyage after something I first heard him say, Winter Carnival. They had a detailed conversation about the video below. (More nonsense from me after the video)
The discussion went into the area of how excited these people were to see this giant truck tire roll down hill, hitting jumps, staying on course, and finally splashing in the water. The video itself is fun to watch, but the point of the conversation was the excitement of the people in the video. That is truly a once in a lifetime moment. All it would take was for one rock or one wobble and it would have thrown that tire completely off balance and never finished it's magnificent decent down the mountain. The topic of childhood excitement was discussed and how we used to be able to find the joy in such nothingness as kids. We all have those moments. For me it was playing in the woods and finding porn mags and an old car. How and why in the world did either of those things end up in the woods?! There is no way the car was driven there because of all the trees, and why would someone dump perfectly good porn tied up in a trash bag in the woods? Simply for some dumb kids to find? Whatever the reason it was magnificent. It was just completely incomprehensible and exciting at the same time. Somewhere along the line we can lose the excitement for those moments.
They started taking calls about what other peoples "truck tire" moments were in their lives. Mr. B talked about how things were so exciting as kids. One of his quotes was to be "a traveler in life, not a tourist". It was such an appropriate conversation to listen to during my drive and at this time of my life. I try to live by that theory. Life is short, I have never been closer to the end then I am right now. I am lucky enough to travel a lot and do my best to experience where I am and not just be a tourist. Right now I am going out of my way to drive all over western North America on back roads and through the small towns. My "tire story" is happening right now, today. Every vista, snow covered mountain, valley, and landscape is being seen with the eyes of boyhood wonderment and astonishment.
Thursday January 26, 2012
Hello Telluride. Still my favorite town I have ever been to. It only took being here for an hour to remember and reestablish this town as my favorite. I took yesterday off, which was 2 days in a row rest. I did a lot of nothing yesterday. Did a bunch of work and made stupid videos that will make only me laugh. The 2 days rest was so noticeable today. I went almost bell-to-bell on the mountain today and am far from tired or soar. I didn't even get a nice smoke break for myself. I steered myself into the woods, got lost, plopped down, got comfortable, and my lighter wouldn't work. Tough, I know. Today was a gorgeous day out, bright sunny skies, no clouds, not a hint of wind, and a nice moderate temperature. Would have been a perfect camera day. They probably wouldn't have been much different than last years Telluride pics though. Of course all those niceties are traded for no fresh snow.
I got word that everything is fine back home. I was a little worried yesterday that I may have to dash back home. Not only is everything OK, some of my family are living the lifestyle of the rich and famous. One specific member had his own personal private photo shoot. Apparently after the photo shoot he immediately dashed out and started practicing to join me on The Carnival. I guess life goes on back on the Beast Coast without me.
I did finally edit and post a video of the Jackson Hole tram. It's mostly long and boring, I mean really boring. About the 1-minute mark is where I walk into the area I originally described. Walking out of the tram was such a shock to the senses. I left this tram with 100 people all dressed in colorful ski apparel and step out into what I can only describe as "the void". Everything is bright white, no depth perception, and just this ghostly feeling. It is incredible. The only things that you can make out are the giant gears and mechanics of the tram itself. It almost has a video game feel to it, very Half-Life-ish.
So long 'Ride, until we meet again…in a few weeks
Posted on
Friday January 27, 2012
Last day, for now, in Telluride. What a beautifully perfect day. It snowed all night last night and all through the morning. I think they got 10-12 inches, every little boys dream. As soon as the snow stopped at midday the sun came out in all its glory. Today was as close to a perfect day on the mountain as I could ask for. A true fresh powder day all around. There were fresh tracks to be had all day long. My hours were spent either tumbling through trees or floating on clouds. It was the kind of day you wish you could somehow share with everybody.
I had my second celebrity sighting of the trip today. I road the lift with Mark Miller, he races off road rally cars all over the world. Dakar rally racing is what he does. He claims to be famous in his world, I believed him

, really nice guy. He was not quite as recognizable as Avril Lavigne, but way more interesting to talk to.
Once the sun came out I decided to try to make a nice video of whizzing through the trees. I both succeeded and failed all at the same time. I had a blast buzzing through the trees but then somehow ended up where I didn't belong. I thought I was doing OK, I was following another set of tracks. I ended up at the base of a tree line that stopped going downhill. I knew I was in trouble when the other set of tracks vanished. When I realized I definitely had to unstrap and walk out is when the real trouble began. When I took a step and sunk in up to my knees is when I comprehended this might take a while. Then I took my next step and sunk up to my armpits…yep, my armpits. I ended up having to "body surf" to safety on top of my board. I crawled probably over 100 yards laying on my board using only my knees to skooch. Obviously I made it back to safety. It was definitely a trip. As I sat for a few minutes catching my breath I watched 2 other snowboarders come crawling out of the same tree line. Turns out they were following me through the trees. That'll teach them, silly New Yorkers. The whole thing is caught on video. I'm not sure if it will be released or not do to The Embarrassment Act of 2012.
I am out of here tomorrow and off to Steamboat Springs. It will be hard to leave these plush accommodations, but I can hope that tomorrow's location will do its best to compete. I can't wait to be back in 'Ride in a few weeks, I love this town!
Saturday January 28, 2012
Today was another travel day. I drove from Telluride to Steamboat Springs, Colorado. I moved from one top notch home into another. Where I am now is quite an amazing place, giant and luxurious. I have a slope side view and could do wind sprints through the living room. What could I expect for $300 a week. Sometimes you win and sometimes you win. Seems like a giant waste to be here all by myself. I might just sleep in a different bed each night so the clean up crew doesn't feel slighted.
Today was another beautiful drive. The sun shone all daylong. I don't know if I could ever get tired of looking at snow-capped mountains. I was driving and thinking about something to write and assumed it was going to be a fairly uneventful drive. Then my world got a little crazy.
GPS don't fail me now. I followed my GPS like any good traveler would. Today I ended up on a road that made my escapade with Superior Cutoff Road look like I-95. I was directed onto Trail Gulch Road, exit 140(ish) off I-70 west of Denver. I immediately recognized it as a possible problem and pulled over. I checked the map and it was only about 10 miles of that road, then I remembered that part of this trip was the adventure, so I pressed on. It got scary quick. It was only the width of one vehicle in places (even less), giant ruts full of mud, ice, and snow, and windy as a ball of yarn. I thought of turning around constantly but there was nowhere to do that. I got about 6 miles in and hit what was labeled private property. There were GIANT no trespassing signs and it was enough to scare me away. My first thought was that someone had an unbelievable drive to and from home. I got turned around and back to the main road. I went about 12 miles round trip on Trail Gulch Road and it took about an hour. It was crazy to say the least. Of course I made a bit of video, but unfortunately the videos are only of the "safest" part of the road.
It was a slight delay, but really no big deal. It was worth the time for the experience. Today's drive was fairly short and I had plenty of daylight. I was only about 20-30 miles away from my destination when the need to pee took over my body. I was on a back Colorado road and decided it was safe to pull over. Apparently the area to pull over to was an optical illusion. There was no more road below the snow where the shoulder should have been. As soon as my tire hit the snow the entire car sank off the road and into a ditch. 4WD was no help, it just dug me deeper. I was on the phone trying to call Triple Aye when a local guy stopped and asked if I needed a tug. He had a rope, we tied our trailer hitches together, he went full speed ahead while I went full speed in reverse, and out I came. It was much less of a delay than the one the GPS led me into. At least I got to pee. And I posted the embarrassing tree riding and crawling video from yesterday. Be warned, it is again awfully boring.
I think I met the Beastmaster
Posted on
Welcome to Steamboat Springs. Today could not have started out much better. I was standing in line to purchase my lift ticket and was approached by my new best friend in the whole world, a handsome man named David. He informed me that he had a 2 for 1 coupon for lift tickets and asked if I wanted a half price lift ticket. What a wonderful man and gesture. It must have been some kind of cosmic karma connection David and I had. I hope to be able to return the favor.
It was a beautiful day out today. The sun was shining all day and the temperature got into the mid to high 30's. Quite warm at the end of the day. They did get some snow here the other day and are expecting some in the next few days. I didn't see a whole lot of the mountain today, I found what I liked and hung out there all day. I found some really good snow and powder as well as some great tree riding after a little hunting. I went up and down the same area around 20 times. It was delightful. I was feeling as confident and comfortable as ever, and then I got my first flesh wound of the trip. I got a little too close to a busted tree branch and it reached out and grabbed me. Luckily it's just a flesh wound.
I saw one of the neatest things today. I am pretty sure I met the actual Beastmaster.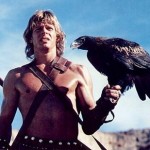 That's right, this chick was feeding birds out of her hand while she was riding on the lift in front of me. Pretty cool. She either rules or is a witch.
Since it was a beautiful sunny day I snapped a few photos.
Monday January 30, 2012
It got windy at the top of the mountain today so I called it quits around 3pm. I had some things to do/get caught up on, so I took this early day as the opportunity. It was time for the Winter Carnival Cruiser's first oil change. I found a local joint downtown called Grease Monkey. It went smoothly, I was in and out in a jiffy with a fresh lube. On my way back driving through downtown I realized what a phenomenon this trip really was. I was shocked, I knew they were happy to have me here in Steamboat but I didn't expect banners and a parade. Luckily I am never one to shy away from the spotlight.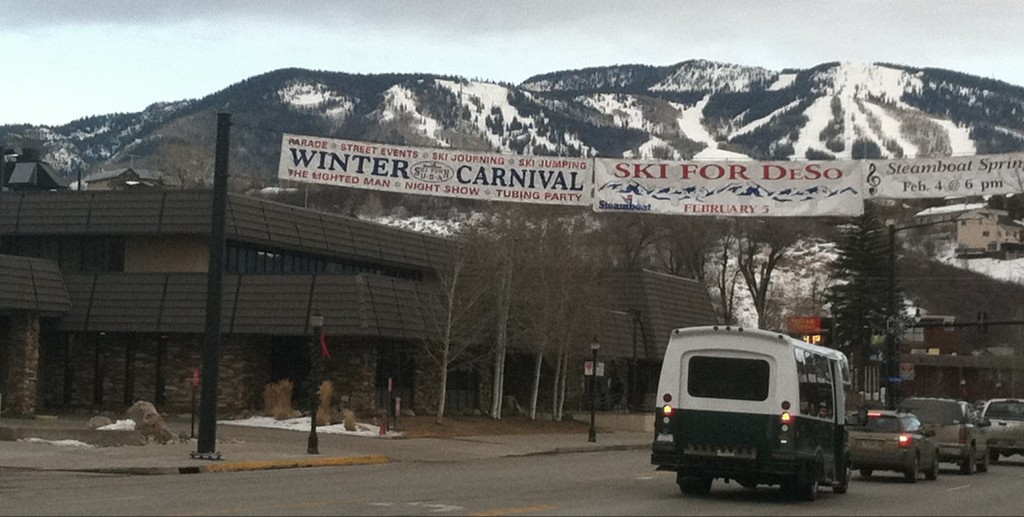 I spent most of the day in the woods again at Steamboat Springs. I took my video camera out again today. Once again to anyone else this is extremely boring. But this time I am personally happy with some of what I captured. Some parts are actually quite good.
Tuesday January 31, 2012
I'm supposed to be out here chasing the snow, problem is there is no snow to chase. If anyone hears about snow that I may have missed please be in touch. Maybe I should try going to Alaska. I need to look up how long that drive is.
I took the day off from the mountain today. I heard from 5 different people that I missed out on a beautiful spring day back home. Unfortunately, I didn't. It was a nice spring-like day here too. Not exactly the weather I, or anyone out here is wanting.
I took a nice relaxing "spa" day, the kind that every girl needs to make her feel pretty once in a while. I went out for a nice scenic drive around the area and ultimately landed at the Strawberry Park Hot Springs. It was quite the place. I think it is the first time I have ever been to a hot springs. It was a pleasant and beautiful experience. The natural beauty and surrounding views added to the overall experience. Here is a quote from their website: "Be aware that after dark, clothing is optional and no one under the age of eighteen is admitted." Obviously I left before 8pm. I am not sure if it was because of my modesty, because my wife told me to, or because I wasn't happy with the age restrictions.
Is this too many pillows for one bed? I definitely have a great view from my place.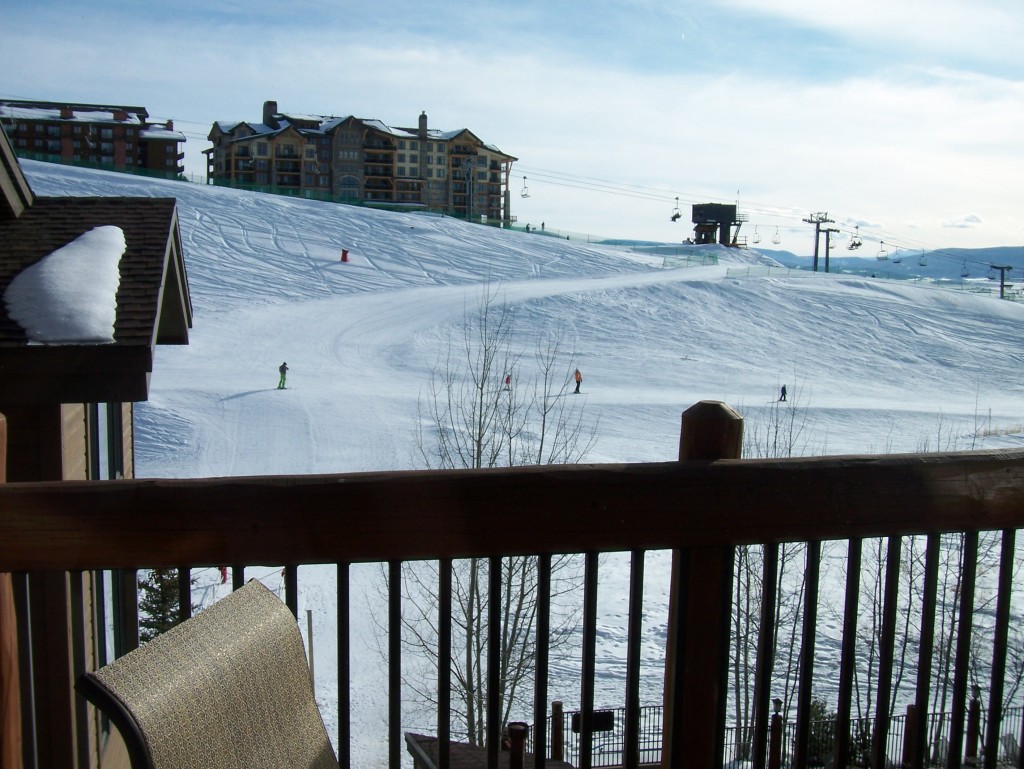 Officially sponsored…This is big
Wednesday February 1, 2012
Everyone knows that my family and I have been huge supporters of the Keurig® Company since the beginning. I am happy to announce that they are returning the favor. Keurig® has come onboard as an official sponsor of the Winter Carnival 2012. We are more than pleased to have them involved. The board of directors for the Carnival thanks the lovely people at Keurig® and hope this is the beginning of a long and prosperous relationship.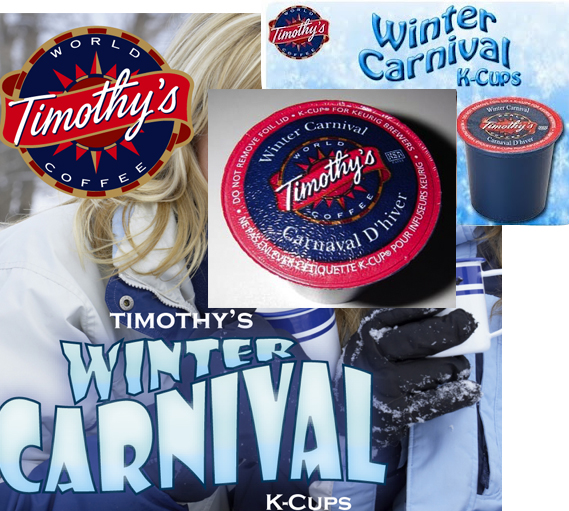 Now that the hard core facts have been presented, time for some daily gibberish. I think this must be my first time staying in a "true" ski in/ski out location. I have been lucky to stay in some nice locations, but this place is pretty fantastic. If I wasn't staying on the second floor I could ride right into my room. I rode right up onto my downstairs neighbor's patio this afternoon.
I think I am going to make today my last day here. I am scheduled to make the drive to Vegas on Friday to meet up with BT (name kept anonymous until I get a signed waiver agreeing to appear on WC12 website). I might leave a day early and have a much more leisurely drive. I had a blast on the mountain in Steamboat this week, but there is only so much riding I can do on that hard packed powder before I get wounded, frustrated, or worse. I can't believe it is already to this portion of the trip. I never thought it would happen at all, let alone get this far!
I did get some great news from home. Wife told me she is going to finish ranked #5 in her graduating class at law school. I'm not being modest when I say I take a lot of credit for that. My plan has come together nicely. I leave for the winter, and she has plenty of time to focus on school, graduation, law review, and the bar exam. She was not as happy about her news as I was. She actually screamed "colon open parenthesis" at me when she told me the news. I could not be more proud of her. I love telling people on the gondolas about my wife back home finishing law school just because she wanted a challenge in life.
Thursday February 2, 2012
Today was another travel day. I drove from Steamboat Springs to Vegas today. It was a nice easy, mostly interstate drive. Most of the day was spent meandering around Utah. Utah is gorgeous. Endless views of driving through giant canyons, then up on top of an elevated plateau looking down into an infinite canyon. The colors were a beautiful wintery mix of colors. The browns and oranges of the canyons and rocks were all sprinkled with dustings of pure untouched snow. A patch of green would jump out every once in a while and look completely out of place. The drive today was so amazing and mesmerizing that it almost makes me forgive them for their cookie beliefs. I saw temperatures from 6 to 65 today during my drive.
I did receive an urgent and critical phone call today from a dear friend of mine, Punxsutawney Phil from Gobbler's Knob. He gave me an early update on his shadow situation. He phoned me before all the media hype to let me know that he was going to definitely rig the decision for more winter. He begged me not to tell the Vegas bookmakers so as not to influence the betting odds. Of course I gave him my word. He knew how important Winter Carnival was to me, and he apparently shares my sentiment.
Oh yeah, I also told Urijah Faber all about Winter Carnival this evening…so what, no big deal. Just a couple of studs talking about their lives. GMB says I'm more handsome than he is, but GMB is wrong.
If you don't love Nick Diaz shut off your computer
Big fight tomorrow night. I can't wait!!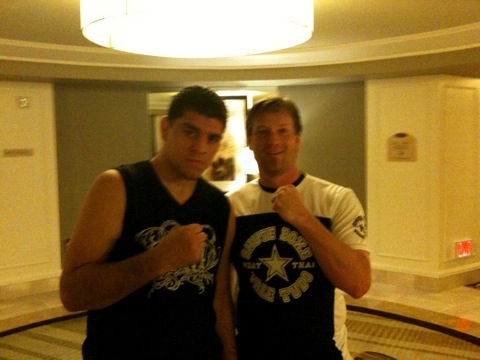 I had a fun day in Vegas, as if anything else is possible. Went to a Q and A with GSP. He is pretty boring and vanilla, but I already knew that. The weigh ins were pretty undramatic also. I made all my sports bets for the fights and the Superbowl. Have to see if I can keep my streak intact. I have won my bet on the past 6 or 7 Superbowls, pretty amazing. The best part is that I used all house money to make those bets. So far I still have all my money, and a lot of theirs. That could all change in a couple days…or minutes. We were crushing it on a dice table tonight. I had a ticket to go see the Joe Rogan Super Spectacular Comedy Show. It was so hot on the table that I didn't leave. I assumed I would miss some or all of the show. When I left the table I went over to the House of Blues. I guess they started the show pretty late, and I sat down in my seat LITTERALLY as the show was starting. Pretty good timing all round, kind of them to wait for me.
Looking forward to the fights tomorrow. BT should be landing any minute now. UPDATE: BT's metal tube that was hurtling through the cosmos did NOT, I repeat, NOT, plummet into fiery ruin.
Here is another picture I saw today and liked. Can you guess which one is Nick Diaz?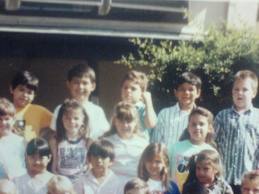 Super Sunday February 5, 2012
Another travel day. Today I chauffeured BT from Vegas to Telluride. He rode like a Prince today. I would have let him ride in the back like a VIP but he brought too much luggage and there was no room for him. I had a great time in Vegas this weekend. Good fun and great food. BT and I had a lot of fun at the fights last night. Unfortunately I couldn't pick a winner and the guy I was there for got robbed with what I am calling, "the worst fight decision ever no matter what my weird half Asian friends/salesmen might think even though he is wrong".
Vegas was both fun and successful. I did lose my ass on my fight bets. I only picked 1 of the 5 I bet. Luckily that is only the second time I have lost on fight bets and the fight bets were paid for with casino money. BUT, thankfully I am the sports betting champion. I have now officially picked and bet on the past 7 or 8 Superbowl winners. Thanks to the Giants and my keen insight I made a 300% ROI on the Superbowl alone. I took them with the points, without the points, and a parley with the under. When I tally the Superbowl win and the fights losses I netted a cooooool $65 in sports book winnings. A win is a win and I keep my legendary status alive. Other than the sports bets I dominated on the table games. I left with plenty of their money. I kept looking in the rear view mirror from I-15 to see if they were shutting the lights off behind me as we drove away.
Tomorrow hopefully start our days back on the slopes. They got a little snow here the other day when the storms passed near Denver, but not a lot. The forecast isn't too promising either. Hopefully that changes, the weather is a fickle SOB. Maybe BT has brought the winter weather west with him.
Monday February 6, 2012
This morning BT and I were in line waiting for the lifts to open. It snowed all night last night and until about 11am today. The conditions were a perfect powder day. There were fresh tracks to be made and untouched powder to destroy for the first few hours this morning. It was beautiful. The sweet sound of perfect silence created by gliding along a floating cloud.
BT has fallen quite ill to altitude sickness. Poor guy.
Tuesday February 7, 2012
What a wonderful day in Telluride. First and foremost, I have done my best impression of Florence Nightingale and nursed BT back to perfect health. Things were touch and go for a while, but he has pulled through with flying carpets. He is back to 100% today. We had an amazing day on the mountain. He says he had a ton of fun and I believe him because I had at least that much, maybe more. The weather was gorgeous. The sun shone all day and the winds stayed low. There was plenty of leftover powder stashes from the 11" of snow that fell yesterday.
I think today was the most fun and most confident I have felt on a mountain so far this year. I'm not sure why, nothing particular or special, just the way I felt. Maybe it was because I had the company. Having the company is definitely better than being alone for so many reasons. Being alone has a lot of positives as well, but the company is a very welcome and pleasant change of pace.
A fully recovered and nurtured back to health BT and I were on one of the first lifts up this morning and just about closed the place down. We went from one side of the mountain to the other. We saw as much as time allowed. We warmed up with some perfect corduroy runs in the morning. I asked if he was interested in trying a little backcountry excursioning, he said sure. It didn't turn out to be quite his cup of tea at first. He did an awesome Kung Fu ninja like head over heals roll straight down the mountain to get back on his feet. It was hella-impressive. I thought it was an accident, he claims it was purposeful. Later in the day we tried some more tree skiing, this time he was feeling the groove.
There are a lot of obvious advantages to staying in these fancy accommodations I am lucky enough to frequent. One is that there is a really nice lounge area for hanging out after a long day on the mountain. They have refreshments, coffee, tea, snacks, you get the picture. BT and I happened in there today at the end of our day. We both thought it would be nice to grab a cup of joe and be on our way. I strolled over to the bar area and starting talking to the nice lady behind the bar. I asked her for a cup of coffee, so she fixed me a cup and asked if I preferred cream or milk. I told her a splash of cream please. She obliged, handed it to me and went about her business. She walked away and I didn't see her again, that seemed strange. Turns out that the entire bar is self-service and I rolled up and asked a complete stranger that is a guest here to make me a cup of coffee. I don't know why that is such a big deal but BT keeps bringing it up. I guess I can see how it's kinda funny and embarrassing for me.
Some pictures.
Wednesday February 8, 2012
Just another awesome day in Telluride. BT and I started the day a little later today. He woke up with sinus pain and I just woke up late. Snow fell most of the day off and on. It is snowing outside right now pretty well. Hopefully they get some nice accumulation overnight. The extended forecast is calling for snow most days. Tomorrow is BT's last day and then I was supposed to vacate this joint on Friday. I decided to stay here in Telluride. I have said many times that this is my new favorite place in the world, I might as well enjoy it. Plus I can stay here for an entire week for less than I can stay anywhere else for one night. So even if I just stay camped here for a few days while I track storms and come up with the next plan, I'll be making out.
Today was a ton of fun on the mountain. I got BT diving into the tree lines left and right now! We brought out the video camera today. I definitely caught some great embarrassing falls on cam. I think there might finally be some rare footage of me zig zagging down the slopes. It'll have to be reviewed to make sure that the footage is both safe for the internets and not humiliating.
Thursday February 9, 2012
HAPPY BIRTHDAY CHARLIE!
Our baby is 3 years old today 🙂
Today was another fantastic powder day on Telluride Mountain. There was about another 7 inches of snow overnight. That makes first runs on the mountain perfect. There was fresh untouched powder all morning. BT and I were still stumbling upon some areas that were untouched well into the afternoon. The sun was shining, little to no wind, who could ask for anything more, Toy….never mind….thanks for the phone call today Brandon.
Today was BT's last day on the mountain. He is heading for the airport in a few hours from now. It has been great having him with me for so many reasons. Partly because the company was welcome after so long alone, but mainly because his company is some of the best I know. I'd say he went as hard as he could on the mountain today, knowing it was the last day. He got powder skis today, which are wider and made it easier for him in the freshly fallen snow. I couldn't keep him out of the trees today! We definitely had a great week. Tomorrow is going to be a day off from the mountain for me. I'm going to catch up on work, do laundry, take my board to get tuned up…a just all around catching up on crap day.
While riding the lift today we had something exciting happen. One guy was nice enough to offer to sell us grass. We were having a nice conversation with one of the mountain employees. Just talking about nonsense, where are you from, what do you do, how did you end up living here in Telluride, how long are you in town, wanna buy some grass? It was a really good thing I was there to keep BT in check. I saw the look in his eye, and that look was bloodshot. Along a similar train of thought, we went for a stroll through the town tonight while BT looked for presents for his family. We went past the medical marijuana joint in town. I said, "No BT, you can NOT take that home for your wife and 3 little kids." Then I relayed to him my memory of being able to smell that place for 3 blocks in all directions. I was disappointed when we got near it and there was no aroma wafting down the streets. Oh well. BT is not the only one that got presents, I bought myself this tee shirt, and it is my new favorite tee shirt I have ever seen: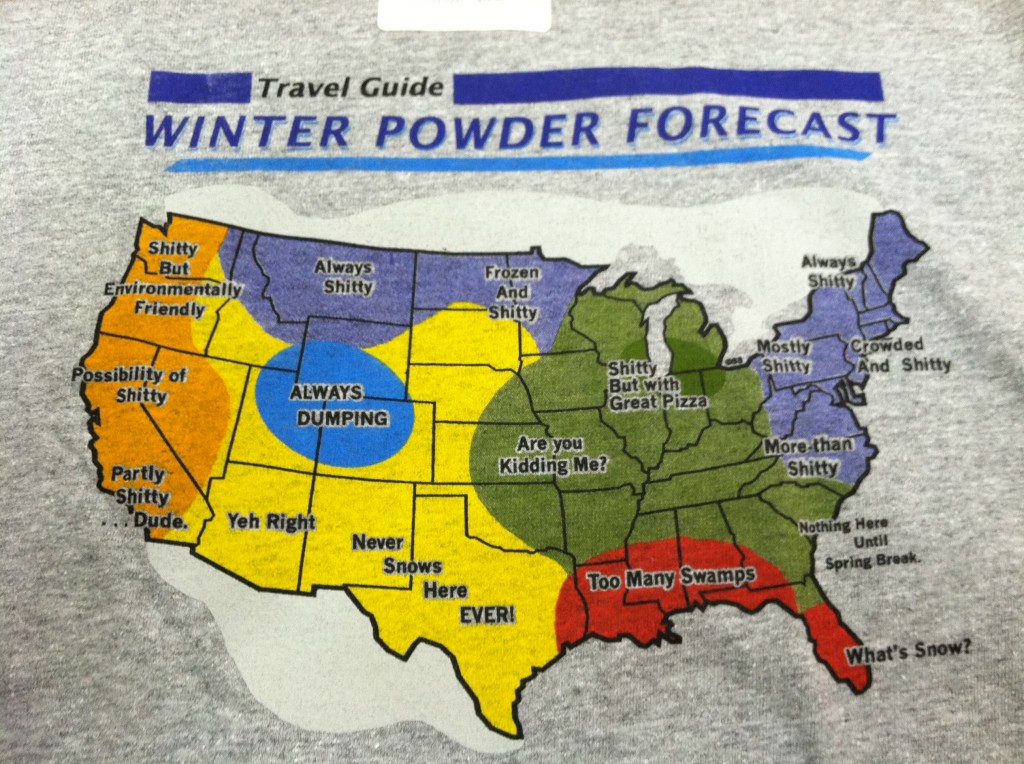 I hope the photograph translates. My favorite is what it says for my area, "Crowded and shitty."
I had a short-lived probability that Wife might have been making a quick visit with the Carnival this weekend. She was supposed to go to Vermont but those plans did not work out. She kicked around the idea of winging on over here for a few days, but decided against it. Oh well, she has given me this freedom, I trust she knows what is best for her. Did I mention it was Charlie's Birthday?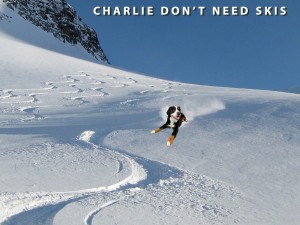 I saw this TV commercial and loved it. Appropriate for everything in my life.
Gone but not forgotten
Posted on
Friday February 10,2012
BT is officially gone. He didn't call and let me know that his flying death box didn't crash, but I saw online that it didn't. In honor of his memory I put together a few video compilations for him and his family. That is part of what I did with my day off today. I also got a bunch of other nonsense done that is way to boring to mention or list…laundry, dishes, caught up on work, mourned over BT's departure, had the board tuned up, went to the market…hmmm, looks like I still mentioned them. I am probably going to take a couple-day trip away from Telluride starting tomorrow. I am going to drive up to Crested Butte for a day or two. Wife visited there a couple summers ago and wants to see what the mountain is like in the winter. The trip there is solely a scouting mission. I can find out what the drive, conditions, and mountain are like before she shows up in a couple weeks. We'll be fully prepared in case she also wants to make the trek to Crested Butte.
Below are a couple HD video montages that I put together to salute my week with BT. Disclaimer: as usual, long and dull.
Too bad I had a job at 18
Saturday February 11, 2012
Not really. I have the greatest life I know. Made the drive today from Telluride to Crested Butte, Colorado. It was a very nice leisurely 4-hour drive, almost nothing in comparison. I say leisurely because I stopped for a visit to a post office, take a bunch of pictures, and was stuck behind a big truck going 20 for a long time. It was another lovely white Colorado drive. BT called to let me know he made it home alive. Apparently the snow followed him home. That's not all that followed him. He told me a story about almost getting mugged by 5 guys today trying to sell him music. It's the kind of story I have heard about, but not in North East or Rising Sun. Rising Sun used to have "organizations" to handle those type of situations. Poor BT.
I already went down to visit the town and have some lunch. What a picturesque little mountain town! So mountainy and colorful. Definitely feels like someplace I could settle down and raise dogs and miniature humans. It is now really easy for me to understand why and how half of my teenage friends dropped out of life and moved here. Wife told me that this town was great, I had no reason not to believe her, but it is different to see it with my own eyes. I was only planning to stay here 1 night, hit the mountain tomorrow, and then head back to Telluride. Since this was only a 'scouting ahead' mission one night was all that was needed. I think I might stay here a couple nights now. UPDATE: definitely staying here for at least 2 nights.
There is some kind of hippie yoga convention going on in this hotel right now. The sights and smells are bringing me back to another lifetime. Probably 2 or 3 lifetimes ago. I just saw this while I was down in the lobby, only in Colorado, and another fantastic reason to become a resident.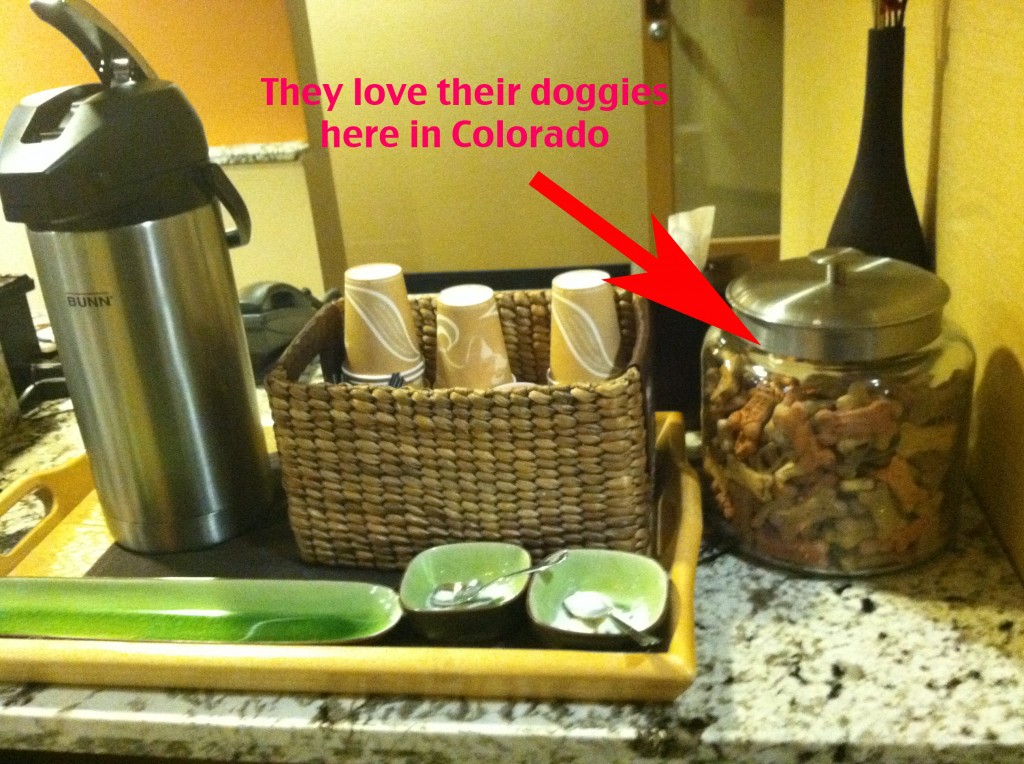 Some new photos from the drive and Crested Butte uploaded.
It's hip to be square
Sunday February 12, 2012
I had quite the enjoyable day on MT Crested Butte. It started snowing here last night and continued all through today. The mountain in Crested Butte is much smaller than many of the other mountains out here. Luckily size doesn't matter when you're having fun, that's what she said. I didn't see anywhere on the mountain website that for $90 you were able to rent out the entire mountain to yourself on a Sunday. The only lift line I waited in was the one I chose to wait in, the first one up in the morning after opening time. I probably didn't see 100 people by lunchtime.
I tried everything I could today short of believing in god and praying, but I was unable to get it to stop snowing. Something miraculous did happen today though. There was a point in time where the snow was coming down as plentiful as I have ever seen snow fall. At the same time the sun came out and shone with a ferocity that could only be described as sun-like in brightness. This lasted for probably about a half an hour. It was quite a climate marvel to witness, the perfect storm of goodness. It was a vicious battle that the snow ultimately won in the end. I assume that is only the kind of phenomenon that could happen here, in this square shaped piece of paradise known as Colorado.
I continued my constant polling of the locals, mind out of the gutter please. Everyone I speak to that lives in these towns is not originally from them. Almost all came west, or moved because of their love of the winters, snow, skiing, and mountains. 4 out of 5 that moved here for the snow say that summer is now their favorite time of the year. I guess I know where we are going this summer.
I saw this sign today. Chairlift speed dating…that is completely new to me. I never heard of anything quite like this. What a town this is. No, I was nowhere near the Twister lift at noon.
The best of both worlds
Posted on
Monday February 13, 2012
What a unique day today was. It was both a mountain and a travel day. I intended for my reconnaissance mission to Crested Butte to be a simple overnight adventure. My plan was to wake up this morning and drive back to Telluride after having made a successful assessment of the trip to Crested Butte. There was no way I could get up and leave this morning after the POW CAM showed 8 to 10 inches of fresh snow overnight. I kept waking up last night and looking out the window. It was snowing hard every time. I knew that my plans to leave early in the morning were in jeopardy. I bought a half-day pass this morning at Crested Butte so I was able to enjoy the freshest of fresh powder before I left. It was some of the best powder riding to date. I wish I took my camera out today. There were a couple times that I was absolutely the first human on some runs. The 10 inches of powder was untouched, just waiting for me to come barreling down through and ruin it. These are just terrible phone pictures:
So I spent the morning enjoying the earthly delights and got on the road around noon. This morning was a success even though I was sure something bad would happen. I was up in the air about staying or leaving so I flipped a coin. The coin said to leave, I chose to stay. I don't usually go against what the fate of the coin tells me to do. I did take a pretty bad tumble through the trees. I went head over heals and the only thing that stopped me was the back of my head and neck hitting a tree trunk. It hit right where my helmet ends, so most of the thump was taken on the helmet, but I did get a nice big brush burn on the back of my head. If that is the worst that happens for ignoring the fate coin, then I say bring it!
On my drive back into town today I saw a rare site. I saw a guy riding a giant unicycle while walking his dog. The tire to the unicycle had to be as big as a man. It was amazing! I was not in a position to get any video or pictures, unfortunately. However a quick search of the googlenet turned up plenty of pics and videos, including this one, which is not quite what I saw, but a great video nonetheless.
Tuesday February 14, 2012
Happy Valentines Day! Nothing happened today. Planned for JO's arrival next Monday. Spoke to Bradford on the phone, figured out which week he was going to cancel joining The Carnival next. Told Wifey I loved and missed her and our family.
Let's go Miners, let's go!
Posted on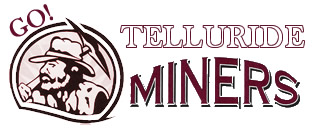 Wednesday February 15, 2012
Today was one of those amazing, nothing but blue skies atop Telluride Mountain. Weather was beautiful and the wind was calm at its strongest. They got the same snowstorm here that I was in Crested Butte for. So there was still a lot of soft snow to be found. The very end of the day it started snowing, but I don't think it is going to accumulate to anything.
I spent my entire day either in the trees, on a lift, or eating chili. I set out today to do something different, try to get to areas that I either have not been to, or not spent a lot of time. It worked out great. I found a couple great tree spots that I hadn't found before. BT would have loved it! I got onto a trail today that he and I rode the other day. It was a narrow one leading to the very bottom and ending in the town. There was a turn off that I missed the other day and I remember saying to BT, "I wish we had stayed on this trail." Well, I stayed on it today. I got completely lost within the mountain. I ended up getting dumped at the base of the mountain almost outside of the town. I had to walk about a half a mile back to the town and the main gondola. It was quite an experience.
I rode a lift today with a nice old man from Switzerland. He lives in Arizona now and also has a house here. He said a few very important things to me today. One was that the school systems here are great. Gathering this type of information is part of my reconnaissance mission during The Carnival. The other fun fact was that the European Alps have incredible skiing and he was all in favor of the Chevy Chase formula, which would equate to European Winter Carnival 2013.
Since I'm talking about the school system here, I also road a lift today with the local high school lacrosse coach. When I told him I was from Maryland he immediately brought up lacrosse. I told him I played in high school and filled him in on my unbreakable LAX record (first ever goal for the Caravel LAX team). He was telling me how the team was new, I think this was going to be their second year. Now that I have gotten in front of a computer and looked the team up, checked out their stats, and seen that they went 0-14 and got shut out several times, I now understand why this coach was trying to recruit my unborn child.
I also met this cute guy today.
Snakes on a Plane? Sissies
Posted on
Thursday February 16, 2012
Well, today is my last day in Telluride, for now. I'll be back in a few weeks. For a last day here it was really an embarrassing day for The Carnival, a blemish on our record. I hit the mountain just after first thing this morning. It was another beautiful blue skies day. There is a trail here called See Forever, you really can see forever from the top. I came back to my place at noon to finish off last night's leftover delicious pasta. After consumption I fell asleep on the couch until 4pm. Yikes. It was both a complete waste of time and the absolute best way to spend some days.
I am leaving here tomorrow. I've been staying in this same place for 2 weeks so I am pretty spread out and moved in. Not looking forward to packing. When I leave I'll be driving to Pagosa Springs, Colorado. It should be about a half-day drive from here. Since there are still really no snowstorms to chase I picked this semi out of the way place that I have never heard of. There is a mountain nearby called Wolf Creek. I have never heard of it, but locals rave about it. The mountain claims to get the most snow in Colorado every year. They aren't getting any right now, but hopefully it's a nice place to visit and a new sticker to buy. I'll be there until Monday when I leave for Denver to pick up JO.
Speaking of running away to join The Carnival, I received a weird email today. It was from Orbitz. I was so excited that I might have been chosen to be a part of some new experimental flavors gun focus group. Not the case. It was apparently a flight itinerary for Bradford. It claimed that he was flying into Salt Lake City in a couple weeks. I sure hope that is the case. I also hope he spent the money to buy the insurance…wink, wink.
Starting on Monday I'll have company for the next 3 weeks straight. JO, Bradford, and Wifey. Without a question three of my favorite people on the planet. Actually, now that I think about it, they probably compose the majority of people I can even stand.
I got an email today from Father-in-Law. I had no idea he was keeping track, hopefully I have been writing on my best behavior. He informed me of an enormous snowstorm blowing through Texas. The photos he sent were fairly impressive, for Texas.
I saw something rare today that made me laugh and enjoy other human beings for a change. It can only be described as Sharks on a Mountain. Someone built a scene from Jaws right below your feet at the top of a lift where you get off. I tried to get some pics and vid, hopefully they translate the scene and the creativity.
I also put together another tree riding video. It's as boring as the others, unless you are me. This one does contain some pretty nice crashes.
Friday February 17, 2012
Not much for today. I had a short trip from one town to the next. I made it safely and without a hitch. It was perfect blue skies the entire time. The second half of my day was spent in the motel room I'll be habitating for the next few days. On the bright side the place is called the Hillside Inn. When is saw there was a place by that name, I looked no further.
After I got into town I took a trip to the local mountain. It is about a half hour drive from here. This is the closest town to the mountain, so there will be no ski in/ski out, unless they get a lot of snow overnight. It was quite the drive. I think it is the steepest incline I have driven yet. The car was constantly at about 4k RPM. I think I burned a quarter tank of gas just driving those 30 minutes. It was a beautiful drive through the mountain passes. Looking forward to trying out a brand new mountain tomorrow.
The greatest thing about this weekend has yet to happen though. Sunday night is the season premier of the Kenny Powers and Friends Super Fantastic Awesome Funtime Half Hour Spectacular, aka Eastbound and Down. I can't wait, even though I might not be able to stay up that late.
OWOOOOOO, Terry Wolf Creek Mountain is scary
Posted on
Saturday February 18, 2012
Sometimes big surprises come in small packages. I went out to Wolf Creek Mountaintoday. I honestly wasn't expecting a lot after some of the massive mountains I have been to this winter. I had a blast! They really do have the most snow in Colorado. I saw the most soft, fresh, untouched snow today than anywhere else, except after days that had big snow dumps. There hasn't been any snowfall here for a while, but there were still untouched and really deep areas all over the mountain, especially in the trees. That is astonishing considering that the mountain is not all that big.
It was a different kind of snow here, much heavier it seems. I had gotten arrogant recently. After the first few weeks I was saying how I wasn't getting soar legs or tired by the end of the day anymore. Working through all the heavy powder today made my legs burn a bit. Still not as bad as the first few weeks. I'm glad all my preparations are paying off in dividends.
The whole mountain had such a different 'feel' to it than other bigger resort type mountains. The closest accommodations are 25 miles away. The people were super nice. They had the old school style lift tickets. Still just a sticker on a metal hanger that a human being had to look at each time. All mountains I have been to lately have bar scanners or RF credit card style cards. This place even had what appeared to be a pavilion at the base where they held birthday parties! I felt like I was at the local ice rink and they were herding groups of birthday parties through. You'll never see that type of hometown, intimate features at the giant mountains.
I walked into breakfast this morning and the first thing I see is a bright orange Flyers tee shirt staring me right in the face. It was a couple of brothers from Bucks County. Really nice fellas. They let me sit with them for breakfast and have nice conversation. The one had a Flyers tee shirt on and the other had a scuba tee shirt on. Can't be anything wrong with these two guys.
Apparently even the mountain was expecting The Carnival and set up a special WIFIconnection for me. It would stand for Wolf Creek, but I highly doubt it. I also saw a stickerfor the Darkside Snowboard Shop in Killington today. Seemed like an odd place, middle of nowhere Colorado and I see a sticker from back home. I got confused for a minute.
I forgot to mention that the stellar Hillside Inn is pet friendly. That is great, I could have brought my entire family. All 3 of them don't shower, like a bunch of animals

.
Sunday February 19, 2012
I decided to travel from Pagosa Springs to Denver today in anticipation of JO's arrival early tomorrow morning. My original plan was to get up early tomorrow and drive to Denver, possibly forcing him to wait on me for a bit. The forecast at Wolf Creek was for some significant snow today and tonight. I checked out of The Hillside Inn early to avoid the possible delays and dangers of driving overnight in the snow. This is the first, and hopefully only time I am actually running away from the snow. It feels weird and counter productive. I still can't believe how depressing it was to run away from a snowstorm. The first hour or two of the drive was driving up and through the mountain pass and past Wolf Creek. I saw probably about 2 or 3 inches of snowfall during that short portion of the drive. Better safe than sorry, that is the entire motto of this trip…booooooo.
Most of the drive was through the western prairie lands. The drive was mostly flat, farms, cattle, horses, steer, buffalo, and a fox. It was different scenery than the mountain driving I have gotten used to. The mountain ranges I did see were so massive. I would see them off in the distance. They were so impressive, colossal, and detailed. An hour later after driving straight at them, they would look exactly the same. It didn't feel like I got any closer. Once I got near Denver it was obvious that I was back into a city. It became apparent when I started seeing the landscape, overpasses, and traffic whizzing by me on both sides. It stunk, yuk. Why was everybody in such a big hurry? It's Sunday, church was over and there was no football. Relax city shitheads.
I drove through Park County Colorado today. I didn't see any cut out cartoon characters or crippled kids with my name. It was quite dull in comparison to what I was expecting to see.
JO's flight arrives tomorrow morning. I anxiously anticipate his arrival. Hopefully there will be no flight delays, there is supposed to be some snowy weather here overnight and tomorrow morning. From there he (or she) and I will make our way to Breckenridge for the week. This is where we will make camp. As for which mountains we will visit, that is still to be determined.
Monday February 20, 2012
Happy 69th birfday Mac…69, hehehe. JO made it in safely. His plane was really early, but I made it there in plenty of time. We had a semi-treacherous drive west on I-70. Made it hear safely and in good time. Got checked into our room, unpacked, and have had a nice lunch and dinner so far today. Nothing spectacular has happened. Going to stay right here and go to Breckenridge Mountain tomorrow. So far he is showing no signs of altitude sickness, but he is also very sleepy (currently snoring the pictures off the wall) and it may not have kicked in yet. Hopefully we get some good weather here this week. Fingers crossed.
The big news of the day is last night's season premier of Eastbound and Down. I took a big sigh of relief after watching it. So many shows go on too long. The first season of this show was absolute perfection in every way. I get nervous whenever someone tries to improve upon, or made perfection last longer than it should. I have to go now, fat boy has to eat cookies in bed.
Tuesday February 21, 2012
First successful day at Breckenridge Mountain. Today was by far the windiest day I have combatted so far this winter. I do know that the wind was not nearly as bad as it can get here, luckily. It snowed all day from before sunrise through right this minute. There doesn't seem to be any major accumulation, but it definitely added to the ambience of the day.
JO and I are having a delightful time. We made out great on the mountain today. Our skill levels are very comparable, so there was no waiting around, or rushing. He says he had a great time and I believe him. This is his first time on the giant mountains of The Rockies.
My favorite part of the day was when a guy with a lumberjack beard said "nice beard" to me. I am pretty sure he was hitting on me. And I saw this astonishing piece of art, met another Flyers fan, and I'm excited that JO found himself a girlfriend, although he has been ignoring me for her.
Vail old friend, nice to see you again
Posted on
Wednesday February 22, 2012
Today we made the adventurous drive to Vail Mountain. It was a good thing we did. We just heard that the conditions here at Breck were treacherous. Bitter cold and 85 MPH wind gusts, some lifts didn't open until 1pm. Vail was gorgeous. Sunny in the morning, some snow flurries midday and hardly any wind. It's amazing that we were only about 30 miles away.
It was marvelous to see Vail in all its glory today. The last time I was there it had hardly snowed. Large parts of the mountain were not even open. Everything was open today, and they had 10-12 inches of snow overnight last night! Today was JO's first time actually riding through fresh, soft, untouched, cloudlike powder. He loved it and agrees with me that it is a completely different and better activity. Today was also his first time really getting into some tree skiing. He used the phrase "crushing it", but I don't necessarily approve of that vernacular.
For some reason today after being almost 2 months in, I had some terrible pains in my feet. It almost felt like blisters in both feet. You know, that annoyingly painful blistery feeling like when you were a kid and went to the roller rink and used rental skates. Ouchies. I think I must have had my boots laced up wrong, or had them on the wrong feet, because they feel much better now.
I must be getting soft in my old age. I saw a group of knee-high squirts on skis called the Mogul Mice. I didn't even have the urge to push them down. Can photographic evidence get you arrested?
A-Basin brought us to our heterosexual knees
Posted on
Thursday February 23, 2012
Dear diary-today was blistery cold. We went to Arapahoe Basin Mountain. It was about a half an hour drive from our place. It was some of the worst driving conditions yet this winter. It snowed again all last night. A-Basin got about 9-10 inches of fresh snow overnight. Many of the mountain passes in this area were closed for road conditions or avalanches. I-70 was closed in big sections, so there were no travelers making their way to these mountains unless they were already in the area, like smart people.
I am glad we made it to A-Basin for several reasons. I was able to see that my GPS uses fun little icons for ski resorts. We were able to play in some fresh, soft snow for a couple hours, making our own tracks wherever we went. Added a new sticker to the collection. And I was reminded at how humbling Mother Nature can be. Today was most likely some of the most severe weather conditions I have been outside in this winter…scratch that, my entire life. The wind gusts were almost too much to stay upright. The snow was blowing at a pace that I would call sandblaster-esque. There were times that I couldn't see the ground below my feet, let alone which way the mountain was zigzagging. The wind chill had to be close to a million below zero. We made it until about noon. We were both beaten up pretty bad and the weather was not getting any better. It was without a question worth the experience, but not one of the funnest days so far. It was excitingly exhausting. This picture speaks a million words.
One last day here in Breckenridge. We will hit the mountain tomorrow and then head to Denver (hopefully) for an early morning flight on Saturday. I think it's time to go, I'm starting to get embarrassed. JO has been here 4 days and has a bigger beard than me. It's not fair. What else isn't fair is that JO spent 4 hours shopping and all I got was this. It barely fits.
JO's leaving, I'm alone again. There must be a JO'ing alone joke in here somewhere…
Posted on
Friday February 24, 2012
Today was the last day of what I like to call the I-70 voyage featuring JO. We did one last day at Breckenridge Mountain. The skies were beautiful blue all day, and the wind was howling about half the time. We had a blast, ran ourselves ragged from peak to peak. I found myself having to chase him through the trees today. Apparently he found his calling amongst the trees of the Rockies. The other day he wasn't too into trees, today he dove in, unprovoked. We finished up around 3:30 and headed over for the best tacos I've ever had. After the tacos we headed back to the Cruiser in preparation for the drive to Denver. Thanks to the amazing tacos, JO cut a gasser that ended up stinking up the entire mountain village, what a shame. We made the drive to the Denver airport and checked into the Holiday Inn. I'm pretty sure I can do heart surgery tomorrow.
Had another Carnival Cruiser incident. The other day a rock flew up and put a nice ding in the windshield. It's probably one that could be ignored, but also something that could turn into a problem. Luckily the newest Carnival sponsor, Safelite, will be repairing it at 8am tomorrow morning, courtesy of Liberty Mutual Auto Insurance. Thank you Easter Bunny, quack quack.
JO gets on a plane tomorrow at 7am to return to his regularly scheduled life. I have Saturday to kill visiting my new friends at Safelite and catching up on work. Sunday at 7pm I have to pick up Bradford at the Salt Lake City airplane depot. We will have to see if he/she signs the consent forms to have his/her identity and likeness represented on the internets. Probably not, nobody else so far has wanted to.
Whole bunch of pictures added from this week. I hope to get some video editing done soon.
W-W-W-Wyoming is closed? W-W-W-What?!?
Posted on
Saturday February 25, 2012
Wow, what an eventfully uneventful day. My day started extremely productive. First thing in the morning I kicked JO out of my hotel room and told him to get a shuttle to the airport, I was too sleepy to drive him at 4:30 in the morning. Later I visited my new best friends at Safelite. They supposedly fixed my windshield. The marks are still there but now full of epoxy. After that it was a car wash and a delicious plate of biscuits and sausage gravy followed by a homemade cinnamon bun. By 10 am I had all that done as well as mostly caught up on work. I loaded up the fully repaired and newly cleaned Cruiser and set the GPS for Salt Lake City. That was the beginning of another adventure.
The drive out of Colorado was uneventful, I was lured into a false sense of security when I hit Wyoming. There were really high winds and snow blowing to and fro. Is Wyoming always this windy? I couldn't even drive the speed limit because of the wind. Let me explain what I mean, I was driving into the wind with the pedal to the metal (yes, I was West Bound and Down), and I was UNABLE to achieve the posted speed limit. The view from the cockpit was only 2 colors. It was an expanse of white with 2 jet-black strips running parallel to each other called I-80. It was quite the site to see. Regardless of the weather, I was not letting that thwart the Carnival. I made it to the half way point of Wyoming. Near Rawlings, WY I started to see a lot of flashing signs and lights, I-80 was closed ahead. Shortly after the signs there were highway patrol and barriers forcing everyone off the next exit. This was around 1pm. I got off the exit and luckily there was a truck stop right there. As soon as I pulled in I immediately felt like I was in a Stephen King novel.
I filled up with gas and asked around inside what happens now. I got 2 different answers to my question…nothing and wait. I sat in my car listening to the radio and watching traffic be forced off the interstate and feeling my car rock back and forth because of the wind. I actually thought I was going to tip over at some points. One guy told me that this was most likely going to last overnight. I had come to grips with the fact that I might be spending the night in the car. No big deal, I had a full tank and was sitting next to a gas pump in case I needed more gas. What I didn't have was food, so I dashed into the truck stop and got myself a super nutritious truck stop dinner. I must have been part of the first vehicles that were completely diverted of the interstate. When I parked at the truck stop there were not many people or vehicles there. The whole place filled up quickly and there were semis and cars parked everywhere, lining all the on and off ramps, and the shoulders of the highway in front of me. Apparently this is fairly common around here and tonight was not even that bad. I ended up just sitting in my car, listening to the radio, playing scrabble, smoking cigars, and flicking my ashes toward the gas pumps and propane tanks.
I sat there for about 5 or 6 hours. The time actually went by pretty quickly, there were plenty of sights and sounds to stay entertained. I think the craziest thing I saw were birds trying to fly. These birds looked like they were flying backwards. They were flapping their wings and facing west, but their bodies were moving east. It was nutty. I tried to get a video of it a few times, but no luck. I did get this video, but it's crap and doesn't really show the dominance of the winds like I hoped it would. The funniest thing I saw was a trucker get out of his truck to take a leak. First it was obvious that the wind had him fooled and he ended up pissing all over himself. Then he tried to get back in his truck and he could barely walk to the cab door. When he got up on the steps and got the door open he got blown back off. Valiantly he climbed up again, made it into the seat and then struggled for about a minute before he could get the door closed. I was constantly checking the Wyoming DOT website for updates, but as this screenshot of my phone shows the entire state was shut down.
I finally gave up the idea that I might be able to get back on the road tonight. I also heard rumors that truckers get horny around 1am, and there is no doubt that I would be an appealing out-of-towner to them. I'm probably the equivalent of a southern girl getting off the bus at Penn Station in New York City looking for an acting gig. There was the town of Rawlings an exit east of where I was sitting. I looked into getting a hotel room as soon as I got off the exit 6 hours earlier. Apparently I wasn't the only person with the idea of getting a room. When I checked again online the hotels were booked. I made a couple phone calls and found a room pretty easily. This is where I sit now comfortably and safely(?). The wind is howling outside louder than I can describe. The room is kind of irregular. The only thing the main room is missing is a toilet, and the bathroom shower and toilet are just one giant room like some kind of prison inmate cleansing station.
Hopefully whatever is shutting down the roads will ease up soon and I can get back on the road tomorrow. I have about 300 miles to where I need to be, and don't need to be there until 7pm tomorrow. I was planning to make it to SLC today and get to a new mountain tomorrow. Looks like those plans are out the window like a bag of trucker's doodie in a windstorm.
While I was waiting around in Wyoming I decided to give back to this beautiful state. Here's proof.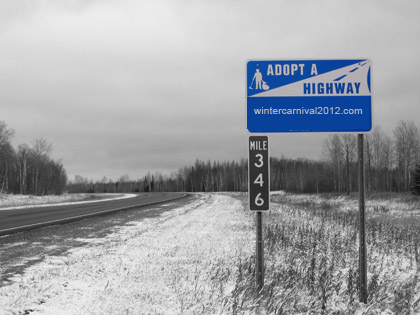 Sunday February 26, 2012
Made it to Park City safely. A very unimportant day. I saw one really interesting thing today on my drive. Just before the Utah border in Wyoming on I-80 I saw a billboard. The billboard was for the End of the World cooks, May 21st, 2011. Remember that nutbag? I can't believe there are still those billboards around that haven't been re-rented yet. I guess that crazy guy had people all over the country convinced. I assumed it was just regional ending of the world.
Went to SLC airport to pick up Bradford. Hopefully he can do something interesting that I can write about. All his flights were just about on time. Now we are both safely high atop Deer Valley Mountain in Park City. I can't decide if it is adorable or nauseating how much he loves and misses his baby. He is cute and all, but still doesn't have a job or anything worth talking about. Apparently he just loves eggs and sliding boards. Big deal, I love both of those things too but nobody is making a fuss about it. If I said that Bradford ruined the glass used for (a) pot by heating it up, would it look something like this? I know, it's not what I would have pictured either. I guess greedy boy had to have his pizza.
Back to a mountain tomorrow!
Monday February 27, 2012
All of today was spent at the Park City Mountain. The skies were overcast all day. This made for a very whiteout effect on the mountain. Everything looked flat no matter where we were. There was no depth perception or contrast of colors to know when a downhill flattened out, or worse, the opposite. The CheeseHead and I had a blast. We spent the entire day at the mountain until just about 4pm.
We ended up spending some time on the back area of the mountain called Jupiter. I was a bit out of my element there. The downhill was so vertical that I couldn't even stand up when I fell. Usually I can at least sit still on a hill after a fall. This area was so straight downhill that I would just keep sliding on my ass. It was a heaping helping of fun. The entire day was a success until close to the end. I took a spill while going full speed. It might be the most dramatic fall I've taken to date. I was trying to pass Cheeser on the right and caught an edge. I went head over heels tumbling probably 4 times and for about 30 yards. Bradford says it was the best wipe out he's ever seen…I believe hysterical was one of the words he used. Unfortunately he forgot to bring his brand new Xmas Gopro video camera so there is no video evidence. I lived it but would still like to see it. Maybe tomorrow he'll remember his camera. Right after that I took another fall in the terrain park. I lost momentum on a box and face planted off the side of it. Luckily I still have all my teeth, but I did slam my shin pretty hard on the metal box. Bradford says that the kids were all laughing at me, one apparently squirted melk out of his nose. Speaking of falls, CheeseBoy apparently took his first falls today of the season. Seems hard to believe, but he has no reason to lie to me, except when he was confronted about the missing 20's from my wallet.
It is snowing here now, pretty hard. There is supposed to be some nice accumulation overnight. We went out for dinner and there was probably about 2 inches in the time it took us to leave, eat, and drive back.
Tuesday February 28, 2012
Today should be the last day in February, but it's not. Tomorrow is leap year day. The entire Carnival and I get a bonus, unexpected extra day. How exciting. Today was again spent at the Park City Mountain. Not the entire day this time, but a nice chunk. We got there a little after opening and stayed until around 2pm. There was about 7-8 inches of fresh snow overnight last night, and it snowed the entire day today. That made for a lot of giant fresh powder areas on the mountain. It is a lot harder on the muscles and body when there is all that fresh powder. Between yesterday and today we are pretty certain that we saw almost the entire mountain. Quite a bit of traversing and cruising in 2 days. Not sure what the plans are for tomorrow, the glorious bonus day. That will be up to Bradford, this is his week. Looks like we are definitely going to stay in this area for the entire week. There was talk of possibly dashing up to Wyoming for a few days, but that possibility is on hold.
I did see this little guy who is from my neck of the woods.
Wednesday February 29, 2012
Happy leap year day! Today was treated just like an extra, unexpected, bonus day should be treated, as a day of rest. I think that is probably why astronomers invented today, to partake in relaxation. The sore muscles got a rest today, apparently a well needed rest. Bradford insisted on relaxing all day and hardly even leaving the abode. The weather was pretty hideous outside. It snowed almost all day, but the winds were also really intense. The snow is still coming down hard. Tomorrow should be a blockbuster powder day here! Happy March to us all, and to all a happy March.
Today's motto: "Follow me, I have no idea where I'm going"
Posted on
Thursday March 1, 2012
Happy March. Today we went to The Canyons Mountain. It was kick ass, to quote someone intelligent. Bradford had the greatest first gondola ride up this morning. Today was his lucky day, and I predicted it. I took a couple really bad face plants throughout the day. There is video somewhere to prove it. Lucky for all the fresh snow or I might have damaged this pretty face. Almost every run was through fresh untouched mounds of powder. We probably saw about 80% of the mountain in one day, and were able to make fresh tracks almost everywhere.
We rode in something called the orange bubble lift. It is the only lift I have ever seen with a bubble top and heated seats. Sounds like something Chevy should have made. Apparently it is a great place to "hot box" according to the local stoners. I wouldn't know, I don't condone such activities.
Sometimes we get so lost that dinner is not even an option.
Do the kids still say "epic fail"?
Posted on
Friday March 2, 2012
Oh man. Today was possibly the first, but definitely biggest failure day of the winter. I got up extra early today so had time alone to catch up on some things, do a little personal introspection, and make a plan for the day. That plan included leaving early, getting breakfast on the road, driving to Snowbird near SLC, doing damage to the mountain, driving back to Park City, grabbing a pizza from Maxwell's, and settling in to watch the live fights at 7pm. The fights were great and we ate frozen pizza and wings. Other than that I blew it today.
Once Bradford got out of bed I informed him of my grand plan for the day. We got into the car and set sail. Once we got to the SLC vicinity, but still not too close to the mountain, we ran into major traffic. We still have no idea what caused the traffic. We sat still for close to an hour, not getting anywhere, and still not very close to the mountain. After that long of a time, we turned around. Once getting back to the crib it was a lazy day of doing nothing. The only productive thing I did was to finally make an appreciation, compilation, and tribute video for JO's Carnival appearance.
Tomorrow is a travel day. I dump Bradford at the airport first thing in the morning. From there I travel back to Montrose, Colorado to another airport to meet and pick up Wife. The drive and two flights are timed out close to perfect, almost like it was planned this way. I can't wait to see Wife. It has been almost 2 months and I miss my little family so.
Sunday March 4, 2012
Yesterday was a tour of airports and travel day. I dropped of B-Money at the SLC airport around 7am. He made it home safely to Appleton at approximately 4:20pm. Good news. I then hurried from there to the airport in Montrose, Colorado to meet up with Wife. I made it there in plenty of time to have a nice Thai lunch and still get to the airport in time for her arrival. I was so excited to see her. Once I sat in the airport and knew her plan landed my heart started racing. It felt like I was waiting on a blind first date or something. I could see her get off the plane outside and walk in, I saw her long before she saw me. My reaction was overwhelming joy to see her. Her reaction was, "Oh my god, your face!" She claims it was because of my unshaven state, but I have my doubts.
After our reunion at the airport we drove to Telluride, about an hour and a half. We got checked in to our hotel (Murphy Bed), rented her skis for the week, ate an early bird special dinner, and were asleep in bed by 7:30. It's like we never missed a beat traveling together.
Today we spent time on Telluride Mountain. The weather was perfect, maybe not for skiing, but perfect. There were beautiful blue skies, not a cloud to be seen or a hint of wind. The temperature was a scolding 45 degrees. By the end of the day on the mountain I was sweating. We had a blast. Wife looked great on her big girl skis. She looked cool, confortable, and confident, like an Enjoli Perfume woman. We cruised until about 2:30, quite a long first day actually.
I am so happy to have her here with me right now. Whatever she wants to do this week, we will do. It sounds like we might be taking a day or two trip up to Crested Butte. I may not let her leave when the time comes. There was a tiny part of me that thought she might show up at the airport with 2 dogs and all her clothes. Had that happened we definitely never would have come home.
I had a great time last week with Bradford. One of our favorite things to do was drive around on this road. It made us chuckle every time. Since B-Town is now gone the burden baton of responsibility for taking care of me has now been passed on. I hate to say that she is already falling short, but I received no warning of this sign at all and now have a burn.
Sunday March 4, 2012
Yesterday was a tour of airports and travel day. I dropped of B-Money at the SLC airport around 7am. He made it home safely to Appleton at approximately 4:20pm. Good news. I then hurried from there to the airport in Montrose, Colorado to meet up with Wife. I made it there in plenty of time to have a nice Thai lunch and still get to the airport in time for her arrival. I was so excited to see her. Once I sat in the airport and knew her plan landed my heart started racing. It felt like I was waiting on a blind first date or something. I could see her get off the plane outside and walk in, I saw her long before she saw me. My reaction was overwhelming joy to see her. Her reaction was, "Oh my god, your face!" She claims it was because of my unshaven state, but I have my doubts.
After our reunion at the airport we drove to Telluride, about an hour and a half. We got checked in to our hotel (Murphy Bed), rented her skis for the week, ate an early bird special dinner, and were asleep in bed by 7:30. It's like we never missed a beat traveling together.
Today we spent time on Telluride Mountain. The weather was perfect, maybe not for skiing, but perfect. There were beautiful blue skies, not a cloud to be seen or a hint of wind. The temperature was a scolding 45 degrees. By the end of the day on the mountain I was sweating. We had a blast. Wife looked great on her big girl skis. She looked cool, confortable, and confident, like an Enjoli Perfume woman. We cruised until about 2:30, quite a long first day actually.
I am so happy to have her here with me right now. Whatever she wants to do this week, we will do. It sounds like we might be taking a day or two trip up to Crested Butte. I may not let her leave when the time comes. There was a tiny part of me that thought she might show up at the airport with 2 dogs and all her clothes. Had that happened we definitely never would have come home.
I had a great time last week with Bradford. One of our favorite things to do was drive around on this road. It made us chuckle every time. Since B-Town is now gone the burden baton of responsibility for taking care of me has now been passed on. I hate to say that she is already falling short, but I received no warning of this sign at all and now have a burn.
10″? brings so many things to mind these days
Posted on
Wednesday March 7, 2012
It's snowing its ass off here in Telluride right now, and this is the view from my window as I type. Yep, that's the main gondolala. So far it has been a great week with Wifey. We started the week strong with a full day on the mountain at Telluride on Sunday. We decided to definitely take our newly instated annual trip to Crested Butte. We spent just over half the day Monday on Telluride Mountain. The weather was again very warm and sunny. Just after midday was the time to get off the mountain in case anything was going to get sloppy. We got packed up for an overnight trip to Crusted Butt(e) and set sail on highway 50. It was just over a three-hour drive. The weather was perfect for driving and we made it all the way there in the daylight.
We got a nice and cheap room in town for the 1 night. We wandered around the mountain village for a little while and had a horrible meal. Then in typical Sellers' fashion we retired to bed just before sundown in preparation of a big day on a new mountain.
We got up, had a giant mountain breakfast, and made our way to the nonexistent lift line first thing in the morning. It was another non-winter day and the forecast at Crested Butte Mountain was for sunscreen and tee shirts. It was beautiful. We had a great time. Wifey loved being there in the winter and I loved being able to be a small part of bringing her there. She looks better on skis than I have ever seen. Her confidence level and demonstration of skills were higher than I remember. We both had an amazing time in the fabulous spring like weather. She was constantly reminding me that she hiked almost to the peak of the mountain, which was WAY higher than where any of the lifts were taking my lazy-only-going-downhill-after-a-free-ride-uphill ass. We stayed on the mountain until about 2pm, grabbed a fantastic lunch where we saw an impressive sign, and then hit the road back to Telluride.
The drive back was close to dusk and sunset so we were able to see a lot of the wild mountain animals that you don't see in the mornings and daylight. We were only able to stop once to take pictures of these meese, or elks, or carabooze, or whatever they are. They were staring right at us as I took the pictures, and I'm pretty sure I heard the one say, "Holy crap, look at those humans in their natural habitat." Which is fine because Wife said, "I"ll have that one medium rare."
We got back to our temporary Colorado home just in time to have some pizza, mosey around a bit, do a little work, and fall into a coma for the evening.
Today we got a bit of a late start and an early finish. After the recent spring like weather today was a real disaster. The wind was howling all last night. The wind combined with the warmer weather and melt off created a complete ice over today. All the overnight grooming seemed for nothing. The conditions were icy and "crunchy", and the temperatures dropped back to winter like today. Definitely not our most fun day on the mountain. We hung in there until about 1pm and then called it a day. Since then it has been a nice relaxing afternoon. I'm catching up on nonsense (including Hillside), and Wifey is resting.
Telluride has created a hostile environment
Posted on
Thursday March 8, 2012
Today was another lovely day on Telluride Mountain. The weather turned around from yesterday's debacle. The wind went away and the sun came out again. If there is not going to be fresh snow, today's conditions are a distant second best. We headed up the gondolala first thing this morning and spent the day cruising on the groomed trails and the terrain parks. I got some adorable video of Wifey doing her version of tree skiing. She got some embarrassing video of me thinking I had confidence in the terrain parks. A nice chatty local took a bunch of pictures of us.
Tomorrow is sadly our last day together in Colorado. I was hoping to stretch this visit out for another 30 or 40 years. We will probably head to the mountain again tomorrow. That will make 6 days in a row for us. That is quite impressive for her. I know this is the first time she has made it out every single day of a ski trip. I also don't think I have gone 6 straight days this winter. Right now we are both laying here very very injured. I somehow hurt my shoulder and she was attacked by a hostile Thai iced tea.
If I can't talk her out of flying away tomorrow night, I will be dropping her at the Montrose airport around 7pm. From there I think I will start trekking to the Tahoe area. I was scheduled to be there next week. They did get some nice weather last week, but the warmer weather has come back and there is no more snow in the extended forecast. If nothing else Tahoe is a good place to rest for a couple days after the extended run that Wife has put me through. It is also a nice layover area for the longer journey up to BC. As of now I am thinking that will be the final stop to put the exclamation point on this winter.
2 down and…I can't even finish typing it
Posted on
Saturday March 10, 2012
What a blurry, whirlwind past 36 hours. I got my second speeding ticket of the trip early this morning. It really is a shitty situation too. Since the first one during the initial drive out I have probably driving the last 8000 miles using the cruise control. Not entirely, but definitely for 90% of those miles. This morning I was south of SLC, heading north, and driving through a construction zone. It was just after sunrise on a Saturday morning and there was nobody working, I know that doesn't make a difference. I thought the limit was 65 but it was 55. A cop caught me while passing someone. Because of the construction the traffic pattern was zigzagging, lane shifting, and annoying. It just really blows that I literally got caught during a 5-mile stretch where I was trying to get away from some awful, probably still-drunk, weekend morning driver. Whatevs, could be worse. The officer was actually a really cool guy. He was nice, I told him my story, all I could do was apologize, blah blah blah. He didn't write me up for the construction zone part, which could have been really bad. I told him that I saw the barrels and cones end, so I thought the zone was over. The funniest part is that after he got done disciplining me for breaking the law, he advised me to break more laws. I pulled off an exit ramp when I saw him behind me. I do this because I am a courteous criminal, always thinking of the officer's safety and well-being. He told me that there was no way I could easily get off this exit and back on I-15. He advised me to go ahead and jump a few curbs and drive through a median to get back on to the interstate.
Yesterday, Friday, I woke up really early. I couldn't sleep well because of my soar shoulder. I caught up on a little work and some TV shows while I awaited sleeping beauty. We went out to breakfast to a yummy spot in Telluride called Maggie's…how great is that? After that we went to the mountain late, and left early. It was another stunning spring day on the mountain. We couldn't stay all day because we had to pack up and get to the airport. We spent a few quality hours for Wifey's last day on the mountain. I still can't believe that she made it 6 days in a row! I still can't believe she made me make it 6 days in a row. She was nice enough to capture some more embarrassing video of me. After the mountain we packed, had a late lunch, and drove to the Montrose airport. There were literally more employees at this airport than passengers. When she checked in she was told there was only 5 people on her flight to Denver. It must have been like flying private. It was quite a sad parting of The Sellers Superpowers.
As heart wrenching as the separation was the fact is that one of us had to muster up the strength, courage, and intestinal fortitude because the Carnival must go on. I tried to convince, kidnap, lie, and get lost on the way to the airport, but it looks like the rest of the expedition will be done solo. We did find 2 more reasons never to leave Telluride:
I drove through all of Utah and Nevada today. Nevada doesn't screw around. The second you hit the Nevada border, BAM, casinos. I have officially gone coast to coast when I entered into California today. Not quite ocean-to-ocean, but I'm not ruling that out just yet. It's a dream come true to have actually made it this far. Somewhere in Nevada I saw these guys. I wasn't sure what to do, so I did the proper thing, gave them a lift.
When I cruised into the town of Truckee it was quite a site. The temperature was 50 some degrees, not exactly the greatest mountain weather. It was beautiful. All within the same eyeshot I saw ski slopes covered in snow with skiers living large, and people in the river fly-fishing. They are expecting some snow here this week, fingers and toes crossed. Regardless I am going to use this place I'm at now as a layover for a few days to rest the muscles and catch up on work. 6 days straight and 3 hours sleep in 48 hours is taking a toll. Once I get caught up and rested I'll hopefully start my journey to British Columbia. On the way there hopefully I can make a pit stop in Spokane for a free lunch from a good friend. I can't believe this place I am staying right now. It's a giant 4-bedroom house, seems like a lot of abode for little old me. Not bad for $275 for the week.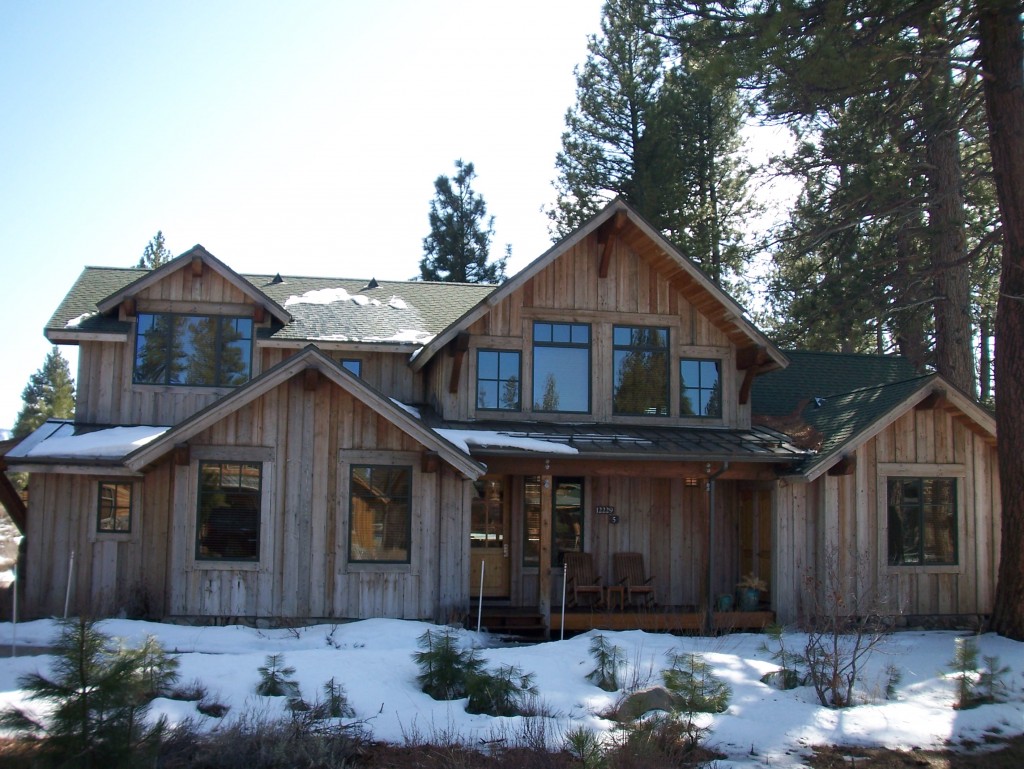 http://www.youtube.com/watch?v=daJyQg0Qt9A
I fought daylight savings time and won
Sunday March 11, 2012
The best way to combat the bullshit idea of daylight savings was for me to hurry up and get into California. That way I get my hour back no matter how badly those ancient farmers want to take it away from me. And what do I care if kids have to walk to school in the dark? They have cell phones for a flashlight these days. I didn't have to change any clocks. Jimmy one, daylight savings zero. Now I just have to figure out how to help combat man versus nature in the autumn.
Other than completely dominating over the laws of nature, today was fairly boring. I caught up on the sleep I lacked from the previous two days. After that I spent the majority of the day catching up on work and personal drivel. I think I got all the months reporting done and mailed out today. I'll realize if I forgot anything once it's too late.
House of Lies is a great show
Posted on
Tuesday March 13, 2012
Yep, the title is about all I have to show from my past couple days. I have been quite the lazy sac of monkey turds lately. The past couple days have been spent working and recouping the body. I just can't keep up with Wifey these days. The age difference is really starting to show. Maybe a trophy wife wasn't the brightest idea…no, it was. There is supposed to be a big storm coming through the Tahoe area starting nowish. It has been trying to snow most of the day. The forecasts I have been reading keep promising a huge dumping. I think it is hopefully about to arrive.
I just got back from driving into town to pick up a nice pizza pie and pint of ice cream for myself. The semis heading westbound were all pulled over putting on their chains. The traffic heading eastbound (and down) coming out of the legendary Donner Pass were all COVERED in snow. I am going to hold out hope that these were good signs of bad weather. I have been lounging around this area waiting on promised weather. I am growing both antsy and also too comfortable with my laze. If the weather when I wake up tomorrow does not allow for a fun day on the mountain I am going to pack up and head north. What a spoiled ass I have become. There is plenty of great riding to be had, but I am holding out for the perfect storm.
I found yet a couple more reasons why this part of the country is great and makes the right coast look like the sea-level losers we are. First, they do things like this. A competition for dogs? If the Sellers kinfolk lived out here I know we would have a winner in the family. While I was waiting on my pie tonight I was perusing the local free paper. This is where I saw the advert beckoning Charlie Dog, as well as possibly the greatest title to a news article ever. The article was about the abysmal winter they have had here in Tahoe titled,"Survival, Optimism, and a Dash of Shitty". It is a heart breakingly wonderful article.
Biggest Carnival regret, forgetting video cam today
Posted on
Wednesday March 14, 2012
Today was finally the day I got back on a mountain. I went the Northstar at Tahoe Mountain. It definitely is near or at the top of my list of favorite mountains. I only spent the morning hours riding, but those hours were perfect. They got at least 14 inches of new snow at the top of the mountain last night. By the early afternoon it starts to get warm and the fresh snow gets heavy. The combination of the time of year and the area make heavy snow this time of year. It is not the dry, airy, unpackable snow of Utah and Colorado. This is a much wetter and heavier snow. My legs actually got quite soar a couple times. That has not happened in a while.
It is that weird time of year. There is a ton of precipitation predicted for this area. What kind of precipitation depends on the elevation. When I parked this morning at the base areas I was getting rained on. At the lower area of the mountains it is almost slushy by midday. Up at the top peaks it can be snowing full boar.
There is an area on the Northstar Mountain call the Backside. It is ingrained in my brain as my favorite place to ride, and after today that memory is confirmed. This area holds a special place in my heart, so there may be some biased. It is my first vivid memory of fantastic deep powder, tree, backcountry, steep incline, unbridled, no rules, no trails, and possible death at every turn riding. So it may just be a "first time" thing. This might be why it is my favorite. Similarly, probably why my favorite back seat I have ever been in was the back seat of my pop's old 1980 Olds Delta 88.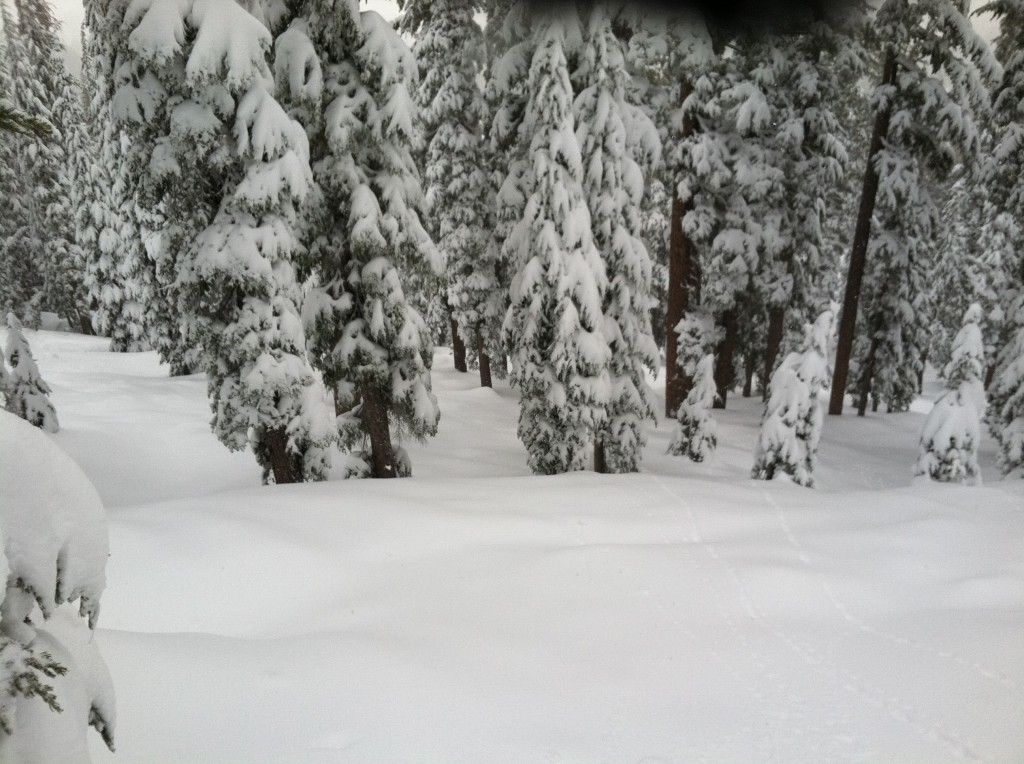 The Oregon Trail, it's not just a game anymore
Thursday March 15, 2012
Today was an awesome travel day. I traveled from Truckee, through Reno, parts of northern California, all of Oregon (including an great pit stop in Portlandia), and finally somewhere near Tacoma, Washington. I got as far north as I could in hopes of making it to Crystal Mountain in Washington tomorrow. It is a lot later than I planned to get here, I sure hope I can get up in the morning. I still have about 2 hours to where I want to be.
Today's drive and activities have reinvigorated me about this trip, a second wind. I had lost my momentum and thought I might be running out of Winter Carnival Juice. After I left Truckee and got north of Reno I entered back into California. I saw parts of Cali that I would have never envisioned as California. Of course there are the big cities, San Fran and LA, the impressive works of nature called the coastline, and the gorgeous forests. Today I saw giant expanses of open ranges, farms, meadows, and nothingness. I found myself in the middle of nowhere. Before today I would never have thought that anywhere in California could be considered the middle of nowhere. I am sure that is just my naïve, childlike, east cost impression I formulated from The Brady Bunch and Beverly Hills 90210. I am more than happy to have seen these areas.
At the Cal-Ore border I was welcomed the best way that Oregon knows how, by a dark, ominous, scary, Wizard of Oz like storm cloud. This cloud formation obliterated the idea that a sun may have ever even existed. I could see it coming from an hour away, little did I know it was just hovering over the Oregon border waiting for my arrival. From that point on in the drive it was a mostly miserable, rainy day. This was quite the opposite welcome I received from California, a beautiful rainbow.
As scary and gloomy as the drive was there were also some amazing parts of Oregon I saw today. I drove around and through some lake areas east of Eugene. There were giant lakes I could see on my left intermittently through the tree line. On the far side of the lake were snow-capped mountains. All around me were head high piles of white snow lying at the base of an evergreen forest. It felt like I was driving through a town called Christmas. Once I got through that area I entered what might be a legitimate rain forest. It was bright green everywhere, giant vegetation overhangs, a couple waterfalls, and a screaming river on one side. Somewhere else in Oregon I witnessed a beautiful miracle of nature. I am pretty sure I witnessed a brand new baby goat learning how to walk. Either that or I saw a drunken baby goat.
And then for the icing on the cake called Thursday I stopped into Portlandia to visit my long lost friend Nate.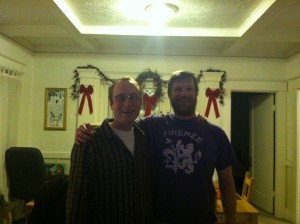 Portlandia is just how I always pictured it. TV and Fred Armisen didn't lie to me. Nate apparently lives on the corner of Hipster and Doofus Avenues. I haven't seen him in years, possibly since my wedding. It was so great to see him and meet his chick. They welcomed me into their home for a fantastic evening of conversation, laughing, and home cooked food. They fed me a delicious meal of lasagna and something he claims was a salad. He also assured me that all the ingredients were not only local, but were all grown within 50 yards of his house. I only eat the best and freshest these days. The lasagna was delicious, I believe it even had ingredients I don't like, but it was still scrumptious. The conversation and good times were even better. I hope to hook back up with them later this weekend for a day of riding back down closer to Portlandia.
As great as it was to reunite with Nate, meet his chick and her sister, the highlight of the evening was definitely meeting Andy the dog. Andy the dog makes Eddie from Frazier look like a schmuck. He does tricks for treats. When he's not doing tricks he simply sits around being adorable. They play a cool game every night with Andy that I am stealing and taking home with me to teach our dogs. Be prepared Wifey, I'm coming home with canine expectations.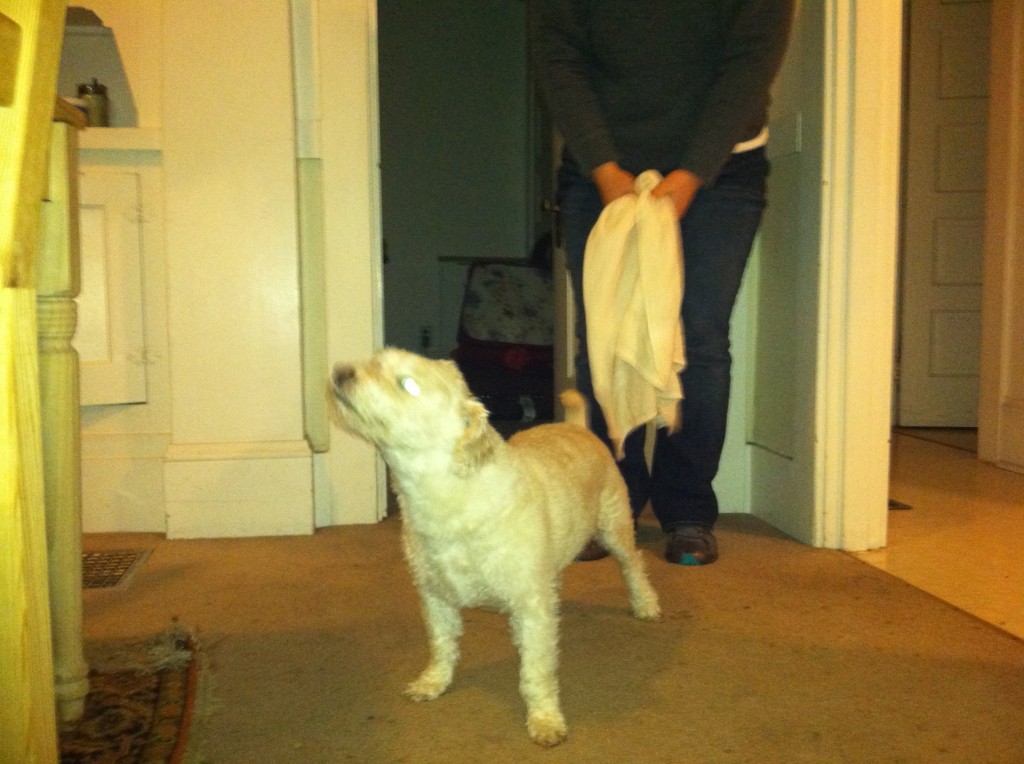 Apparently Washington state doesn't allow Fonzie's.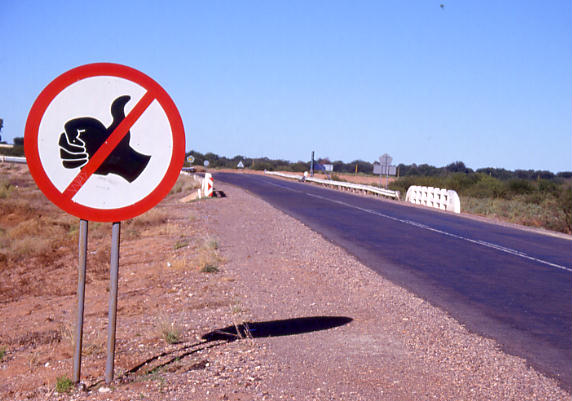 No, seriously, Washington hates Fonzie
Friday March 16, 2012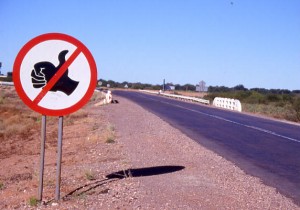 I didn't get much sleep last night. I was up late and up again early this morning. I grabbed a quick, hot, included continental breakfast and a shower. I threw on my warm clothes and dashed out of the hotel expecting a long, scary drive to Crystal Mountain in Washington State (the place that hates Fonzie). After the weather they have been receiving on Mt. Rainier recently, I assumed my drive would be terrifying. I assumed I would be purposefully driving into what could have been the worst weather of the trip. Off in the horizon there were more ominous clouds taunting me. I felt like that polygamist when he was driving directly into that storm on purpose with Paul Reisers's wife and Auntie Em's young niece.
The drive ended up not being as frightening as I expected. I immediately loved everything about where I was. The drive was both beautiful and thrilling. I got parked and changed quickly. It looked like quite a long walk to the base, and then I noticed there was a parking lot shuttle. Their idea of a shuttle was a pick up truck with a flat bed trailer in tow. It was like a hayless hayride. Andy the dog would have loved it here. I went into the shop and asked where I could buy a sticker for my board. The young lady said we don't sell stickers, but we do give them away. What's not to love about this place. What a different scene and way of life. There is no mountain village or any of the hoopla that fancy people need. Just pure, amazing riding.
One of the first things I saw when I drove in was there are areas for overnight parking. People would show up the night before and camp out in their car waiting to get first fresh tracks in the morning. What is this, the Bethpage Black course? There were plenty of people who utilized these lots. Cars were covered in mounds of snow. On the far side of the main parking lot there was an area for RV's with hook ups and everything. Pretty badass. Seemed like the only way to fly.
I got one great run in from the top and my leg was as soar as it has gotten all winter. On the second gondolala ride up something terrible happened. I envisioned an end to the trip, at least to my day. My board fell out of the gondola holding compartment on the side of the car. I didn't see it happened, but all 4 people facing me gasped and saw it fall to the ground. Luckily nobody was underneath. It plummeted several hundred feet at least. If you zoom in a lot you can see my poor lonely board mostly buried in the snow. There was nothing I could do about it. A nice young lady that I was riding with offered to grab it on her way down and meet me at the base. So I had to ride the gondolala back down like a lonely, solo, boardless loser. I waited at the bottom for a few minutes and a different young kid showed up with it. Thankfully it was intact and no obvious damage. I waited for the other chick and let her know that I got it, thanked her for her efforts, and jumped aboard the next car to the top.
Today I checked off another of my to do list items, another first for me. I did my first ever hike-to riding. I rode the lift to the top of where the lift services and then hiked for a while higher and to the other side of the mountain. Holy shit, it was amazing, breathtaking in more than one way. This was one of the things I said I was going to do before the trip was over, and now I've done it. I'm not trying to act like I hiked (almost) to the top of Crested Butte Mountain like Wifey did. It was a good 20+ minute uphill, in ski apparel and boots, carrying my board hike. It was amazing. I have ridden on plenty of fresh untouched powder this season, but nothing that has felt quite like this. It was an entirely new experience and feeling. I don't think the entire mountain has ever heard of, believes in, or owns grooming machines, definitely not in this area. I videoed the entire trek. I can't wait to see just how boring I can make it.
After a few hours I had a bite to eat and got back on the road. I didn't have a destination at the time, but there was only one way to go from the mountain, down and away. Good things I didn't need to go the other way, because it was not an option. The mountain was the last stop on this road, the rest of this road was closed for the season, impassable. I decided to head back to the Tacoma area and find a cheap hotel. On the drive back I stopped in and got Jiffy Lubed and had a couple more window cracks repaired. I'm good for another 7500 miles.
I made it back to Tacoma and am now checked into the un-luxurious Crossland Hotel. I wonder if this place is affiliated with the world famous and preeminent law practiceCrossland Law?
It might be just because they are new, but I think today produced some of my favorite scenic pictures so far.
What's the deal with airplane peanuts?
Posted on
I went into a diner for breakfast this morning in Tacoma. I found it on yelp, so thanks again yelp. It was called Little Jerry's, and I had no idea what it was before I walked in. the restaurant is about 6 four top tables. It is entirely Seinfeld themed. I mean entirely. Everything on the walls, the menu, the reading material, the names of the dishes, even every coffee mug was different but all with a Seinfeld theme. I loved it. I was the only person in there eating, so I got to talking to the people working, which were a husband and wife. Turns out they just opened up the joint about a month ago. It was a great American dream story. The husband had the brainchild idea for the restaurant, they put in the legwork and effort, and not it is open. They said they are doing well and have a lot of regulars. That is all any business can ask for right now. The two of them could not have been more pleasant and lovely to chat with. Happening into this diner was exactly the type of experiences I set out to have during this trip. If I had a facebook I'd like them. But what is really important is that I like them in person. If I am every in Tacoma again this place will be my first stop. All the best to them. Oh yeah, the food was dynamite!!!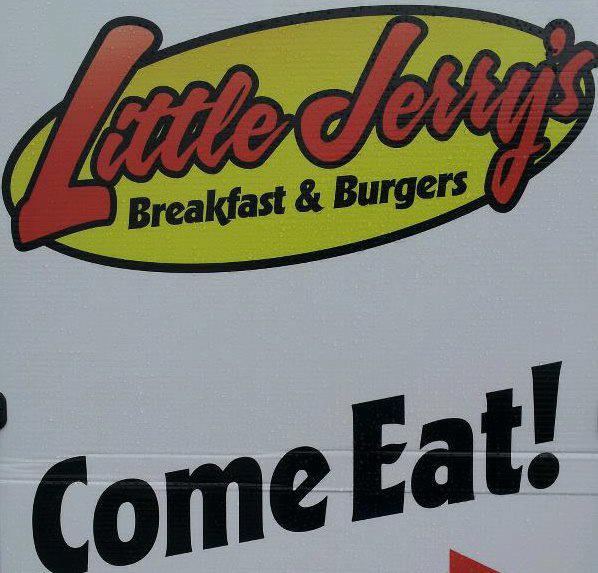 Saturday March 17, 2012
Today was one of the most fun, spontaneous travels days I have had yet. I left out of Tacoma with a destination of Mount Hood, Oregon. It was just a few hours drive and I had all day to get there. I had a short way to go and a long time to get there. Once I was on I-5 south I saw an exit for the Oregon Coast Scenic Byway. It seemed like a sign for me to see the Pacific Ocean during this trip. It was the closest to the ocean I have been up until this point. I quickly checked the map to see exactly where I was. Once I realized my proximity, I set the GPS for Astoria, Oregon. Anybody worth a crap knows exactly why this town is important.
I spent a lovely day carving through the forests of Washington State. I was following the Lewis and Clark Trail. I guess this is better than following the path of the Donner Party and meeting their destiny. After winding my way to the coastline I crossed over a body of water on the Astoria Bridge. In the middle of the bridge it changed from Washington to Oregon. On the far side of the bridge was the legendary Astoria, Oregon. I drove all through the seaside town streets, just taking in the sites and sounds. I pulled over and plugged an address into my GPS, 368 28th Street. Yep, this is the famous house from The Goonies. I parked down the street like the sign requested, strolled up the hill, grabbed a few snapshots, made a donation, smiled, laughed, and left. It was hailing on me while I took the walk and grabbed my photos, which was perfectly fitting. If I had any friends I would have a nice picture of me in front of the house. I can Photoshop that I guess. The whole event made my day. What better way to honor my trip than to visit the place where one of the greatest adventures of childhood lore took place. I just now googled The Goonies movie. The images that came up rather shocked me. Here are a couple.
From Astoria I decided to drive a bit further down the Pacific Coast on 101. I drove and walked around the seaside towns of Seaside and Cannon Beach, Oregon. I believe Cannon Beach is where the rocks are that helped lead to One-Eyed Willy's treasure, the rich stuff. Don't quote me on this. It was a gorgeous day in those towns. A perfectly sunny 50-degree day. The beaches were sprinkled with people walking their dogs. The Pacific Ocean is amazing in an indescribable way. The towns were full of tourists wandering, shopping, and eating ice cream and cotton candy. It was an extremely serene experience. Busy, yet quiet and peaceful, nothing at all like the visits to the beach I have.
From the coast I made the rest of my journey back inland and east of Portlandia to Mount Hood. This is where I rest tonight in anticipation of playing tomorrow at Mount Hood Meadows with the Natedawg and his posse. This is the fist time I have been to Mount Hood since I came here about 100 years ago. I came here in a July with LP, who is probably my longest standing friend. We tried to go snowboarding…in July. No we weren't stoned…well…whatever, the mountain really is open in July. However we were turned away because the Olympic team was training. So I believe I went and played golf instead. Oh, former Jimmy, what a fool you were. I'm really looking forward to tomorrow. I am finally getting around to what I hoped to do more of during this trip, hitting lesser known, random, nonresort mountains. If I had friends this might have happened more or sooner. And I would have a pic of me in front of the Goondocks that didn't look like this.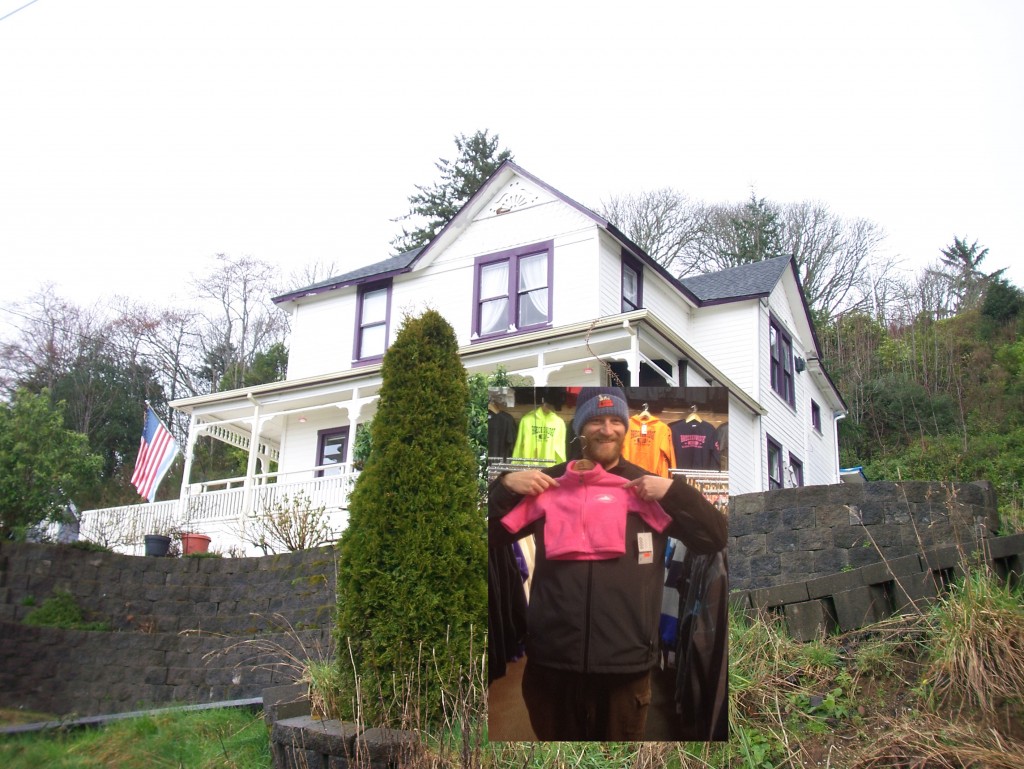 A lot more photos of the Pacific Ocean and Astoria added to the Traveling Photos.
Oh Portlandia, I hope you feel better soon
Posted on
Sunday March 18, 2012
I'm so glad I made the drive back down to Portlandia and went to Mount Hood Meadowstoday. It felt like I was going backwards instead of moving ahead in my trip, but it was well worth it. It was snowing all morning and coming down fairly hard on my half hour drive to the mountain. It was a Sunday so there was some traffic and they were using overflow parking lots. The first decision I had to make was to ride a bus from the parking lot, or take a nice long uphill hike from the parking lot to the base area. I decided since hike-to terrain was the new thing I do now, I'd take the hike. It was a nice long uphill walk through the woods. Just enough to get my blood flowing and my muscles loosed up. The really cool thing was that as far as it was away from the base area I was able to ride my board back down the hill, into the parking lot, and almost right up to my car door.
As I already said, I'm glad I made the trek back down to Mount Hood. That place holds a memory for me that I've long forgotten, so it was nice to refresh it with a new, exciting memory. The weather was great winter weather. It was nice and cold so there was no threat of the precipitation turning to rain. It was either snowing or completely sunny. It kept alternating back and forth like Mother Nature flipping a light switch. It got quite windy at the very top toward the end of the day. It might have been scarier windy than the day at A-Basin with JO. The difference is I was still able to have a blast. That day at A-Basin somehow had the potential for misery any given minute. Something I haven't seen yet this winter were free cookies at the mountain. I was in the lodge and a guy that worked there was walking around with a giant bin of fresh made cookies handing them out! It was the nice surprise score of the day. I thought it was my lucky day, but apparently not. The guy I shared my free cookie session with said that is the way it is every day. Oh yea.
Turns out that the Portlandia Posse blew me off, so I rode alone all day. I spoke to the South Korean Mafia early in the morning and he said he wasn't feeling too well. It might be pains from all the balloons he is rat-holing for his upcoming exodus/immigration to South Korea. All the best, I hope they have a blast!
After I rode almost all the way back to my car, I changed, packed up, lit a cigar, and plugged Spokane, Washington into my GPS. Mount Hood is a weird place. As soon as you get to the base of the mountain there is no sign that winter was ever there. I guess that is why they have a ski area that is open year round. Once out of the mountain range the transition from rainforest-like mountains into vast prairies was remarkable. Before I got too far into the drive I made a phone call to my buddy in Spokane to make sure I could still get a free breakfast out of him. I wasn't going to go 8 hours out of my way if I couldn't get a free breakfast. Turns out I can, and we are, tomorrow morning. I'm looking forward to it. After breakfast I'll be hitting the road for an all day drive to Whistler in British Columbia. I made arrangements for a place to stay for 4 nights on the mountain. They currently have some great last minute, end of the season deals. It is probably at least a 9-hour drive from here to BC. I hope to make it all in one day, I should be able to, even with the cruise control set.
Apparently I spent a lot of todays drive on the Lewis and Clark trail again. I can't see what the big deal was about this expedition of theirs. There are nice big, wide, paved, blacktop roads everywhere they went. Big deal. Name a road after me already. The drive today was another scenic and picturesque one. Being so close to the left coast I saw a beautiful sunset tonight that rivals the sunrises we have on the right coast.
Hi Canada, thanks for letting me in
Posted on
Tuesday March 20, 2012
I am in Whistler British Columbia Canada, barely. I left out of Spokane yesterday morning but not until after I had my free breakfast. It was a very special french toast from Frank's Diner and it was delicious. Thanks Frank and Ryan. The drive to where I am now was about 8 or 9 hours, no problem. I rolled over to Seattle and started heading north without any issues or hold ups. I got to the Canadian border and waited my turn in line to drive through, about 10 minutes. I pulled up to the window and was as pleasant and conversational as I know how to be. Even though I have nothing to worry about, it feels like there could always be a problem. After the initial stop and round of questioning, which I found pretty in depth already, I was directed off to the side to park my car and go inside. Long story short (which I have written but won't post here) I was detained for 2 hours, subjected to a ton of questions, and a vehicle search. It was immediately apparent this was not random, but because of my past as a shithead. The officer was really nice the entire time and kept the aura of nonjudgmental and helpful. Whatever, luckily I made it into Canada and am now at Whistler.
I got in here last night just around dark. I unloaded the cruiser, brought everything up to my room, unpacked a bit, and went out into the village to find food. I could tell immediately, even in the dark that this place was impressive. The mountain village area goes on forever. Much bigger than any other mountain village I have seen. This place is 2 giant mountains side by side. Each mountain in itself is bigger than most others, but to have both next to each other? Come on, that seems selfish. They share a base area with a gondola that you can ride up either mountain. There is also a "peak 2 peak" connector, it was closed today. The terrain is so big you could ride lifts all day and not get to the tippy top. I rode 4 lifts this morning before I ever started going downhill. I can already tell the new answer to, "what was your favorite place" is most certainly Whistler.
I road a lift today with a ski instructor from Edinburgh, Scotland. Nice kid, he really is living the dream. He is on the mountain almost year round. He works here and then heads to New Zealand during their winter and skis there. I'm gonna have to figure something out. I did get to say "cheers" to him, that made me happy.
I'm in another country so I don't really want to use my phone. And I have the data turned off so that doesn't work either until connected to the internets. It is amazing how often I instinctively just put my hand in my pocket when I want to know something, see something, jog my memory about something, or have 5 minutes to kill playing a game. It took all day but I think I stopped reaching for it. At dinner tonight I just sat there and started straight ahead like David Puddy waiting for the phone to ring.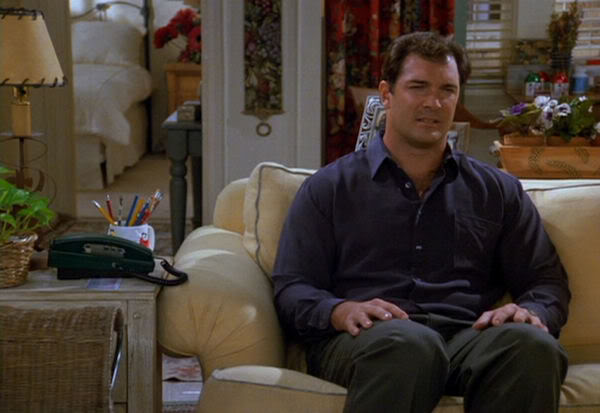 Even Canada has up beat on the exchange rate?
Thursday March 22, 2012
Well, there is definitely no more thinking when someone asks what my favorite mountain is. I have gotten that question a lot and up until this point and I have always had a meandering answer of, "gee, I love Telluride, but blah blah is awesome". I have a definitive answer for my favorite mountain, Whistler Blackcomb. It's probably the kind of thing that I will just blurt out at really awkward times whenever I hear someone say the word favorite. I'll just scream "Whistler!" in their face for no reason. That being said, Telluride is still my favorite town.
The amount of area there is to ride here between to two mountains seems ungraspable. There is no need to take any breaks during the day. The rides on the gondolalas and lifts are plenty of a break. The sun was out for the first half of the day so I finally got somepictures that are worth a crap. I hope they translate the magnificence. After midday the clouds came back, wind picked up a bit, and the snow started falling. Winter may be over at home, but it is still winter someplace. While the wind was down today I was able to ride the "Peak 2 Peak" gondolala they have. It might be the most impressive and scary ride ever. It is one of the greatest human-built marvels I have ever seen. It travels between the peaks of the two mountains on nothing more than cables. Most lifts or rides have a lot of poles or towers for support. These cable cars just dangle over the valley between the two mountains. The only support towers are near the peaks of either mountain. It only becomes frightening if you actually think about it for more than a minute. I say just get on and go for the ride, it is a dazzling ride.
I still can't believe that the exchange rate for the Canadian dollar has mine beat. Wife is heading to Mexico soon, I hope she makes out better than I am. It is going to be like I'm in the attic and she is in the basement. Maybe if we yell really loud we can hear each other.
Thanks Whistler
Posted on
Friday March 23, 2012
Today I only rode 3 lifts before I started to go downhill. Holy crap what a giant place. The weather today would be called perfect by some. The sun was out the entire day and there was no wind at all. I was on the mountain today from pillar to post. I heard something today I haven't heard in a while, "this will be your last ride up sir."
I have interacted with a couple hundred people since I have been here, and I bet I could count the Americans on one hand. Almost every other country I could name is represented, but not a lot of Americans. Everyone speaks English though, that is really convenient for me. I am sure they took me into consideration.
Today is probably my last day here in Whistler. My room reservation runs out tomorrow and I have spent three full days on the mountain. Even after three full days I bet the percentage of these mountains I saw was low double digits at best, flabbergasting. It seems like today must start the weekend here at Whistler. It was quite crowded at a couple of the lift lines. Luckily, lonesome me can fly right through in the singles line. As many people as there were, I still sat in the woods for about a half an hour today and did not see another single living creature. That is just how giant this place is, that and not a lot of idiots dive into the woods on the edge of a cliff. Since it is about time to start making my way back east I think I will head toward what is known as the interior of Canada. East of where I am now, the coast, there are a bunch of other ski mountains in British Columbia. I keep hearing the same 3 or 4 names over and over again. They are all in a line, due east of here. Seems like it would make sense to pass through each of them if possible.
Thank you Whistler for having me. I will definitely keep you in mind if I am every lucky enough to take another winter ski vacation.
GPS has failed me again
Posted on
Saturday March 24, 2012
Today I only had a couple hundred miles to drive to get where I wanted to be. Thanks to the Global Positioning System it took quite a bit longer than expected. It suggested 2 routes, one was all major roads and longer, the other was all mountain roads and shorter in distance. I was in no hurry and had plenty of time, so I decided (like always) to take the adventurous route. I got close to my destination, within 40 miles. Then the shortest route was up the wrong side of the mountain I wanted to get to the top of. The bottom line is that I hit 2 complete dead ends and one private property/no trespassing area where I would have certainly been shot on site. I would like to give GPS the benefit of the doubt and say that maybe I could have passed through one of these routes during the summer. To this I say nay, these were dead ends, not even Superior Cutoff Road conditions. I had plenty of gas to get to the town I was going, until all the unplanned traveling. I decided to backtrack to the last major town, get gas, and ask for directions. Getting back proved difficult as I was so completely lost and the GPS seemed to only be taking me deeper into rape and murder land. I finally saw civilization and cruised into a gas station on fumes, got directions, and made it here effortlessly.
The drive was breathtaking. It was entirely traverses along mountainsides with giant cliffs and/or lakes on the other side. I had to yield to wildlife a couple times, including one place for wild horsies, sans winter blankets. A few more horsie pics in the pictures section.
I am in Sun Peaks, British Columbia. Seems like a very small, cute town. From the little I saw before the sunset it looks a lot like I would picture an old European mountain village to look like. I can't wait to see it tomorrow in the daytime.
Oh Canada, I stand on guard for thee
Sunday March 25, 2012
Today started by waking up in one of the quaintest little villages I have seen yet. It felt like waking up in a gingerbread village, much of it looked edible. I had breakfast, packed up, checked out, and went straight to the Sun Peaks Mountain. It was about a 100-yard, excuse me, I mean meter, walk. It was an oddly laid out mountain. The ski areas ran up both sides of the village. Usually it is just one side of a mountain. Because of this layout there were a lot of places that you might have to walk across a street to get back to a lift. Nothing far, but it was unique. For a weekend the place was nowhere near crowded. I think I road almost every lift alone and without a wait. It is apparent that spring is in the air. There has been no fresh snow for about a week and the skies were clear and blue as the Mexican coral reefs. It got quite warm in the afternoon. The lower area of the mountains turned to slushy in typical spring skiing fashion. I decided to split about 2pm and get on the road to where I was going. I made it safely, only about 200 miles, without the assistance of GPS, and all in daylight. I am now in the town of Revelstoke. I will be staying here for a couple days. I need to get some rest, I have a big couple days ahead of me.
The mountain today had some pretty fun trail names. I took a couple pictures that will make a few people laugh when I get home and show them.
I'm not stupid enough to think I am having a midlife crisis. I am smart enough to know that I am well past the middle of my life.
Aren't dogs just the greatest?
Posted on
Monday March 26, 2012
Still here in Revelstoke, British Columbia. I got up early and went to the Revelstoke Mountain this morning. I knew I was only going to stay a few hours at most, so I wanted to get the best I could. What another unique mountain. So many mountains are just vast expanses that sprawl on forever. This mountain is apparently very new and still in development, but already beloved by the local people. This place was recommended to me by at least a dozen folks I spoke with. There are only 3 or 4 lifts on the entire skiable area. The ride down from the top takes forever. It does not seem or feel like it should be that long, but this mountain boasts the longest vertical descent in North America. Fun facts are fun. The place was empty, oddly empty. I was the first person on a couple of groomers as late as 10am. It felt like I was trespassing. The entire place had the feel of someone's private mountain, but that person said, sure come play on my mountain. The base area is nothing more than a hotel with some retail on the ground level. I read that there are plans to build the place into a giant resort with condos, golf, etc… Right now the entire town is in the middle of nowhere, even the locals will tell you that. I went top to bottom a few times and a few different ways, and then decided I would be done for the day. As I got to the bottom I saw a sign that piqued my interest.
It was an advert for tandem paragliding. Spoiler, I didn't get to do it. After I saw the sign, realized I had the rest of the day free, and spoke to the chick who sells it (and also done it a few times), I was ready to sing up. My timeline is very limited, so I was being greedy with when I could do it. After finding out that I couldn't do it until a couple weeks from now I wasn't too upset. There are 3 pilots that do it, one had a family emergency, another was in Brazil flying, and the third was away on holiday. So I don't feel like I just missed doing it by a day or two. She showed me some pics and video, it looks amazing. You get into the air by running and jumping off one side of the peak of the mountain. You wear your skiing gear so when you land you land on a ski slope and just take off downhill. I have been lucky enough to check almost everything off my list of things I wanted to do this winter. If all goes well the last thing will be checked off the list tomorrow. That means it will be time to make a new list. I am adding both the paragliding and whatever the hell this is. I saw a couple guys on a frozen lake riding snowboards with giant kites. I guess it is kite snowboarding. I had to stop and take this video. It looks completely safe in comparison to downhill riding. The only danger is possibly plunging below the surface of a frozen lake.
I did see something that I thought very inappropriate. The top of a mountain is a very serious and sometimes unsafe place to be. I do NOT think this is the way anybody should be acting at the tippy top of a mountain, especially when she is supposed to be working. Worse yet was that this gal was hanging around this sign, and yet not at all on guard.
But then later I saw this TV commercial while having lunch and all was forgiven.
Speaking of dogs, I saw these 2 dogs today. This is more proof that Charlie could have come with me. There are plenty of doggies that just hang around and wait for their skiing companions. Seems like it could be a good life for a mountain dog.
And finally I got this sticker for my board. It is definitely the best one yet. Today was a very doggie oriented day.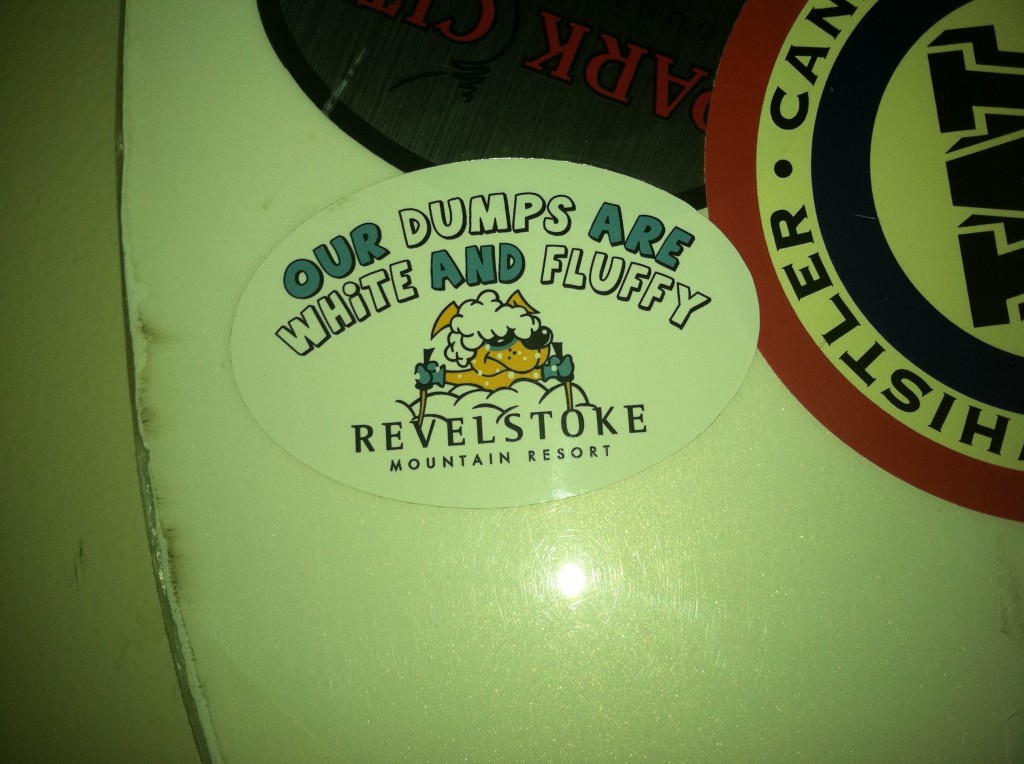 How do I ever go to Blue Mountain again?
Tuesday March 27, 2012
Seriously, I have no idea how I go back to an everyday life after today. Cross the last thing of my winter checklist, I am the happiest person alive. Today I went heli-skiing. I can't believe there was even an ounce of nervousness about doing it. It is the greatest thing I have done up until this point in my life. Such an unequivocally amazing experience. I went with a local outfit here in Revelstoke called Selkirk Tangiers Heli-Skiing. They assisted me in Living My Dream. I decided just a few days ago to try to get into a group, I thought it could be a great ending to the trip of a lifetime. I thought correctly. Todays experience was the perfect exclamation point to this entire winter. I am going to start driving toward home tomorrow, there is no sense in even trying to do anything else this winter. Game, set, match…it's over Johnny.
The day started out with a yummy breakfast, meeting some of the other people in my group (bunch of celebrities), and orientating with the guide. Dave was our guide, but there were 2 other guides that came along. 3 guides and 9 passengers made for 12 in our group. The first stop was somewhere along the side of the road that looked like we could have easily been raped and left for dead in the middle of nowhere Canada. It was time to learn and familiarize ourselves with avalanches, procedures in case of problems, how to use our avalanche beacon, and finally starting an avalanche with only the power of the mind. Seemed odd, but Dave wanted us to know how. After that was helicopter safety and orientation. In total it was about an hour and a half, maybe 2 in safety training and instructions. It was all quite interesting actually, either that or I was just too excited about the upcoming activity to know any better. After all the instructions we were then moved by van from highway rape area number one to potential murder site number two. This was to be the pickup point by the helicopter for my group.
We were taken to a little place known as "I Have No Idea Where I Was". All I knew was it was at the top of a mountain. We did a total of 4 runs. The routine was dropped off at the top then ride down to a flat area the helicopter could pick us up. After the third run we ate a nice lunch on the mountain. The scenery was gorgeous snowy mountain scenery for as for as the eye can see. The terrain was the perfect mix of extremely steep to moderately steep, perfect for cruising. There was one area that was a giant bowl, then the next time we were going through trees. The variety and assortment of terrain was just perfect. We would all stage up at the top of a downhill and Dave would lead the charge. Then we took turns dropping in about 5 seconds apart. There was nothing but the most pristine, virginal untouched tracks. We were supposed to ride next to the others tracks so we could stay in the group. One time I was the lead guy after Dave the guide. I saw someone hit a tree so I looked over to give myself a good laugh. It's fine, she was laughing so I knew nobody was hurt. When I looked back Dave was gone. In that split second I lost him. Luckily the guy behind me noticed, called out, and got me back on track immediately. Thanks Paul from Never Summer. It couldn't have been too bad, it all goes downhill, and I'd have seen him eventually

. There is only one thing that could have made it better, and this goes for almost everything fantastic, more of it.
I filmed the entire thing, but unfortunately the crappy first person perspective does not really translate the brilliance of today. I did get my new friend Jeremy the Kiwi to wear my helmet for one run and tape me. Because of the way we had to space out it's not that great, but I truly appreciate the Kiwi efforts.
Our entire group was so diverse and everyone was great. There was a local, me from The States, 2 young siblings from Portlandia, a Kiwi from New Zealand, two ladies from Deutschland, a Vancouverite named Paul, and John pronounced Yon from Holland. Everyone had a great time. Amongst our group there were a couple celebrities, I don't want to say who they were, so I'll just say Liam Neeson and NPH.
I'm sure I'll have more to write about today after I come down from this high.
Hello America, thanks for letting me back
Posted on
They'll let any old scumbag into this country. Nothing like Canada. Made a visit today to Fargo, ND, just so I could say I was in the town that is the namesake of one of my all time favorite movies. While I was there I had tacos, got gas, and watched a person use an actual paper check to pay for stuff at the gas station. What a weird country this is turning out to be.
Saturday March 31, 2012
Well, it is just about over. I have now also seen both of North America's oceans in the same trip.
West Coast: East Coast:
Somewhere shortly after I crossed into the state of PA (the only state you can simply call by it's 2 letter initials), I had to take a leak. After a few minutes of driving through the "mountains" (ha-ha) I found a rest area. At the rest area I saw a sign that was quite disturbing. Between this sign, paying tolls for using roads, and the too heavy, sea level air, I knew I wasn't out west anymore.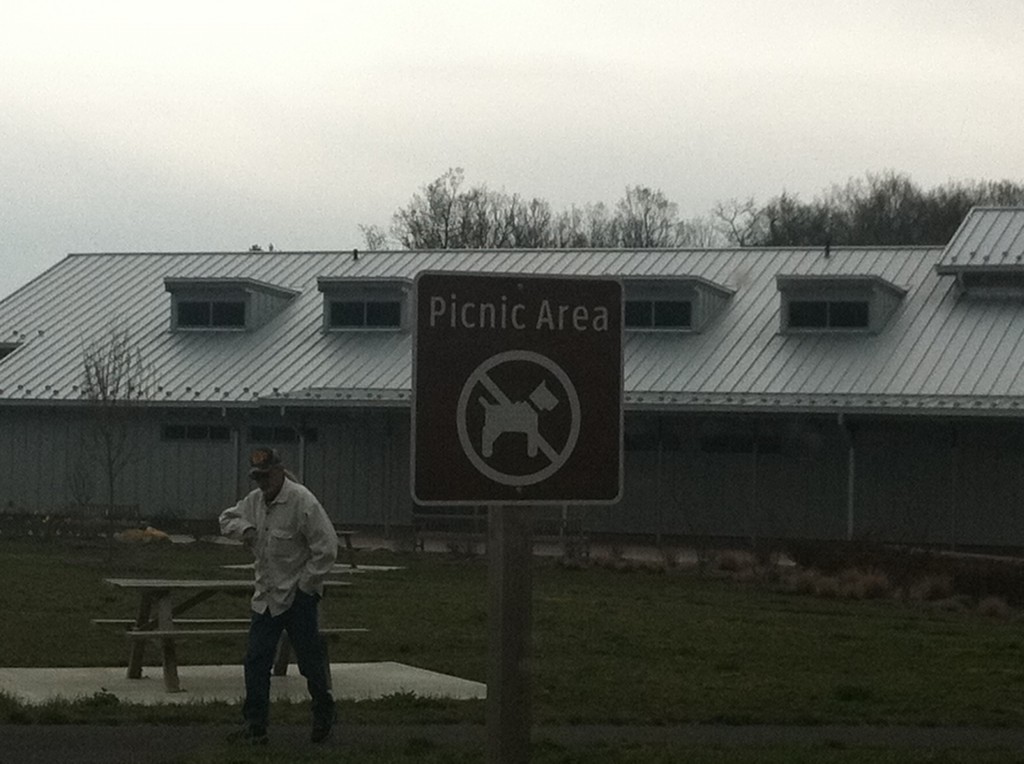 I just bookended the trip nicely with injuries. The very first day and the very last day of the trip I took really bad, painful falls. On the first day I slammed my head on the ski slope and actually broke my helmet. I had to but a new helmet. Today, the last day, I just slipped and fell in the kitchen on the slippery tile. I have apparently hurt my elbow pretty badly. Of course I didn't get to see the fall, but I know for a fact it looked just like the crazy cartoon falls that I see on TV. Both feet went out from underneath me, straight out into the air, and straight down on my ass. Ouch. Now I am typing one handed with ice on my elbow. More than anything I wish there was at least someone here to have seen it, what a waste.
Soon I will be reunited with Wifey and two puppies. I am very excited.
I can't stop being Cowboy Jimmy
Posted on
You can take the cowboy out of the mountains, but you can't take the mountains out of the cowboy. Apparently no matter how hard I try I just can't stay away from the mountain-man activities. I had to saddle up yesterday and come to the rescue of Wife. She was stranded in the woods with 2 horsies and only 1 rider, which is where I come in. I jumped on and rode back to the barn. It was so powerful that it forced the sun to set at 1pm just so I could be riding off into the sunset. After that I performed my first act as a dying cowboy, started whittling away at my beard.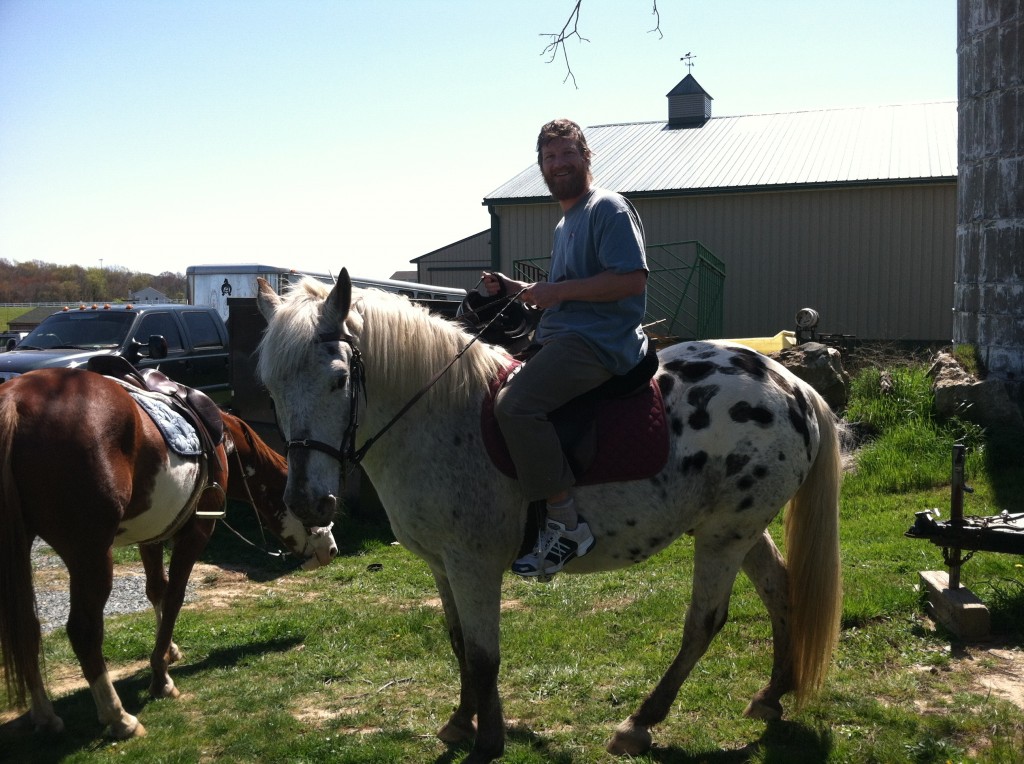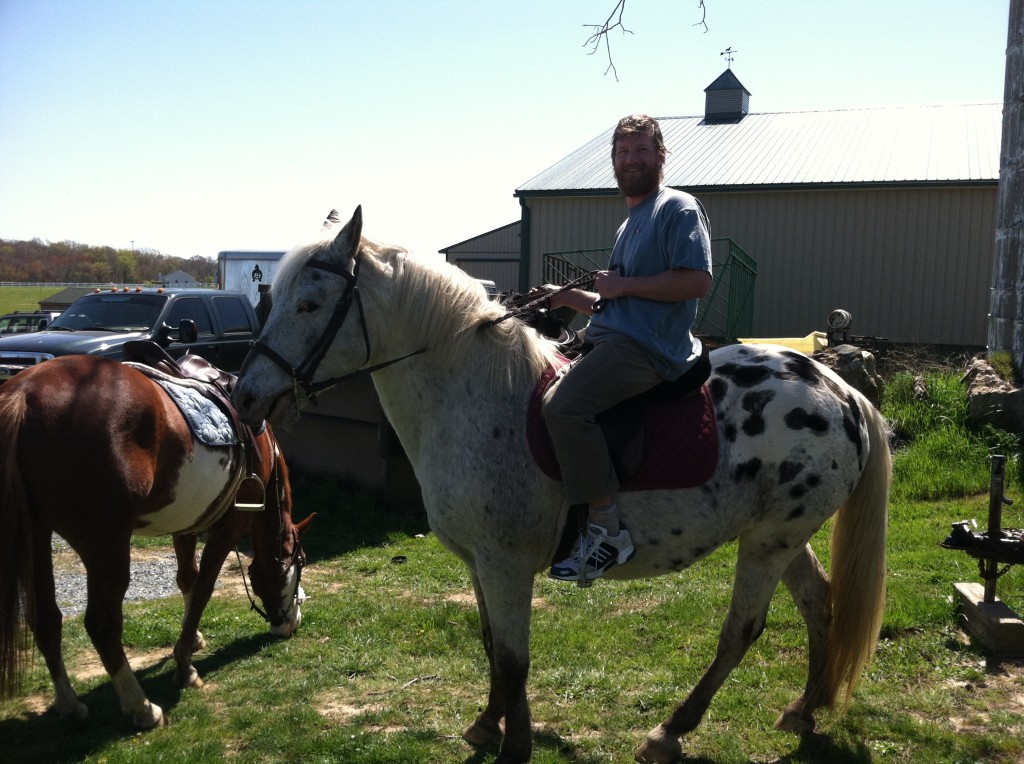 Today is my final day of "Fun with Facial Hair Week". It has been a delight, I think I looked amazing and would fit in perfectly in the 70?s.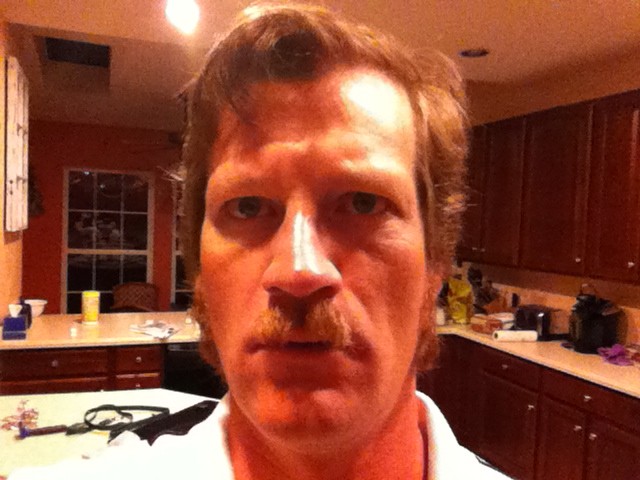 Fun with Facial Hair Week is over
Congrats to my dear friend Bradford for making more people! Thursday he and his wife brought another beautiful baby girl republican into the world. I am extremely happy for their little middle of the country family.
I am clean-shaven, and apparently Wifey is happy. I asked her to look away because I'm hideous. It was fun while it lasted. I noticed that bearded and mustachioed people treat each other differently, like some kind of secret club. I thank those for having me in their club while they did. I didn't get to learn the handshake, but I am sure it was something extremely manly. This definitively marks the end to the Carnival.
Time lapse possibly to come…apparently I am a narcissist, or something that sounds like that.
Heli-skiing video Revelstoke, British Columbia
Posted on
I finally got around to putting my videos together from the day of heli-skiing in Revelstoke, British Columbia. I am actually fairly happy with how this turned out. I am sure it is still ultra boring to anyone that is not me, or Wifey pretending to be interested because the law says it is her duty. I like it, and I am sure it stinks on YouTube. On 60 inches of 1080p high-def television it looks pretty amazing. If anyone does actually watch this, at least watch it in full screen in the higher quality. Or ask me to mail you a DVD.
What is more adorable than this?
Posted on
I wager to say nothing is more adorable than this little ski bunny. Wifey is another person that has a fairly boring style. She just goes down the hill at her own pace. Never falls, never knocks anyone down, never embarrasses herself, simply enjoys the cool wind in her hair and the visions of bliss. One of these days I'll get her up in a helicopter.
Major accomplishments are afoot
Posted on
It has been a tougher time than I thought decompressing from such a mind-blowing journey. I was on cloud 9 for a while, and I still am most times. One thing that is helping is looking forward to a major milestone accomplishment from the Sellers Family. Lady Sellers, Queen of the Seven Kingdoms, will be graduating law school any day. Along with the achievement comes a party full of ale, Lords, Ladies, fighting, wenches… wait, no, that is not right at all. I think this will be the biggest accomplishment of anyone who has been lucky enough to have the Sellers name. Granted, I have only known a handful of Sellers' and she stole the name from me, but that does not take away from the accomplishment. Along with the colossal accomplishment comes great reward. She was nice enough to let me have the Winter Carnival, so August is all for her. I haven't come up with a name for it yet, maybe The August Affair? Hmmm, no, probably not a good idea. After the Bar exam the end of July, August is a free month until full time work begins. We have some great things in the planning stages for August. We started taking some steps on Tuesday and went to the doctor for some vaccinations, inoculations, and immunizations. The past couple days have been extremely rough. I never expected the side affects to be so horrid, but we have both been ill. Not really sick, but all the symptoms of sickness, which might be even worse. The mind says I am fine, lets do this, but the body does not cooperate. Whatever happens it will be well worth the experience.
I finally got around to making another montage video of my favorite Cheesehead and Utah visitor, Bradford. I wish there was something embarrassing to say or show, but unfortunately there is not. I wasn't sure if music would help this video along, but apparently Bradford hates music these days. It's never too late to add music.