HERE is an album of pictures I took, mostly waterfalls.
Wow! What a great weekend away in my campervan with my best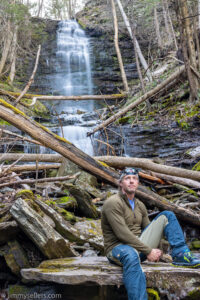 non-geocaching buddy, Chappy. We left home on a Friday morning with a weekend planned at the PA Grand Canyon. It was an amazing weekend of outdoor fun, with an amazing friend, all happening under the umbrella of perfect spring weather. We left Maryland Friday and took our time getting to Leonard Harris state park. This is where we would sleep with each other in my campervan for 2 nights. On the drive up we stopped for some fun sites, a meal, and a few geocaches. Chappy is not a geocacher, but he indulged me in my obsessions.
On Saturday, our first full day, we started early with the hike down and back on the east side of the Pine Creek Gorge Turkey Trail. After that, out to the overlooks. I took waterfall photos and am very happy with how some of them turned out. Regroup for a quick snack and then onto bike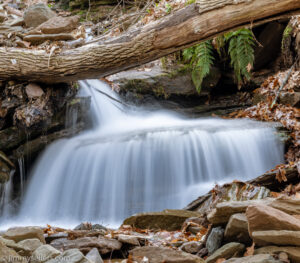 riding on the Pine Creek rail trail. We did 25 miles total on bikes, just over 12 out and back to where we parked. From the parking we then went another mile north on the rail trail, finding the 3 geocaches from Darling Run parking and north. Chappy is not a geocacher, so he could not care less, but also was very understanding and indulging about my addiction and personal needs. 25 miles of riding my bike, and 3 geocaches. That has to be a record for a geocacher.
After a long day on this side of the creek, we crossed over to Colton State Park. We drove along the creek side road to Chimney Hollow waterfall. I wanted to be here to get some pictures of the waterfall just before sunset. I think they turned out great. We never did find the trail up to the top and simply walk the creek all the way up. We did see a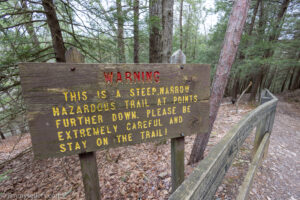 semblance of a trail to get us down 100 times easier. It was quite an adventure just to get some waterfall pictures. Well worth every second.
After this unbelievably fun and adventurous day, it was time for a steak dinner in the nearby town of Wellsboro.
Back to our campsite and a night's sleep in my camPERVan.
The next morning started lazily with some breakfast and coffee at the campsite. After that we went back across to Colton State Park and walked a bunch of the miles of trails over there. We ran into a Boy Scout pack from New Jersey on the orange trail, and learned all about the possible overnight backpacking options in the future.
Throughout the weekend I found mystery caches and multi caches on days I needed them to fill the calendar. That's one nice thing about traveling further away from home.
I had a great weekend of fun, excitement and adventure while camping and playing outside with one of my best pals and my favorite thing, my CAMperVAN!